Optimising your seasonal eCommerce sales during the holiday period is vital as it's often a make-or-break time for many businesses. Accounting firm Deloitte predicts that seasonal eCommerce sales throughout the holiday season will grow by between 25% and 35% from November to January, accounting for almost $196 (£148) billion in total sales value. With such a lucrative festive season ahead, it's vital that eCommerce businesses adapt to the peak season of shopping by prioritising what they're selling, where they're selling it and everything in between.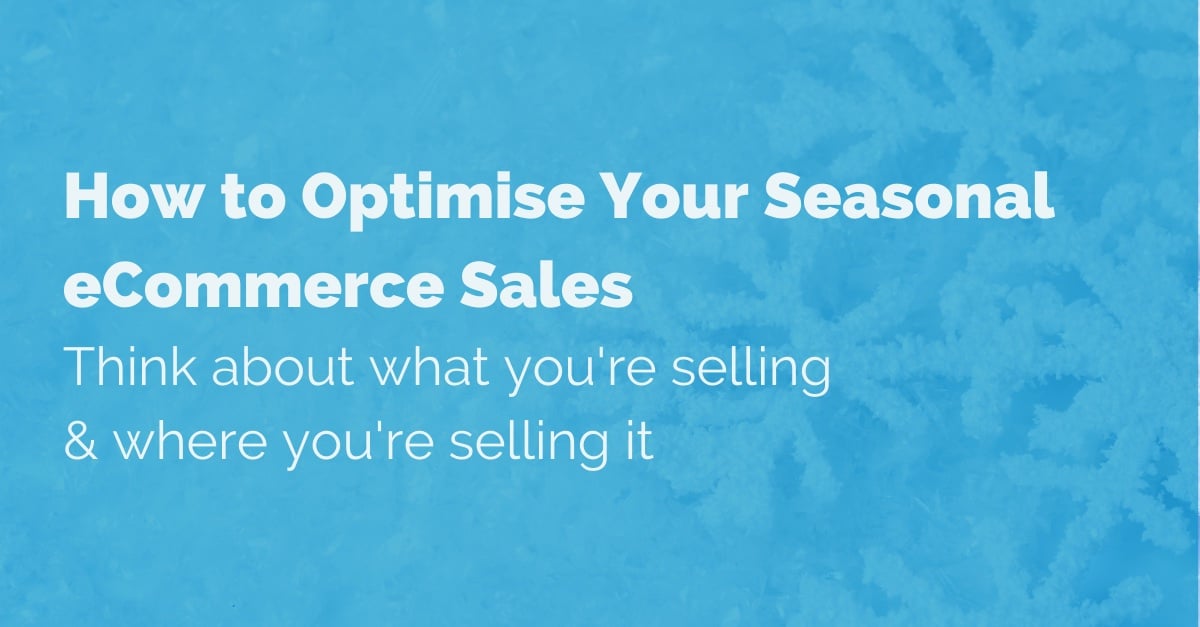 What Yo

u're Selling

 
As well as your usual stock, seasonal merchandising is one of the main driving forces behind a bulk of holiday sales. Adapting your online store to reflect changes in the season is paramount to optimising sales. By placing seasonal products front and centre, it makes it easier for customers to find them and, most importantly, add them to their baskets for checkout. This visibility also means you'll have to keep an eye on changes in stock levels and reflect those changes with discounts depending on the time in the season. If you're approaching the end of the season and find yourself with ample amounts of seasonal stock still to sell, discounts can be a perfect way to avoid leftover EOL stock. 
In addition to deciding where you're placing seasonal products, it's also worth thinking about some new additions in light of the approaching season. For example, if you don't offer them already, gift cards are an excellent way to generate revenue from customers buying for their ever more difficult to please friends and family. 
Where You're Selling

 
Where you're selling can extend beyond simply placing your most seasonal offerings on your site's homepage, although this in itself is a critical step. Helping your customers to find exactly what they're looking for is just as important. Site navigation must be utilised effectively to ensure customers know exactly where to look for the things they want to buy and the things you want them to buy. For example, if you find yourself with a lot of seasonal and promotional items, it may be worth investing in an entirely separate pop-up site to optimise the profitability of your products. It's this kind of adaptability to the immediate needs of your customers that sets eCommerce businesses apart from their competition during such a vital period. 
What Else You're Offering

 
The difference between a successful seasonal eCommerce period and a less successful one isn't entirely on the products. At this time of year, small details can make all the difference. Christmas delivery is one thing customers need a guarantee on. You have to make it crystal clear to customers exactly when they can expect to receive their orders and exactly when the cut-off point is for Christmas deliveries. Providing them with the ability to surprise and delight their loved ones helps create a huge amount of trust between a customer and your business, meaning repeat sales and a better business image. 
If you'd like to learn how Pimberly can help you optimise your eCommerce sales, take a look at our 1-minute intro video…