What is Digital Asset Management (DAM) and what are the big wins you can get from it? Well, essentially, a DAM is a centralized hub where you can gather, store, optimize and publish all your images, videos, and any other media assets to all your sales channels.
A DAM platform manages loads of different file formats and also serves an unlimited number of internal and external channels. There are likely many systems and processes that will be reliant on your digital assets, as will different departments. So, whether your marketing team needs access to imagery for an upcoming campaign or your customer support team needs your PDF sizing charts, you can manage all of this within your DAM.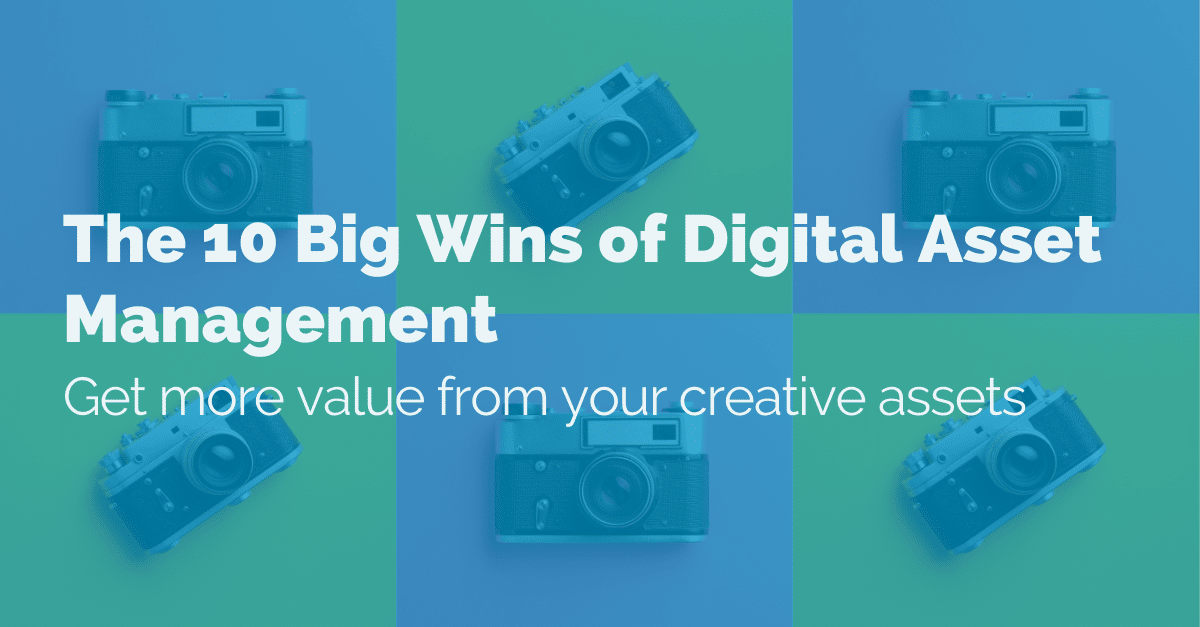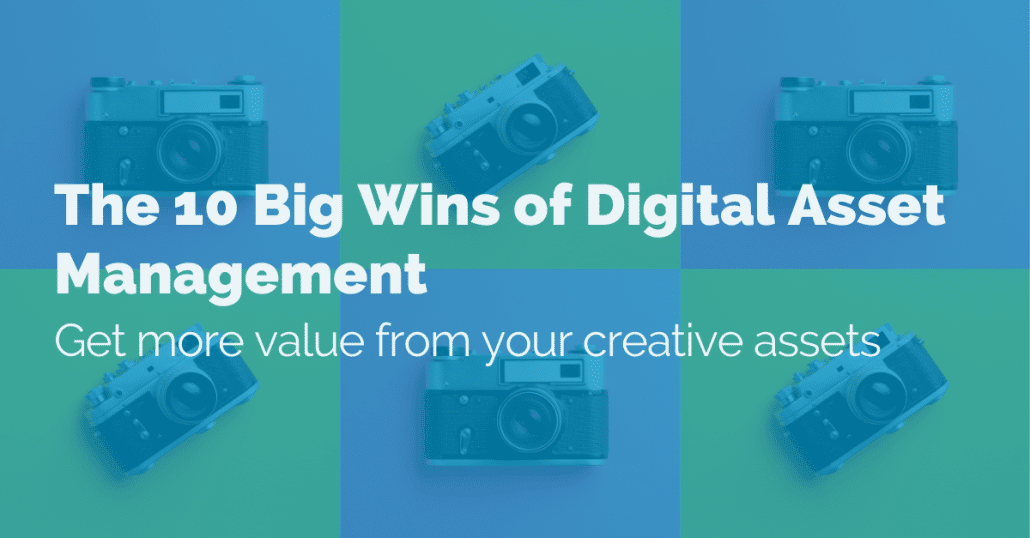 The 10 big wins of digital asset management
A digital asset management solution brings some really big wins to the table, so let's delve into what those are.
1. Massive time savings
Working across disparate systems often means you have to spend a lot of time searching for the digital assets you need. When it comes to digital storytelling to engage with customers, you need to make sure you're providing lots of variety.
However, the more digital assets you have, the more time you spend gathering, optimizing, and publishing across sales channels. Make massive time savings by storing everything in a centralized DAM system and use rules to auto-link assets to associated products. Everyone can access everything they need quickly and easily, which will significantly boost productivity.
2. Take your teams to cloud nine
So many different departments are involved in the digital assets management process. Keeping track of what needs to be done and when it needs to be done is tricky business. With a cloud-based DAM, everyone can access everything they need at any time, and from anywhere from a web browser.
A cloud-based DAM is regularly updated, so your teams will always be working off the most up-to-date and super-secure version. A powerful PIM/DAM solution enables you to create workflows to trigger alerts when a task needs to be completed. In other words, team members can really shine by focussing on their respective areas of expertise.
3. Super SEO
Over 35% of product searches starting on Google, so ensuring you rank well on SERPs is a no-brainer. But, in order to succeed at SEO, you need to optimize all your digital assets with keyword rich Alt Tags. You also need to think of things like page load time and how long visitors are spending on your site. All of this will be impacted by the quality of your digital assets.
Workflows within your PIM automatically re-size digital assets in your DAM to meet the requirements of your different sales channels. So, no need to worry about slow page load times! In addition, you can manage all Alt Tagging in one place, making sure you're using your target keywords.
A final note is around videos that can be stored and managed within your DAM. Using video is really a no-brainer as they encourage visitors to spend longer on your page. Google recognizes this as a sign that you're providing visitors with the information they need, which boosts your site authority.
4. Spread the word
Building brand awareness is always going to be the front-of-mind for any eCommerce business. To capture the attention of your audience, you need to make sure you stand out from the crowd. People are much more inclined to shop with brands and businesses they feel are aligned with their own beliefs and values.
As such, it's vital that you clearly convey your values and tell your brand story so customers can level with you on a personal level. Make sure this is the case with rich, engaging, and high-quality digital assets.
5. Boost demand generation
To drive demand generation, you need to instantly communicate how you can help your customers. This is also where you want to highlight your best-sellers, promotions, and discounts. Because people process images and videos up to 60,000 times faster, it makes sense to use captivating digital content to draw in your audiences' attention.
Because you have massive storage capabilities within your DAM, you can store all your promotional marketing materials in one place. As a result, your creative assets will be ready to launch at a moment's notice.
6. Consistency is key
More often than not, customers will be interacting with your products on various different platforms. They may be scrolling on social media or avidly searching for deals on Amazon. Wherever they come across your brand and products, you need to make sure you're conveying consistent messaging across all your sales channels.
Maintaining brand consistency is a key pillar in any omnichannel strategy. Having everything in one place makes it much easier to ensure all your digital assets meet your carefully crafted brand guidelines. What's more, approval workflows can be created within your PIM/DAM, so you know you're always releasing on-brand assets.
7. Create experiences your customers will love
One of the primary barriers to buying online is not being able to touch, try on and see the product in real life. For this reason, you should utilize your digital assets to help customers visualize what the product looks like and how it works.
How-to videos, lifestyle shots, sizing charts, and videos of the product in action offer an extra layer of reassurance. DAM enables you to give your customers all the visual aids they need to confidently hit buy. Again, because you can store so many media file variations, you can provide your customers with a wide variety of viewing options.
8. Increase conversion rates
The average conversion rate for eCommerce sites is a mere 2.86%. That's why it's key to make your site visitors feel confident in their buying decision. Things like high-resolution for zooming in, 360, and 3D views enable your customers to see the product from all angles.
When you offer these viewing options, you can achieve conversion rates 40% higher than those without them. Add to the experience with user-generated content i.e., other customers using or wearing your products, and you can instill even more confidence. The more confident a customer feels, the more likely they are to hit "BUY NOW".
9. Reduce return rates
There's nothing worse than receiving an online order that doesn't resemble the beautiful product you were perusing online. 22% of products are returned because they don't look the same as they did online. To avoid the time, cost, and overall nightmare of dealing with returns, you need to ensure your digital assets portray your products in the best, most accurate light.
Things like sizing charts can help you massively reduce return rates, which can be stored against your product listings within your DAM. Customers can figure out the exact right fit for them, they won't be disappointed on delivery, and you can preserve your online reputation.
10. Provide great post-purchase experiences
The buyer journey continues well after checkout, so make sure you're still delivering a top-notch experience, even after the goods have been delivered. This might include things like how-to-guides, care instructions, video tutorials, and product demonstrations.
The Pimberly DAM
The Pimberly DAM is a central repository for all the assets you need to deliver exceptional customer experiences. Our feature-rich DAM software will save you time and money by streamlining the way you manage all your digital assets.
For instance, Pimberly Auto-Sizing Charts use the information within your PIM to automatically generate totally accurate sizing guidelines for all of your products. Any changes made within the PIM will be reflected in real-time on your sizing charts which are stored in your DAM and published to your sales channels.
Furthermore, Pimberly AI saves significant amounts of time eCommerce and design professionals spend tagging digital assets. As you upload your images, videos, and other digital files, Pimberly AI uses powerful AWS Rekognition technology to automatically tag them.
All in all, a powerful Digital Asset Management system will help you craft online experiences that resonate with your customers. Right from the start of the buyer journey, right through to post-sale, you can dazzle and delight your customers every step of the way. Get more value from your creative assets and reap the rewards!
Here's a sneak peek of the Pimberly Digital Asset Management platform in action