To achieve eCommerce success, you need to follow PIM best practice. Increasing numbers of organizations are looking to use a PIM system to manage product data and streamline processes. At a time when online shopping is booming, it's vital for eCommerce businesses to harness their product data to gain a competitive edge.
Streamlining how you manage your product data and digital assets is essential. Developing an eCommerce marketing strategy that will really set you apart from the competition is also crucial. Ultimately, you want to turn browsers into buyers. To do that, you need to give your customers engaging product content like imagery, video, and fully enriched product information.
Implementing a PIM solution is essential if you're looking to achieve eCommerce success. In this blog, we're going to outline the key areas of PIM best practice you should consider before starting your PIM journey.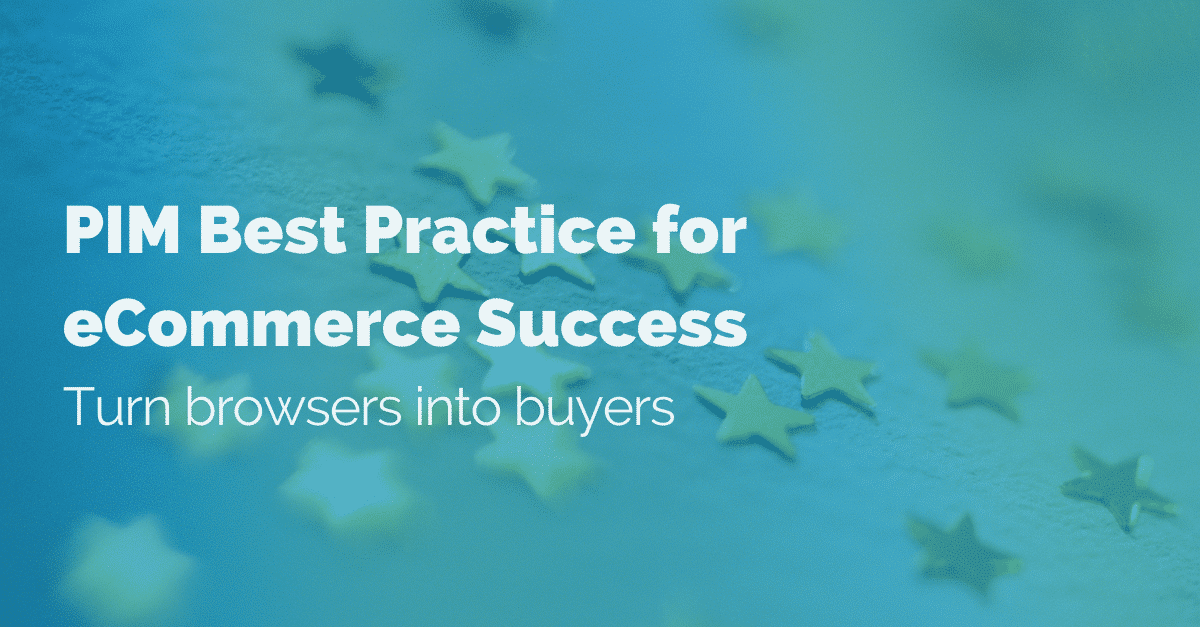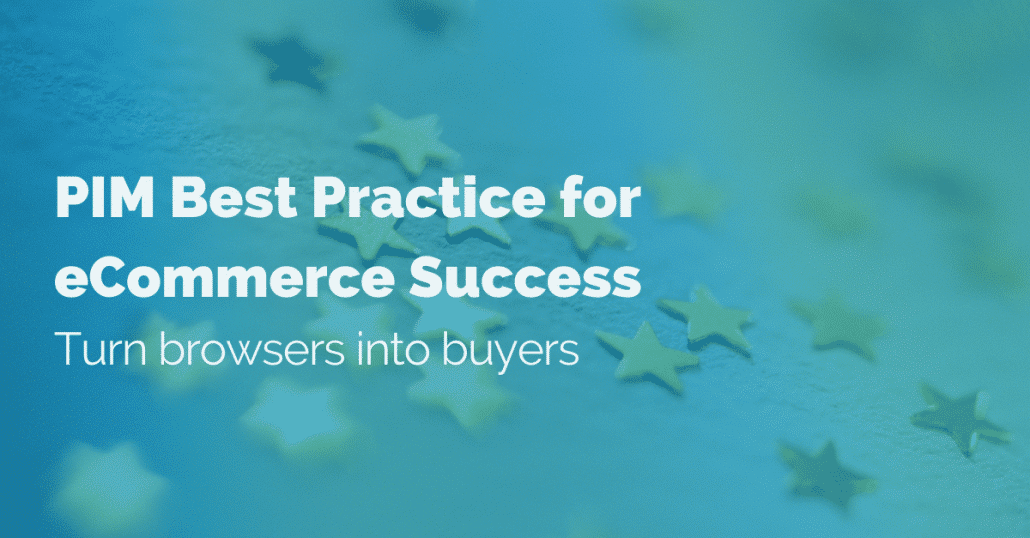 The golden record & source of truth
Maintaining the golden record can sometimes feel like finding the holy grail of product data. With PIM, this doesn't have to be the case. Regardless of whether you're importing data from 10 data sources or 1000, you can ensure there are standardized formats your product data and digital assets will follow.
With Pimberly's lifecycle stages and workflows, you always have full visibility of the completeness and accuracy of your product data. Housing all product information in PIM creates a holistic approach to tracking and understanding what is required to get products to market.
This added visibility gives you an understanding of what products are for sale on a certain market, and it allows you to then ask why not? Lifecycles also ensure you'll never release a product live with missing information ever again.
Different sales channels will have different requirements for the format of your product content and digital assets. PIM best practice involves setting different criteria with scoping capabilities. Scoping enables you to optimize your product content for a specific audience or market.
This makes sure you're always distributing the best possible quality across all your online outlets. Furthermore, this will help to differentiate content from your competitors and provide SEO benefits as a result
Create confident shoppers with your unified product data. When they see consistency across your channels, they'll know that what they're seeing is what they'll get. You can also make it easier for your customers to find your products by adding as many product attributes as you like.
Making improvements to product structure and providing rich attribution will go a long way in boosting your SEO rankings. Search engines LOVE well-structured sites, and so do your customers!
Creating a collaborative way of working
Different departments, such as product managers, design and marketing teams, often need to work in tandem and require access to shared product data and digital assets. To make sure your eCommerce marketing strategy runs smoothly, collaboration is key.
Effective eCommerce marketing strategies also rely on incoming information from manufacturers, suppliers, designers, and other internal and external sources. Again, you need to make sure your team can get their hands on what they need. Accuracy and quality will also be key here – if you're running a campaign, your product data and digital assets have to be on point!
We're fully aware of this. That's why we've designed Pimberly with simple, intuitive UI that gives you full access and permission controls for different users. Ensure PIM best practice by determining the requirements for each department. Make sure they have the correct access and permissions, and you can control what they view, edit, or publish.
Creating a collaborative way of working will not only save you time, it also means your teams can drive the eCommerce marketing strategy forward. You'll have total reassurance that only the relevant people are accessing product data and digital assets throughout the product lifecycle.
Minimizing the risk of human error and time spent duplicating content will have you well on the way to PIM best practice!
Amazing customer experiences
With 2.14 billion digital buyers worldwide in 2021, it's no surprise that competition is rife in the land of eCommerce. Setting yourself apart from the competition is absolutely non-negotiable. A good starting point is looking at how to improve the customer experience and high quality, consistent product data will form the foundations.
Really getting to know your customers, their interests, and their previous browsing history opens up cross-sell and up-sell opportunities. Make your customers feel special with personalized product recommendations you know they'll love. With PIM, you can gather and store unlimited amounts of data, which can then be used to craft tailored online experiences. In doing so, you'll be a step ahead in terms of creating state-of-the-art product detail pages, too.
You can easily create product relationships with PIM and offer kits or bundles of related products. In doing so, you'll likely see improved conversion rates and increased AOV. It's important to remember the role of digital assets in the buyer journey, particularly when selling kits or bundles to help customers envisage the product.
You can't physically interact with products online, so it's important to have rich assets like images and videos. This gives your customers the confidence they need to make an informed purchasing decision that won't get returned. On average, online customers have an attention span of about 8 seconds. That means you've got 8 seconds to captivate their attention. For PIM best practice, always include a variety of high-quality images and video.
Easily manage all media files with an integrated digital asset management (DAM) solution. Any powerful DAM will offer unlimited storage, and you can even auto-link digital assets to your products in Pimberly. This will save you huge amounts of time and will massively improve the customer experience.
Say goodbye to manual processes
The more products you have, the more data you'll have. When you're operating across multiple channels and geographies, the data needed for each product is multiplied. Having one centralized hub where you can store everything will massively boost your productivity, and this is where PIM comes in. Bring in data from anywhere, in any format and standardize it to create your single source of truth.
Make the most of unlimited storage. Everything from translated product data, prices in different currencies, different sizing guidelines and unlimited digital assets. Say goodbye to the days of spending hours dealing with loads of different spreadsheets. PIM offers amazing capabilities in terms of powerful automation, meaning you can reduce manual tasks by up to 80%.
Because everything is stored in your PIM, you have clear visibility of all your products and their lifecycle stages. You can have full control over how and when your product information is distributed. Use lifecycle stages and workflows within your PIM to move your products from enrichment to distribution. This way, you can ensure product information meets defined criteria before it's published live.
Starting your PIM journey
When starting your PIM journey, it's important to think about what the PIM implementation is going to look like. There are different options when it comes to PIM, be that a SaaS PIM or open-source. The two are very different and will have different repercussions on your internal teams. Open-source PIM often requires quite a hands-on approach, and you'll need to make sure you have a strong IT team that can maintain it with the resources available to maintain it.
You also have the option of on-premise or cloud PIM. Again, the two are very different and will require different resource allocations. The Pimberly platform is a cloud-based SaaS PIM. This comes with loads of advantages and is a less onerous solution when it comes to maintenance and hardware.
Because we're a SaaS business, we're with you every step of the way. From planning to implementation and delivery – we'll take care of everything. We also have a dedicated team of in-house PIM experts who are always on hand to make sure you're making the most of PIM best practice to get the best results from the platform.
You can access everything on a cloud-based PIM system from anywhere, at any time provided you have an internet connection. It also means you benefit from unlimited storage and scalable, elastic resourcing. So, if you're looking to expand your product range and reach new markets – cloud-based PIM is ideal.
Final words
A powerful PIM is integral to a successful eCommerce marketing strategy. When PIM best practices are used, you can achieve:
Improved online conversions
Reduced product returns
Reduced cart abandonment
Better customer loyalty
Harness your product data to produce better eCommerce results and show your customers some love!
If you're thinking about starting your PIM journey

, take a look at some 

more 

info on 

PIM implementation