Today, it's not enough to have a user-friendly eCommerce website. Consumers demand better product experiences across a wide range of channels.  So you need to be exploring new markets and utilising the latest eCommerce technologies to make a real impact.
Here we identify 3 key eCommerce trends in 2019, examine how they can benefit your business and finally, explain why Product Information Management is crucial to your success.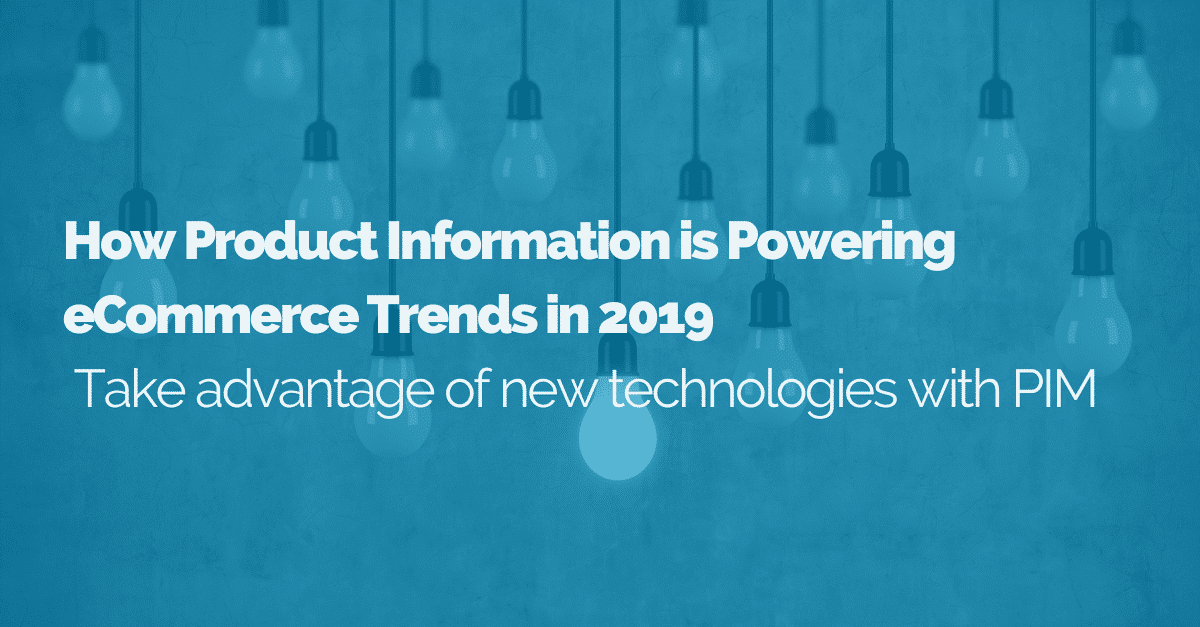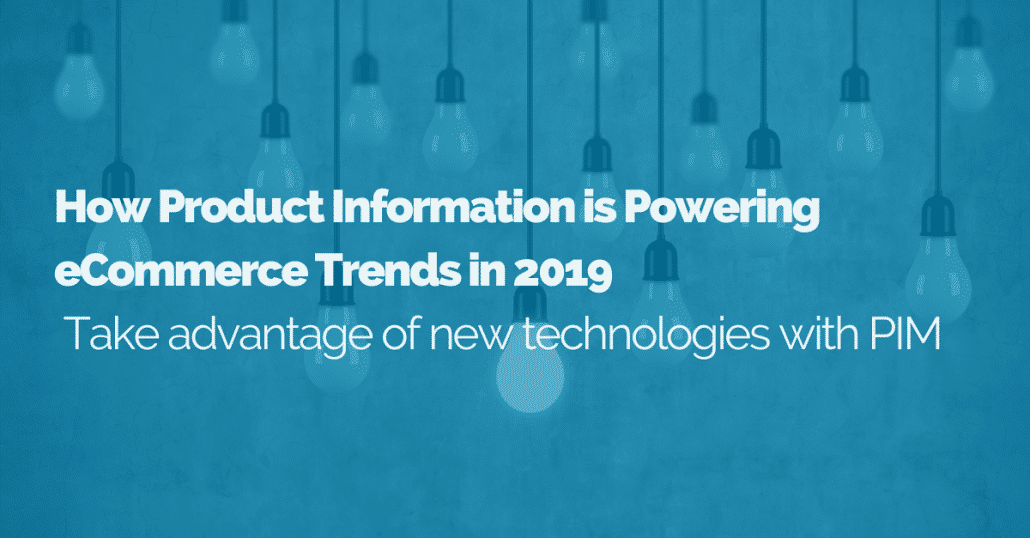 eCommerce Trend #1: Marketplaces
Did you know that online marketplaces accounted for 57% of global online retail sales in 2019? This accounts for nearly half of all online shopping. They're a force to be reckoned with and something you can't afford to miss out on.
Benefits of joining a marketplace
Joining a marketplace will allow you to expand your customer base and reach new markets quickly.
It's an excellent option for those wanting to trial new products, without affecting their existing brand. You can also utilise marketplaces for selling off old stock at discounted prices.
Benefits of creating your own marketplace
Creating a marketplace is a fantastic way to differentiate your brand and stand out as a market leader. It provides the opportunity to sell complementary products from 3rd parties, which in-turn improves cross-sells and up-sells, thus increasing customer spend. Selling 3rd party products can drive more traffic to your site and may even introduce new customers to your brand.
Of course, joining or creating a marketplace doesn't come without its challenges.
(You can read more about how PIM helps boost Average Order Value here)
Data transfer and matching is tricky
When joining or creating a marketplace, there is a need for successful data transfer and data matching. When listing on an external marketplace, you need to send product information and inventory to the site. If running a marketplace, you need to accept data from multiple sources and ensure it matches your data model and requirements.
Data transfer and data matching can be fiddly and time-consuming, but it doesn't have to be that way. Speed up the process and ensure consistency using our cloud-based PIM software. Pimberly allows for speedy product onboarding, meaning you can take advantage of extra selling days. Automating key processes can simplify your multichannel eCommerce strategy.
Controlling site experience is crucial
We all know how vital product presentation and the buying journey is to consumers. The trouble is, when joining a marketplace you risk losing an element of control and if something goes wrong their end, it could still damage your brand. To avoid this, select your marketplace carefully and maintain as much control over product data, delivery options and product presentation as possible.
It's essential to offer a consistent eCommerce experience across your brand websites and marketplaces. If you have different teams managing the data for each channel, you must ensure they remain up to date with product and marketing changes. This is easily achieved using our PIM software to centralise product information and deliver a single point for marketing information across all sales channels.
Similarly, if you are running your own marketplace, you need to maintain as much control as possible over your 3rd party vendors' listings. Select vendors carefully with regards to your own brand and products and have a clear data model in place. Take control and improve customer experience using our UK based PIM software to curate listings that complement your own and can be presented as cross-sells and up-sells, where appropriate.
Is it worth the effort?
It's easy to feel intimidated by the bigger marketplaces. Amazon, by far the most significant player in the space, has a total of 8.9 million sellers worldwide. And with news of Tesco's withdrawal last year from the marketplace, you may be questioning the benefits we've previously mentioned.
But what you've got to remember is that all of the big marketplaces started small, selling a single type of product. For Amazon, it was books. For eBay, it was second-hand goods. Both grew steadily to get where they are today. With careful product selection, great marketing and efficient product information management, there's nothing to say you can't do the same.
eCommerce Trend #2: Conversational eCommerce
Why type searches when we can simply speak them? Conversational eCommerce, utilising smart speakers from the likes of Amazon, Apple and Google, is one of the biggest eCommerce trends for 2019. This means it's something your eCommerce business could capitalise on.
Benefits of conversational eCommerce
Voice-enabled assistants make shopping online easier, but conversational eCommerce is not limited to voice chat. In fact, it covers any chat or messaging system that allows interaction between shoppers and retailers. What it provides is something that was lost with the shift from in-store shopping to online shopping, and that is the ability to ask for advice and recommendations. Sure, the Internet has consumer reviews, but even so, many consumers value the expertise of a brand and their in-store advisors more.
Conversational eCommerce allows consumers to get that 'in-store connection' online and receive personalised advice. This can go a long way, not only in boosting sales but improving customer trust and loyalty.
Utilising chatbot systems or mobile apps like Facebook Messenger and Whatsapp enables two-way communication between a brand and customer. It's more instant than email and can help create a much more personal relationship between you and your customers.
Harvey Nichols is an excellent example of a big brand utilising conversational eCommerce technology. Their online chat system connects customers to an in-store advisor, allowing them to get personalised recommendations based on their needs. It's a fantastic way to utilise shop floor staff and their expertise while providing an improved online customer experience.
Conversational eCommerce can be complicated
It's fair to say that conversational eCommerce integrations can be complicated. Much of their success comes down to efficient product information management.
For conversational systems to work effectively, they need to be able to quickly search, find and return relevant products from your database. You may also find that you need multiple versions of product details for different communications, as text descriptions and audio descriptions will require subtle differences in order to sound authentic.
Well-structured product information is essential to the success of any conversational eCommerce system. It's far easier to both produce and manage with the use of our effective, customer-centric PIM software.
eCommerce Trend #3: Immersive eCommerce
Finally, we have Immersive eCommerce, which as the name suggests is all about bringing an immersive visual aspect to the online shopping experience. It utilises both Augmented Reality (AR) and Virtual Reality (VR) technologies, both of which have become increasingly popular over the last few years. Most smartphones are now capable of displaying VR technology, and some are now able to process AR content too.
Many brands have already successfully implemented immersive eCommerce through their apps. For example, IKEA allows shoppers to see furniture in their own homes and Specsavers' online customers can try glasses on their face, without needing to visit a store.
Benefits of immersive eCommerce
The key advantage of immersive eCommerce is that it allows consumers to make more informed online purchases. This improves brand loyalty, as well as sales. It brings the 'in-store shopping experience' online. It gives consumers the opportunity to browse and try products just like they would do in a shop but from the comfort of their homes (or wherever they may be.)
It's a fantastic way to make your brand stand out from competitors. But it's worth noting that to work successfully, there must be a real 'customer need'.
Immersive eCommerce isn't cheap
As with conversational eCommerce, immersive eCommerce integration can be complicated and costly. You need to decide on your motivation. Are you considering it to make you look like innovators in your industry? Or is there a tangible need for an immersive experience, making it something your customers will really benefit from?
Preparation is key, as well as being proactive with your data management. Using PIM software can go a long way in ensuring success. By automating key data management processes, you can save valuable time that can be spent elsewhere, such as integrating immersive eCommerce technology to improve customer experience.
Take advantage of new technologies with PIM
There are many advantages to considering the new eCommerce trends and implementing technologies we've highlighted. However, their success largely weighs on your ability to produce and maintain accurate and organised product information. We'd go as far as saying efficient product information management is crucial to achieving a high return on your investments.
And this is where Pimberly comes in. We are a UK based, fast-growing business, offering a unique approach to product information management. Utilising our unique, cloud-based software, you can create, manage, organise and structure your product data to easily take advantage of new marketplaces and emerging eCommerce technologies.
We can help you take control of your product information and save time with streamlined, automated processes. Generate business faster and improve your overall customer experience with Pimberly.
Learn more about harnessing other new technologies to boost your digital commerce strategy