The fashion and apparel industry is full of complexities and the pace of change is pretty much unrivaled. The seasonal nature of the fashion and apparel industry means new product launches are commonplace. Products need to be available in different sizes, colors, and styles, which means there are tons and tons of attributes to manage.
That's why Product Information Management systems (PIM) for fashion and apparel businesses are becoming an essential tool. Anyone working in this industry knows that crafting amazing, personalized, and relevant product experiences is key to stay ahead and stand out. But, when you're managing a large number of SKUs, the complexities start to build up.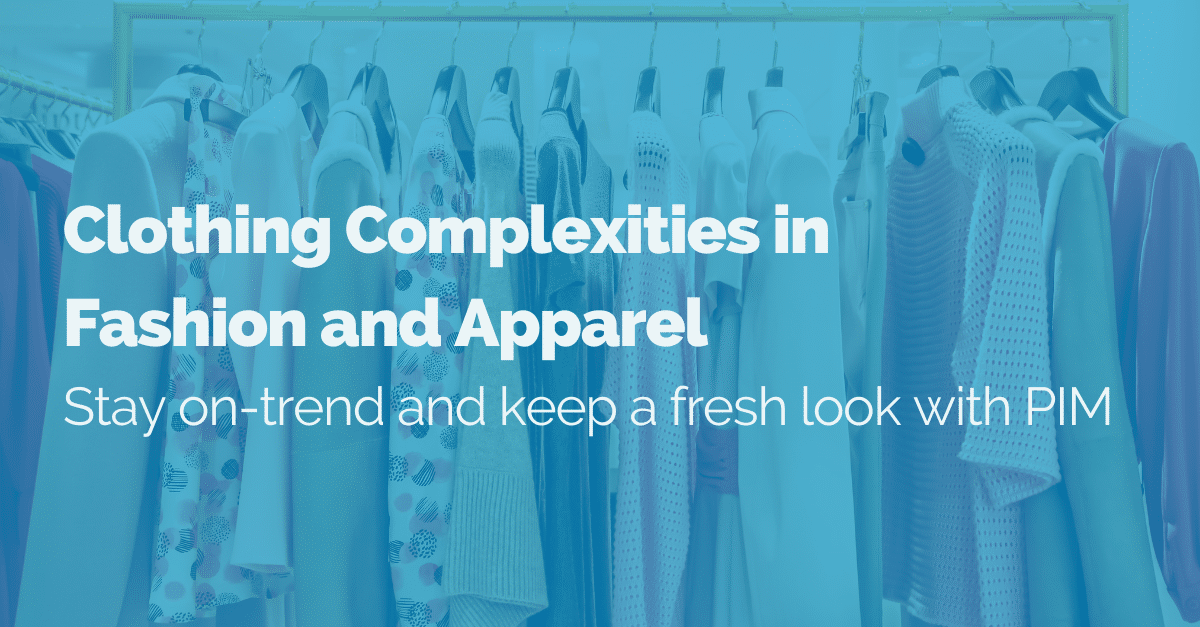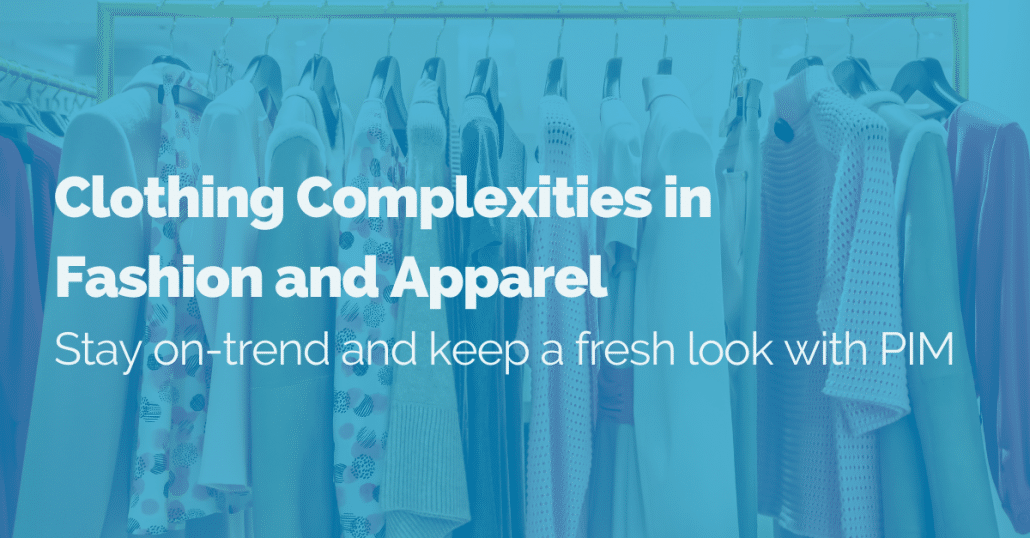 Let's look at the familiar example of a shirt. We all know what they look like and it's a pretty basic item of clothing – or so we think! When you start to break it down, the clothing complexities start creeping up. For instance, this single shirt will have a multitude of attributes, such as:
Size
Color
Style
Fit
Collar type
Cuff type
Pocket type
Cotton weight
Details around sustainability
All of a sudden, you end up with endless product variations, countless SKUs, and loads of different attributes to manage for one product. In addition to this, there might be certain combinations that don't exist because they don't sell well or could be low stock, discontinued or cheaper in price. In other words, even with something as simple as a shirt, you can quickly have a product information nightmare.
With PIM, you can easily manage all these product variations in one central hub.  So, what's the hype around PIM for fashion and apparel businesses? Let's get to it.
How PIM for fashion & apparel simplifies clothing complexities
The beauty of a PIM is the unlimited storage of product data, product content, and digital assets. The opportunities are also endless when it comes to your data sources and how many sales channels you set up. Literally, the sky is the limit.
There are tons of features and functionalities within PIM solutions that are tailored to meet the needs of online fashion retailers. Simplify the clothing complexities you deal with on a daily basis, all whilst streamlining the way you manage your product data.
Product categories & attributes
You can create as many product categories as you like with PIM software. The first step would be to define your data structure, which can be done with schemas. Search engines love well-structured data, so this will improve your SEO strategy and will also help customers navigate your site.
A schema within your PIM system enables you to control the attributes a product should contain. Because you've got unlimited storage and total flexibility, you can have as many product attributes as you want. Schemas define how products relate to other products and assets, as well as how they map to SKUs.
Apparel and fashion brands often manage multiple categories and sub-categories. Therefore, schemas will give you the ability to map these directly to product families.
Product data sets
Regardless of how many different feeds you're sourcing your data from, there's an easy way of managing all this within your PIM. Whether it's your internal ERP, or external supplier feeds, you can gather all your data and digital assets in a central hub.
Product sets are basically tables of data that can be imported into Pimberly and then used in various places in the system. Essentially, data sets enable you to effectively transform data into the format you want. For instance, if you receive product information in the following format – "1B" or "BLK", you can automatically change it to "Black".
Overall, this means you can save heaps of time and you won't have to manually change all these values – it's done automatically. This means you can craft product descriptions that are on brand and clear for your customers.
Scoping and localizing data
Any successful apparel or fashion brand will likely be selling across multiple sales channels, in multiple regions. This is why it's so important to make sure your product data is suited to your different audiences. On top of this, you need to make sure the information, imagery, and any other digital assets meet the requirements of the different sales channels you're selling through.
The unlimited storage in PIM means you can store product information, including your descriptions, prices, and sizes in multiple languages. As a result, you can massively improve the customer experience by providing everything your customer needs in the language and format they'll recognize.
In terms of your sales channels, they'll all have different requirements for your product information and digital assets. Whether you're selling swag on social media or acing your apparel on Amazon, scoping your data with PIM is super straightforward. Your images will be automatically resized, and you can store loads of different variations of your product descriptions.
Achieve eCommerce success with PIM for fashion and apparel
We put the fun back into eCommerce and take the pain out of managing product data, regardless of how many SKUs you have. We've developed the Pimberly platform with growth and scalability at the forefront, and we love helping eCommerce businesses create amazing online experiences. Here's how:
Giving your customers the best possible experience
Making your customers feel special and valued is a great way of building loyalty. A great way of doing that is making intelligent product recommendations. Think "shop the look" to give your customers a bit of inspiration.
Creating product relationships with your PIM makes this super straightforward. It's also a good way of creating cross-sell and upsell opportunities.
The fast-moving fashion industry means things are constantly changing, and customers are always on the lookout for new looks. So, making sure you're regularly updating your product ranges is always going to be a priority. With a bulk update functionality, you can "stay on trend" and easily expand your product range with real-time product updates.
Another aspect of keeping your customers happy and loyal is making sure they can make informed buying decisions. There's nothing more frustrating than ordering something online, only to find it doesn't fit right. Around 40% of clothing and shoes bought online are returned, and less than half of them can be re-sold.
This is where an auto-sizing functionality will be handy, and it'll save you tons of time. Automatically populate sizing charts with accurate and up-to-date information so your customers can pick the fit that's right for them. Make sure you're including high-quality image and video to bring your product pages to life and give your customers a full view of your products. This is where a powerful digital asset management system will be key!
Keeping a fresh look with PIM
Even the simplest of products can hide a multitude of complexities. Irrespective of the problems you face, PIM for fashion and apparel will help you overcome them. Whether it's the colors and sizes of a t-shirt, or the color, cup size, and chest size of bras… multi-dimensional, multi-faceted product information is handled seamlessly in Pimberly.
Overall, PIM gives you the power to hit your eCommerce KPIs, including:
Create amazing online experiences that keep customers coming back with new and exciting product launches
Improve AOV with recommendations and create "shop the look" offerings
Reduce return rates with accurate product information and digital assets that leave no room for confusion
Enter new sales channels and geographies
*We always want to make sure we deliver the highest quality content, which is why we updated this blog in August 2021. This blog was originally published in September 2016.