Read time: 5 minutes
PIM (Product Information Management) and Product Content Management aren't to be confused. Both are essential in delivering top-notch online experiences and developing your eCommerce strategy. In this blog, we're going to outline how to use them in tandem to drive the best possible results.  
Let's start by defining what both PIM and product content management actually mean. PIM (Product Information Management) is the process of gathering, storing, and distributing all the information regarding your products across your sales channels. Examples of this would be size, description, and price. Essentially, all the details your customer needs to make an informed buying decision.  
When it comes to product content management, we start to get a bit more creative. Product content is any form of content that's going to help your customer build a meaningful relationship with your brand and products. For instance, this might include images, videos, blogs, customer-generated content. Overall, product content is going to give your customer a more in-depth view of your products.    
PIM is going to focus on informing your customers, whereas product content management is going to focus on providing an extra layer of detail that will lead to a richer online experience.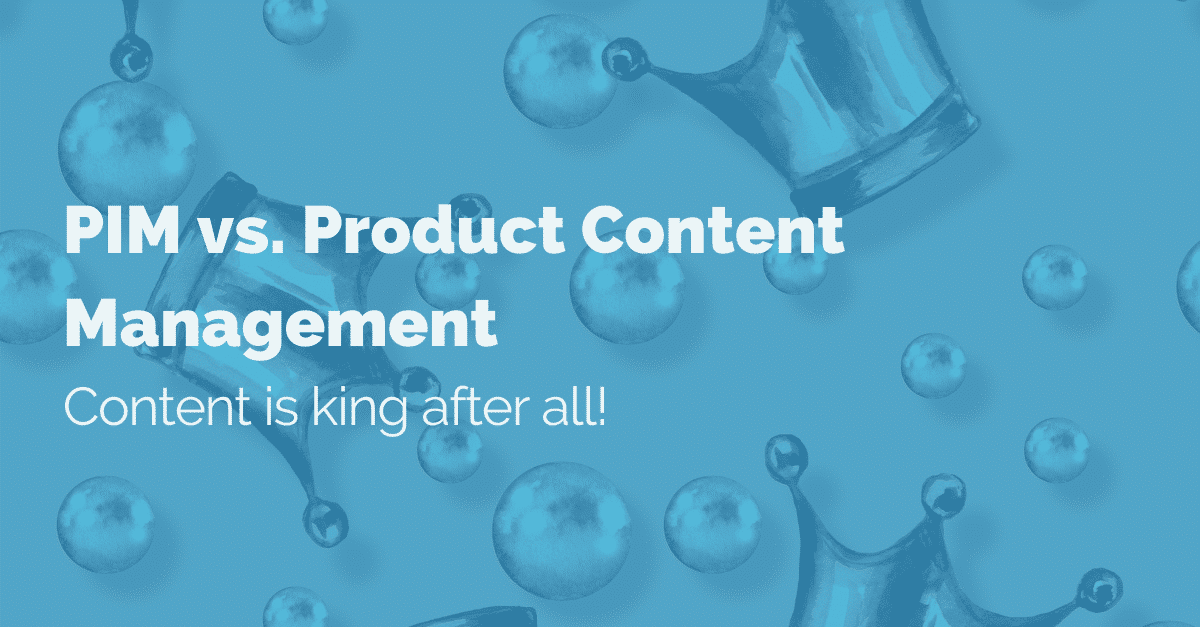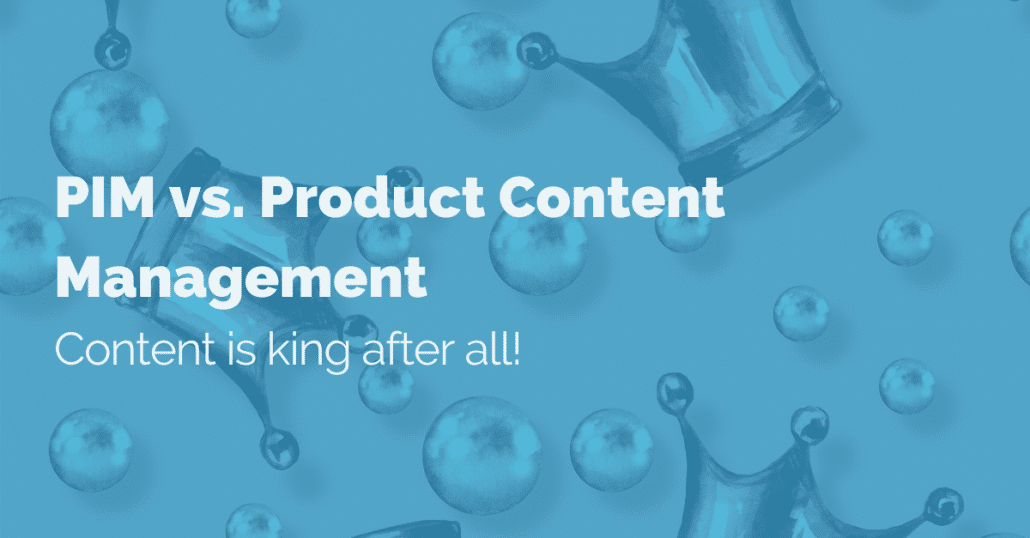 What is product content management? 
A good way to view product content management is essentially your online merchandising. Content is the driving factor of success for any digital business. Your product content strategy will determine how well your products perform. Like any content strategy, you should consider the overall objectives you want to achieve with product content. Think about the topics that are of interest and relevant to your audience to nurture your relationship with them.  
Use different content types to tell your brand story and shed more light on your products. At the end of the day, the goal is to build solid customer relationships to sell more products. Use your product content to present them in the best possible light. Tell a story your customers will remember and bring your products to life.  
Use product content management to create meaningful touchpoints with your customers throughout the buyer journey. Here are some examples of product content you can use at the different stages:  
Early-stage awareness:
As the age-old saying goes, content is king. The consumption of digital content has pretty much doubled over the past year, so there's definitely an appetite. Use blog content to tell your brand story and give your customers a fuller view of your products.  
More often than not, the first thing a customer will look at will be your product images and videos. Make sure you're bringing your products to life with varied and high-quality images and videos.    
Consideration:
Research carried out by Brightpearl in 2020 showed that 95% of shoppers read reviews before making a purchase. With them playing such an important role in the buyer journey, you need to make sure you're using them.  
Customer-generated content i.e., lifestyle shots and use case videos are a great way of showing what your products look like in real life and how they can be used. It also adds a more human element to your products and creates a strong relationship between your brand and your customers.  
Decision:
At this stage in the buyer journey, give them as much information as possible to tip them over the buying line. How-to guides, product manuals, product data sheets are the types of product content you should provide at this stage. This will enable your customers to visualize what it will be like to have/use your products.    
What is product information management?
One of the main benefits of using a product information management (PIM) solution is being able to create master data records. To ensure you're providing a consistent customer experience across all sales channels, it's imperative to create a single source of truth.  
PIM software gives you a centralized hub to gather, store, enrich and distribute product information. This means you always have full visibility of all your product information. With workflows and product lifecycle stages, your products automatically move through the different stages. You can create triggers for each stage, which means you'll never release a product with incomplete or inaccurate data.  
Managing the data:
Do away with the manual processes of searching for product content across disparate systems. PIM integrates with any number of internal or external data sources, like your PLM, ERP system, or Excel spreadsheets. Bring everything together in one place and create a single source of truth for all your products. 
Data management is always a challenge, but PIM enables you to reduce manual processes by up to 80%. Within your PIM, you can manage all product descriptions, attributes, and assets. Powerful localization tools mean you can also store all of this information in as many different languages as required. You can also handle an unlimited amount of SKU's which means PIM will grow with your business. 
Publishing the data:
A powerful PIM will give you the ability to set up as many sales channels as you like. it's likely that the different sales channels you serve will each have different requirements when it comes to the format of your product data and digital assets. Scoping capabilities enable you to tailor your product data and digital assets depending on the channel, so you'll always fit the bill. 
You can also use scoping to optimize your product information for different audiences and markets. Having well-structured data with lots of different attributes means your customers will be more likely to find them. That's the goal, right?! Get your products in front of the right people at the right time! 
Overcoming business challenges with PIM & Product Content Management
Product information and product content management are both key factors that will ultimately determine the quality of the customer experience. The better the customer experience, the more loyalty you'll gain from your customers. Loyal and happy customers have a higher lifetime value and will end up generating more revenue.  
Accurate product information and rich product content will leave your customers feeling fully informed and confident in their buying decision. The more product content you have, the clearer your customers' expectations will be. This will lead to a significant drop in return rates and will boost your online reputation.  
This rich, accurate, and well-structured information will also do wonders for your SEO rankings. This means you can extend the reach and visibility of your products. Having good marketing content to accompany your product information will also improve the overall feel your customers get for your brand 
Retailers need a solution that's scalable and fit for purpose – that's why PIM and product content management are the perfect combination. PIM will grow with your business and will facilitate the management of huge amounts of data. Your product content management strategy will work alongside your PIM, giving you the power to create truly unique and amazing online experiences your customers will love.  
Create perfect product pages that guarantee the best possible customer experience