Here in the coronavirus era, eCommerce reigns for most retailers, so creating a seamless post-checkout experience should be front of mind. Even those that had, pre-pandemic, mastered omnichannel, the bulk are seeing online and mobile transactions eclipse all other sales routes. According to the Office for National Statistics (ONS), online shopping increased among all age groups in 2020 by an average of around 15%. A look at a graph of growth data says it all.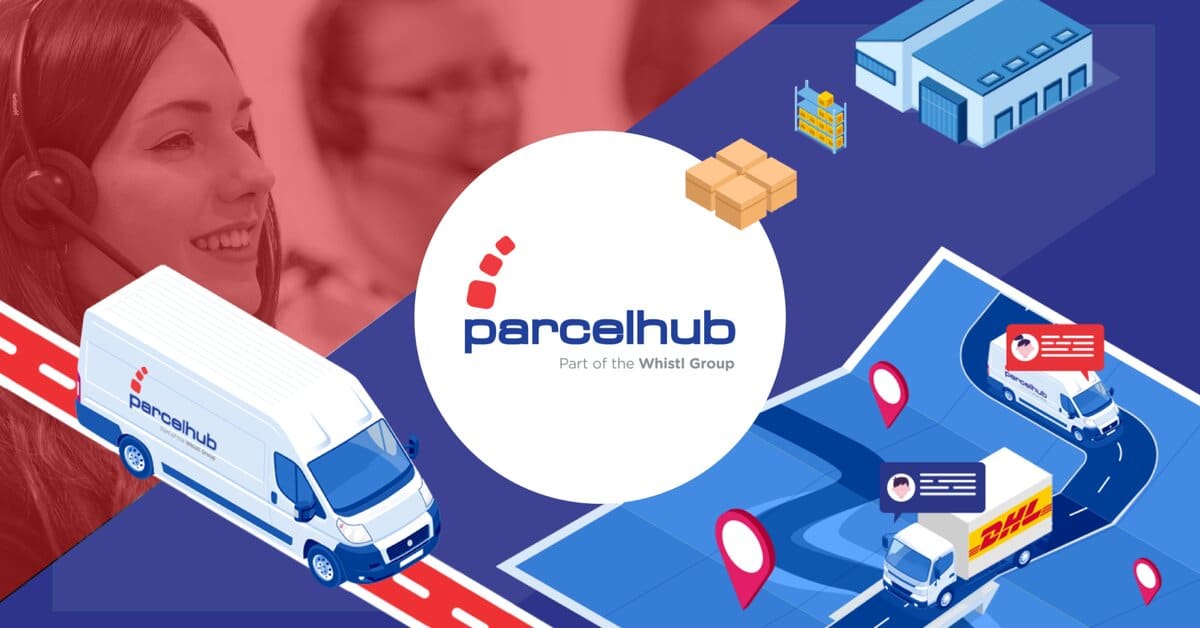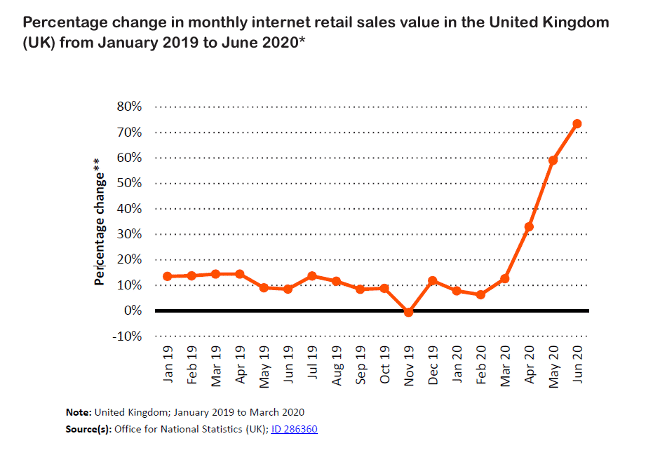 While this has been good for many pureplays, from small kitchen table sellers on eBay right up to the likes of Boohoo, OnBuy and even Amazon  it has made eCommerce extremely competitive. Shoppers out there are looking for the best price, but they are also looking for the fastest and most convenient delivery.
Even before the pandemic accelerated consumers' uptake of eCommerce, delivery was a key factor in choosing to shop with a specific retailer.
However, it isn't just about speed and convenience: delivery is what defines the new world of post-purchase customer experience, and it is this that is starting to be what customers look for when choosing who they buy from.
According to a consumer study by Oracle Retail in 2019, 13% of consumers would never order from the retailer again if the delivery was late. This has risen much higher in 2020 and will be key in 2021.
Parcelhub research in 2019 found that 46% of retailers also see delivery as a competitive advantage, while 1 in 20 eCommerce deliveries fail, costing mid-market retailers, on average, nearly £200,000 a year. So, how do you come out on top and ensure a seamless post-checkout customer experience, especially with the dual challenges facing UK retailers of COVID-19 and Brexit?
What Is a Seamless Post-Checkout Experience?
First, it is important to look at what we are trying to achieve. The gold standard for a post-checkout customer experience follows a simple trajectory:
Thank you message with order confirmation and details of what has been bought and when it will be delivered (the day at least, if you can narrow it down to hours even better)
Continued updates on the item's progress: when the order has been packed, when it has left the warehouse, when it has reached the distribution centre; when it is out for delivery; when it will arrive. You can even throw in the name of the delivery driver, if you want
Further update that item is going to be delivered in the next hour and how to track it
Confirmation of delivery
A final touch can be clear returns information to follow that up, should it not be correct in some way.
Peppered in here can be gentle upsell information, or sign-up prompts, or better still Рdiscount information for future purchases. But, these need to be handled with care – it is easy to bombard and have a counterproductive impact.
This is the ideal. Here in the real world and with many retailers struggling under the weight of online orders, this ideal can slip from your grasp, and if allowed to, can create a whole world of post-purchase pain.
What Happens When Delivery Goes Wrong?
When deliveries fail, there can be a cascade of problems thrown up for the retailer, marketplace, merchant and even the carrier. For starters, customers vote with their feet. Delivery failures – be it lateness, no-shows, missed delivery, or any other problem, will see shoppers go elsewhere.
While losing customers is the ultimate cost of bad delivery, the real headache for retailers in the eCommerce boom is handling customer complaints, which is time-consuming and expensive, with estimates suggesting that the average cost of a failed delivery is around £14.
When it goes wrong, the retailer, marketplace, merchant and even the carrier starts to get calls. The most common, and the hardest to deal with ' are so common they have their own acronym: WISMO; Where Is My Order?
How WISMOs are handled is key to creating a positive delivery based post-purchase customer experience.
These are damaging to the brand in the eyes of the consumer, but at around £3.50 cost per call to the merchant, an expensive problem to have in practical terms to boot.
Mitigating Disaster
Working with a third-party carrier management company holds the key to mitigating the disasters around delivery that can blight post-purchase UX. For starters, offering a range of delivery options through a choice of carriers can not only make for an attractive pre-purchase experience, but it can also help create a delivery model that makes it less likely that things will go awry.
Having different carriers deliver along different timelines in itself can minimise problems of orders not arriving on time.
Using a third party to manage the collection of packets and parcels can make doing this much easier to manage (helping you better focus on picking and packing), and much more cost-effective for the merchant as a 3PL company can rationalise all those deliveries for a number of merchants and deliver huge economies of scale to each, as well as helping to keep delivery flowing.
Predicting and Preventing WISMOs
Third-party carrier management, however, can take post-purchase UX a stage further. What if they could identify and address problems that lead to WISMO calls in the first place?
Technology such as Parcelhub's SMART Notifications Platform lets the carrier management company track each package that its clients send through it to not only output delivery data for customers' notifications, but also to flag up and deal with exceptions as they happen.
The software works by scanning the data on packages that enter its system and looks for exceptions and anomalies against a set of pre-defined rules. Each issue is ticketed and passed on to an in-house team who can then take action.
Software analyses delivery data and identifies non-deliveries and exceptions, allowing them to be monitored and action taken as required, ideally before it becomes an issue. In-house agents can also help fix those problems in-flight if caught early enough.
This also allows the company to proactively reach out to customers and tell them as early as possible in the process that something has gone wrong, inform them as to what can be done about it and what new timeline they are working to.
This proactive approach saves face, but it also saves a lot of time and money in proactively preventing WISMO calls. Here is an example of a Parcelhub customer saving £40,000 annually on customer service time alone:
Dealing with WISMOs
The nature of eCommerce dictates that there will still be WISMO calls, despite the best efforts of merchants, third-parties and technology. How these are handled is the final piece in creating a post-purchase customer service operation.
The advantage of a third-party carrier management service such as Parcelhub also extends to being able to actually handle the calls made from irate consumers about their items. With all the data at their fingertips, a third-party can more effectively tell the consumer where their package is, intervene to change its movements to facilitate a new delivery date that is convenient to the consumer and hopefully smooth out what would have been an expensive, time consuming and brand damaging experience for the merchant.
In-Flight UX
This ability to tap into goods 'in flight' is increasingly vital in eCommerce delivery, not just for handling WISMO calls, but also for meeting the newest of customer demands, the delivery redirect.
One of the key differentiators for many retailers in the competitive eCommerce space has become the ability to give consumers the capacity to redirect their delivery on the fly while it was out on the last mile.
Originally, this was to accommodate busy lives where a meeting or trip may make an agreed delivery time suddenly inconvenient. During lockdown and furlough, you may think this is no longer an issue, but at some point, you may have wanted to redirect a delivery because you are, for example, on a Zoom call. Such systems that can monitor transit and intervene on the fly are increasingly becoming important as user experience (UX) and post-purchase differentiators.
The Brexit Effect
While the headlines have been dominated by Coronavirus, that other monumental issue from 2020, Brexit, has also started to impact eCommerce and delivery.
A truly seamless post-checkout experience means the customer is kept up to date with the progress of their delivery and Brexit, at least the teething troubles in the first few months of its operation, is seeing shipping into the EU is now less seamless.
To allow tracking and to make sure that any items being shipped cross-border into and out of the EU now requires more information to be provided to carriers about the nature of what is being shipped and where it is being shipped to.
There are handy Brexit shipping checklists like this one, but in essence, to make for as seamless a user experience as possible in the Brexit era, you need to:
Ensure you have an EORI number and give it to your carrier management firm
Double check the accuracy of the recipient's name and address
If you are using a tracked service, an email and telephone number of the recipient needs to be supplied
If you are VAT registered then your VAT no. needs to be supplied so you are treated as a business for duties and taxes
Use the correct commodity codes
Ensure you know the tax implications for each EU country you ship to
Check to see if you need to complete and attach a CN22 or
CN23 form.
Of course, there is far more to it than that, but making sure that your data is compliant aids any third-party service in helping to tracking and flag any anomalies and issues before they happen to help mitigate delivery failures and to help your service delight your customers across the UK, the European Union and beyond.
It All Starts Pre-Checkout
These steps and the use of data to help third-parties track and manage deliveries for a business are becoming a definitive part of many retailers' rapidly developing pandemic eCommerce strategies.
Providing excellent delivery is vital to keeping customers happy, customer service costs down and, ultimately, keeping customers loyal.
While most of this can be done post-purchase, the process does actually begin pre-purchase, with businesses having to keep and share accurate product and delivery data and sufficient delivery options in the pre-checkout stages of the purchasing journey.
While shoppers are searching for goods based on price, the delivery options and the reputation for how good that delivery is increasingly sways shoppers to choose that retailer over another. Offering choice of delivery, the ability to change on the fly, as well as sustainable and eco-friendly delivery are all things that discerning shoppers are coming to demand from retailers as they move more deeply into online.
Working with a multi-carrier delivery company is arguably the only way to effectively, and rapidly' create and deploy these options and it will be, to be blunt, what sees some retailers sink and others swim.
Visit the Parcelhub website to learn more about the role proactive delivery plays in the customer experience