The Auto-Sizing Chart functionality within Pimberly has been designed to tackle the rising issue of product returns. Size matters hugely, and even more so when shopping online. When you're not in a physical store, you don't have the option to touch or try on. In addition, many sizes vary from brand to brand and, after all, we're all different shapes and sizes. So, how do you know which size is right for you?
There are dedicated sites where you can check the sizing of different brands. However, having to roam around the internet to determine which size you need isn't exactly the best product experience. Around 40% of product returns in fashion and apparel are due to sizing issues. Not only is it frustrating for your customers, it also puts a huge burden on your business. You've got the time and resources that go into dealing with returns. You also risk causing customer disappointment which could damage your hard-earned online reputation.
Once you've done all the hard work to get your customers on your product pages, it's key to give them the confidence they need to convert from browser to buyer. If sizing information is unclear or hard to find, customers will likely go elsewhere.
But fear not! There's a simple solution that comes in the form of Auto Sizing Charts.
Handy little video here….
Reap the benefits of Auto Sizing Charts
Pimberly's Auto Sizing Chart functionality uses the product data within your PIM to automatically produce sizing charts. Any changes made to product data reflect automatically on your sizing charts in real-time. This means you can make huge time savings, all whilst ensuring you're delivering the best possible product experience.
Because you also have localization capabilities, you can store and distribute your sizing information in multiple formats. As a result, you can display sizes in a way that makes sense to all your customers. So, whether your customer is browsing in Brazil or Britain, they'll know exactly which size is right for them. you'll be giving them total confidence in their buying decisions.
In delivering the most accurate and up-to-date sizing information, you can be sure customers will be happy with their deliveries. It also mitigates against customers having to buy more than one size and then having to return the ones that don't fit. Boom – drastically reduced product return rates.
Important to note that this will contribute to you building a loyal customer base. Firstly, customers appreciate a smooth online experience that gives them all the information they need. Secondly, once customers find a good fit, they'll generally be loyal to that brand. All of these benefits will ultimately lead to improved revenues, drastically reduced returns, and a competitive edge.
Check out this infographic for a full view of what you can gain from using Pimberly's Auto Sizing Charts.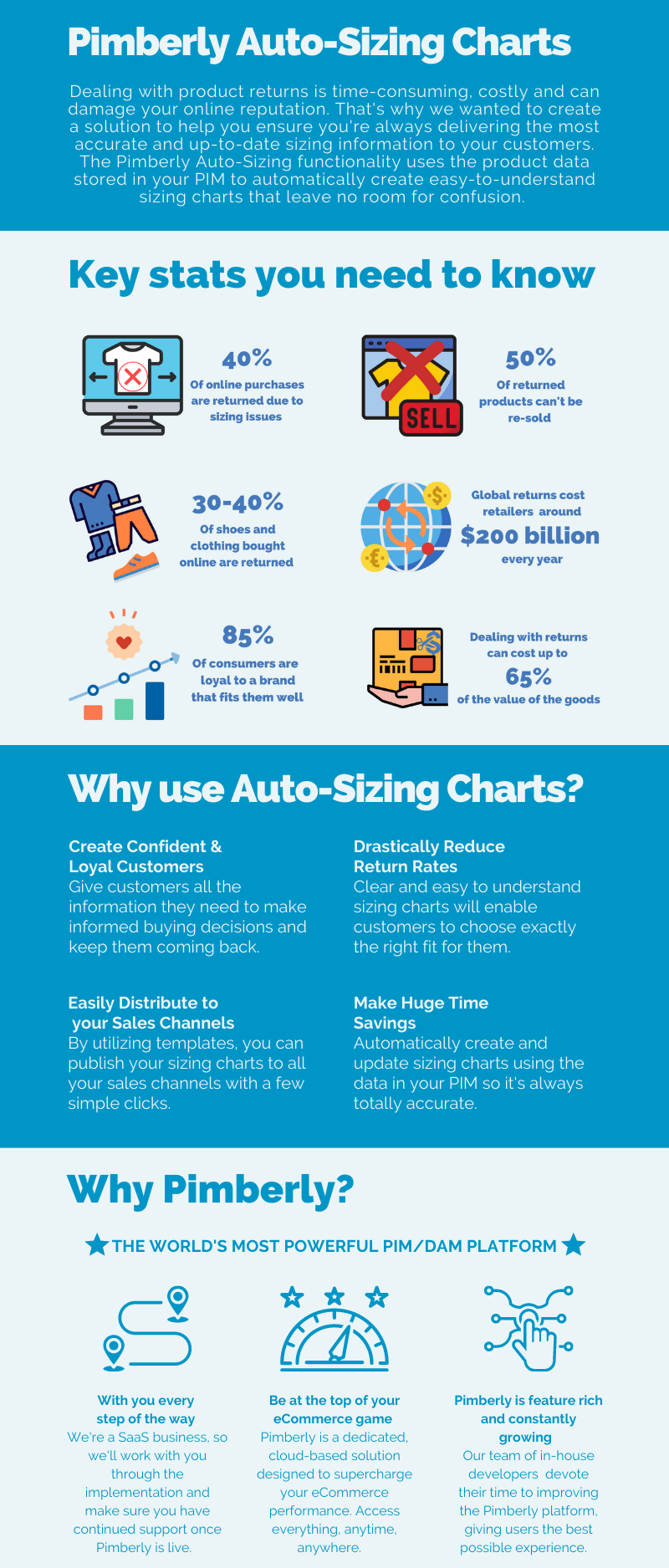 Like what you see? Watch our super quick intro to learn more