PIM and digital transformation go hand-in-hand and, if you haven't already got a PIM (product information management) platform in place, well, it's a love story waiting to happen. IDC predicts that, by 2024, 50% of IT spend will relate to digital transformation, so, IT departments and senior management need to drill down on where this spend will be allocated, and why. If digital transformation is a priority for you, a PIM should be as well!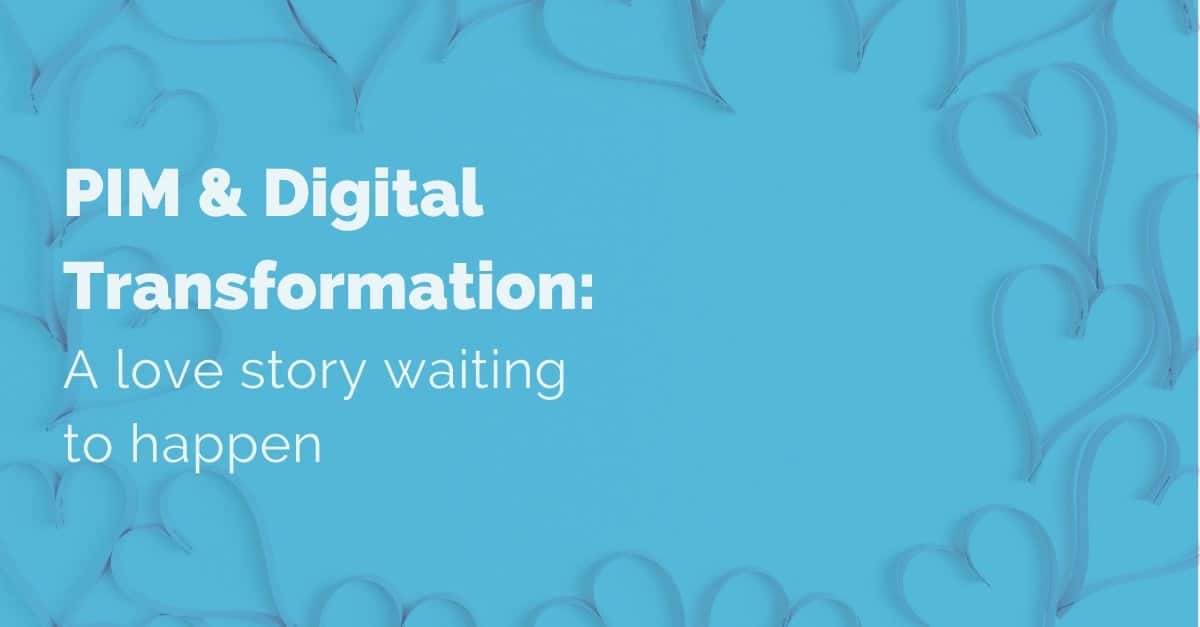 One of the main aims of digital transformation is to promote working in a more joined up way, not just in terms of the technology used, but also in terms of collaboration across departments. A PIM can help with both of these factors, which ultimately enables IT departments and Senior Management to focus their efforts elsewhere.  
Bringing Systems Together
A sticking point for IT departments to consider when it comes to digital transformation is how legacy systems can be integrated with new ones. For instance, an ERP will have pre-defined way of managing and organising product data. An ERP is more transactional and will focus solely on getting stock in and out, with no capabilities in terms of product data enrichment.   
With businesses dealing with an increasing amount of complex data on a regular basis, IT departments should consider how to smoothly connect disparate systems, so they work in harmony.    
PIM: the Smooth
Operator
A PIM enables data from any given source to be collected, enriched and distributed across all channels. The PIM aggregates your data so that datasets can then be created easily, quickly and efficiently.  
Not only does this drive efficiency thanks to the automation of the data collection, management and distribution, it also means there will be less human error and greater consistency. As data sets can be pre-determined within a PIM, IT departments save a load of time by not having to worry about this being done manually for each individual product.  
Scalability

&

Localisation 
IT infrastructure is the backbone of any business and, equally, the backbone of any digital transformation strategy. As consumer behaviour changes and demand grows, businesses need to respond to these changes and ensure they have systems in place that will enable them to adapt and, ultimately, stay ahead of the competition all whilst ensuring connectivity isn't affected.  
Speaking the Language of Love (for International Expansion)
: 
Not only does a PIM have the ability to store, manage and distribute large amounts of data in one, unified way, a PIM is also really scalable and can be adapted over time to respond to a change in needs. Whether those changing needs relate to the expansion of a product range, selling into new channels or new markets, a PIM is agile and limitless.  
The appetite to set up an overseas presence has always been predominant in business and a PIM can help you do this easily. A PIM enables you to bulk upload product information in various different languages which will then be automatically distributed to the specified channels. This means a really fast time to market and a huge amount of time saved in terms of not having to individually update product ranges.  
The Cloud of Advantages 
2020 has seen us completely change the way we work, and the importance of being able to access everything you need, at any time and from anywhere has never been more apparent. When thinking about your PIM, there are several avenues to explore, such as on–premise, open–source or cloud-based platforms. Each have their advantages, but the size of the IT department and the resources available should be among the considerations. On-premise and open source will require a lot of staffing when it comes to the implementation, integration and up-keep, not to mention the need to train users once the platform is live.  
Your IT Department Will Be on Cloud Nine
: 
Unlike on-premise, a cloud-based PIM can be accessed anywhere there's an internet connection. The cost-efficiency a SaaS solution offers is also a huge factor. With on-premise and open source, IT departments will often have to dedicate a lot of resources to keep the PIM running. Cloud PIM is a ready to use platform, so deployment will be a lot swifter and can easily be adapted to different business requirements.   
At Pimberly, we offer continued support once the platform is live, so it's a lot less onerous for the IT department. As the platform is hosted on AWS (Amazon Web Services), the platform is scalable, reliable, and secure and it won't age like servers and hardware.  
The People Factor
Technology has proved to be crucial in terms of bringing people together, especially this year. If businesses weren't already thinking seriously about their digital transformation strategy in 2020, they may well have been forced to with the majority of the workforce working remotely.  
IT departments and senior management alike have harnessed the power of technology to facilitate this remote working, all whilst ensuring employees can collaborate and work efficiently. When it comes to PIM, many departments often have to work in tandem, so making sure there are no data duplications can be a challenge and a streamlined process is vital to ensure this.  
Your Team Will Fall Head-over-Heels with PIM
: 
Access control within the PIM means that team members access only what they need to, so all departments can work in harmony and can remain focused. The quality of product data made available to the customer will also be much improved, as each employee will be focusing on their specific area of expertise.  
The overall effect of having a more efficient and streamlined way of working will help to eliminate the risk of work being duplicated and will go a long way in improving employee morale, too, which in turn will boost overall productivity.  
If digital transformation is a priority for you, a PIM should be as well. Disparate systems can be brought together, departments can work in harmony to achieve the best results and it provides a truly streamlined and efficient way of working. Having all these cogs running in the background will result in an amazing online experience for customers by giving them the highest quality of product data.  
Would you like to hear from some of our customers who've fallen in love with our powerful PIM Platform? 
https://pimberly.com/wp-content/uploads/2021/02/pim-and-digital-transformation.jpg
627
1200
Annabel Darling
https://pimberly.com/wp-content/uploads/2017/03/pimberly_text_2017_unofficial-1030x366.png
Annabel Darling
2021-02-08 08:00:00
2021-03-24 12:16:32
PIM & Digital Transformation: A Love Story Waiting to Happen