What is B2B eCommerce?
At very top level, B2B eCommerce (business-to-business electronic commerce) describes the sale of goods or services through online transactions between businesses.
For example, B2B eCommerce might involve construction companies purchasing building materials from suppliers online. Or, pharmaceutical manufacturers ordering bulk chemicals and other ingredients online.
A typical B2B eCommerce transaction will generally have the following features:
| | |
| --- | --- |
| Digital transactions | Purchases take pace electronically. This might be through a website, online marketplace, or dedicated B2B eCommerce platform. Transactions include purchasing, procurement, and order management. |
| Bulk ordering | B2B transactions often involve large quantities of products/services being purchased at once. |
| Complex pricing models | B2B pricing is typically more complex. Pricing is often negotiated and tiered, with relevant quantity-based discounts. |
| Lengthy sales cycles | B2B sales processes are typically long term and often involve more decision makers. |
| Request for Quotes (RFQ) | B2B buyers often initiate transactions with a request for a quote. A buyer will typically submit RFQs to multiple suppliers and compare quotes before making a final decision. |
| Multi-channel selling | Though B2B eCommerce is all-the-rage, B2B companies still incorporate traditional means, such as sales reps and distributors. |
| Account-based sales | B2B eCommerce platforms (click here to skip ahead to this bit!) often support account-based selling, where businesses create and manage accounts for their customers. This helps facilitate personalized shopping experiences. |
Evidently, traditional B2B techniques aren't as in demand as they once were. Instead, pen-and-paper buying processes, offline marketing, paper-based transactions, and sales reps are becoming more and more digitized.
Primarily, this is because B2B eCommerce is more efficient. Powerful automation for order processing, inventory management, and invoicing leads to greater efficiency and accuracy. Coupled with the ability to streamline product information and the ability to scale much easier, it's no surprise traditional businesses are going with eCommerce.
Types of B2B eCommerce
Manufacturers
Simply, a B2B manufacturer is a business that produces products after sourcing raw materials. Once completed, the product is sold to a network of wholesalers, retailers, or even to other manufacturers.
For instance, you might have a manufacturer that specializes in producing electronic components. These components might be used in various industries, such as aerospace, telecommunications, or healthcare. Or, you might have a manufacturer specializing in producing heavy-duty industrial machinery, including drilling rigs and construction equipment. They primarily sell through a network of dealerships and distributors.
However, with the help of eCommerce technologies, more and more manufacturers can sell direct-to-consumer. By taking eCommerce in their stride, B2B manufacturers can leverage new tools to reach new B2B customers more directly through a user-friendly, modern shopping experience.
Distributors
Think of a distributor as a middle-man or intermediary, acting between the manufacturer and downstream end-users. This might involve a retailer, value-added reseller, or wholesalers. Distributors might typically have agreements with a manufacturer to sell its products.
However, some distributors might want to have more control over the selling aspect, and may choose to sell direct-to-customers.
In eCommerce, the transactions happen online through an eCommerce platform. As with manufacturers, eCommerce provides B2B distributors with a number of benefits. This includes efficient order processes, 24/7 availability, as well as real-time inventory data.
For instance, B2B eCommerce allows distributors to place orders online, reducing the time-consuming phone calls, emails, and even faxes. In addition, they also provide distributors with tools to check stock levels, further reducing the risk of overselling or running out of stock.
B2B2C
Business-to-business (B2B2C) eCommerce is slightly different to other models. B2B2C is a system whereby one company sells its products or services to another business. Then, the latter business sells these products/services to individual consumers.
Essentially, the B2B2C model involves two stages of sales: first from Business A to Business B (B2B). Then, Business B will sell said products/services to individual consumers (B2C).
The link between supplier and intermediary is typically built on an established business connection. Generally, the supplier provides the intermediary with product information, pricing, and logistical details for them to list on their eCommerce platform. However, whilst the intermediary deals with the transactional side of things, the supplier will handle the packaging.
As an example, an online fashion marketplace might follow a B2B2C model. They might partner with designers and fashion manufacturers and establish business relationships. On the consumer side, the fashion marketplace provides a service where shoppers can browse, select, and purchase fashion products from a range of brands.
In bridging the gap between supplier and consumer, the fashion marketplaces acts as an intermediary, curating a selection of products from different suppliers. In doing so, they're responsible for handling logistics, including order processing and shipping. Examples include ASOS and Farfetch.
Benefits of the B2B2C model include a wider product selection, access to new markets, and reduced overheads.
Hybrid eCommerce models
Of course, B2B eCommerce isn't an exact science. There isn't a single model B2B businesses follow. Instead, many businesses will mix and match different elements, combining different features to create a flexible way of going about their business.
Online and offline integration: Some hybrid models will combine traditional brick-and-mortar retail with online eCommerce. This approach allows customers to shop both in physical stores and through the company's website. This omnichannel approach to shopping allows customers to make purchases through their preferred channel. After all, changing buyer demands and expectations mean B2B businesses need to up their game and offer complete shopping experiences.
Marketplace and direct sales: A B2B business might also run an eCommerce website whilst selling across marketplaces such as Amazon, eBay, or ManoMano. This is a great way to tap into new customers.
Subscription plans: This allows for recurring purchases of specific business products. Examples of products might include printer cartridges, safety equipment, or commercial cleaning supplies.
The Best B2B eCommerce Software
A B2B eCommerce platform is an eCommerce platform specifically designed to facilitate B2B transactions between business customers, as opposed to individual consumers.
B2B eCommerce platforms will often include features such as customized pricing plans and shipping, logistics management, third-party data syncing, invoice portals, and seller quoting and discounting.
Below, we're going to round up some of the best B2B eCommerce platforms and associated technologies to get your business firing on all cylinders.
B2B eCommerce Platforms
1. BigCommerce B2B Edition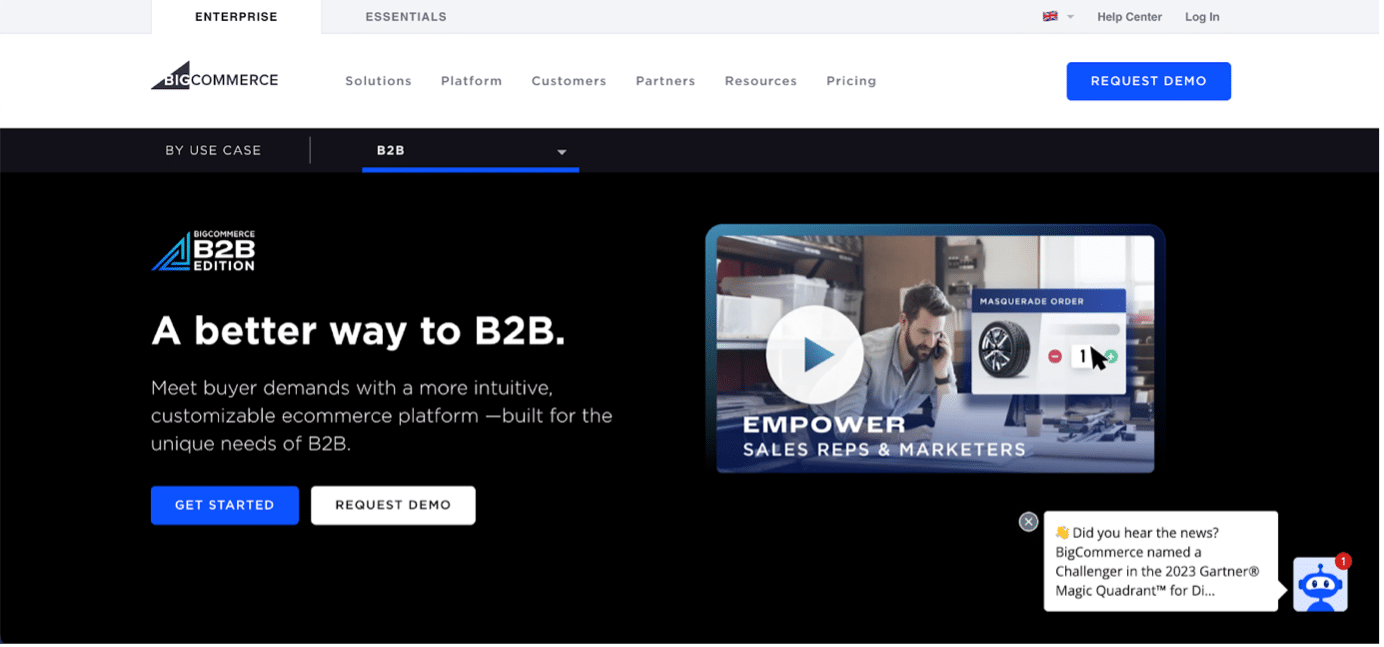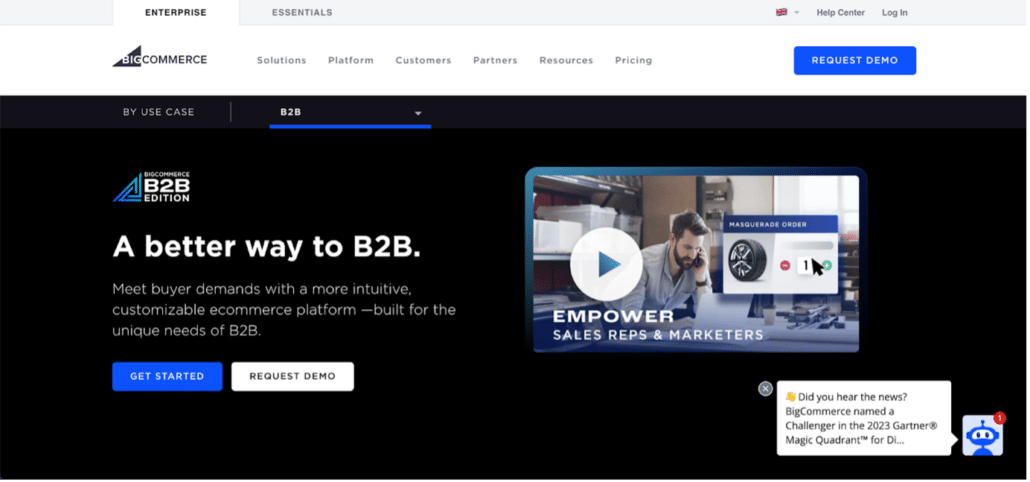 Who: BigCommerce is no stranger to the world of eCommerce. BigCommerce prides itself as a leading Open SaaS solution, allowing merchants to easily scale and innovate.
What: BigCommerce's B2B offering allows manufacturers, distributors, and other B2B sales organizations to curate modern shopping experiences for customers. Merchants can automate customer group management, offer flexible pricing down to the SKU level, and easily manage past orders, quotes & lists.
Pricing: Pricing available on request. More information on pricing can be found here.
Anything else:
2. Elastic Path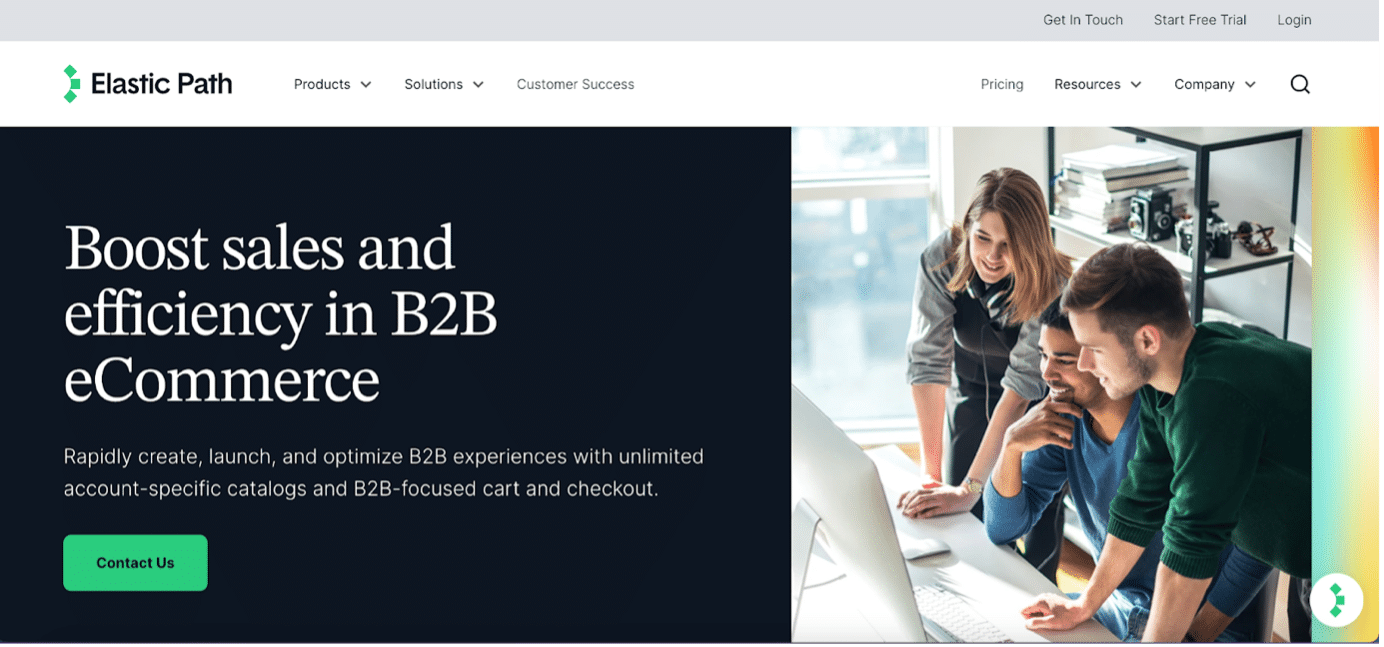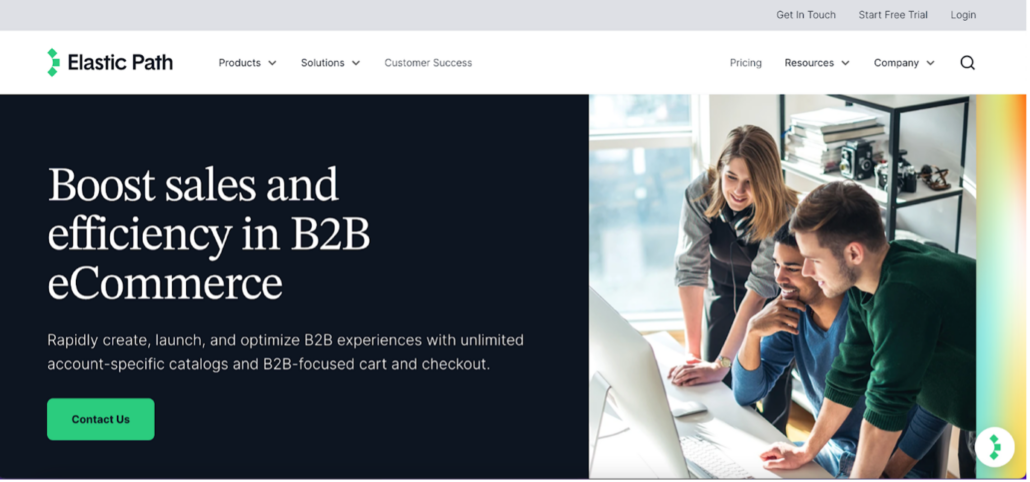 Who: Elastic Path is a headless eCommerce system, designed to facilitate powerful product experiences. Don't let the term headless eCommerce put you off. For ambitious B2B merchants with complex product catalogs across multiple sales channels, this could be the ideal solution.
What: Elastic Path's B2B offering allows merchants to create optimized B2B experiences from no-code and low-code B2B solutions. In their own words, this means B2B businesses will reduce time-to-market and cost by 60%.
Features include the ability to create and manage unlimited catalogs for each account and negotiated pricing. Further features can be found here.
Pricing: Again, it's completely dependent on the right plan for your business. Click here to see their pricing options.
Anything else:
3. Shopify Plus for B2B
Who: Again, Shopify needs very little introduction when it comes to eCommerce. With millions of customers worldwide, Shopify has grown from 5 employees to 10,000 across the globe. Shopify has generated over $700 million during its operation. But, Shopify isn't just geared towards B2C companies.
What: Shopify Plus for B2B comes with a library of tools so B2B merchants can grow and operate wholesale businesses.
Features include quantity rules, customer-specific product publishing, a personalized B2B store, and self-service purchasing. A full breakdown of features can be found here.
Pricing: Shopify states that Shopify Plus starts at $2,000 per month. On their B2B eCommerce page, Shopify recommends contacting their sales team for a comprehensive quote.
Anything else:
Among their many customers, Brooklinen, Momofuku, Memobottle, and True Botanicals.
4. OroCommerce
Who: OroCommerce is an enterprise-grade, open-source B2B eCommerce platform designed to work for any B2B model.
What: OroCommerce allows B2B eCommerce businesses to create personalized online shopping experiences for wholesalers, distributors, and manufacturers.
A full breakdown of OroCommerce's B2B eCommerce features can be found here.
Pricing: There are two OroCommerce packages. The OroCommerce Community Edition (free, open-source). And, the OroCommerce Enterprise Edition (contact for pricing).
Anything else:
OroComerce's customer base includes PartsBase, Dunlop, TruPar.com, Azelis, and Animal Supply Co.
5. Oracle SuiteCommerce
Who: NetSuite is a software company with 36,000 customers across the globe. NetSuite's ERP system is the cornerstone of their product offering, but their ecommerce platform consists of a suite of applications enabling companies to grow and drive efficiency.
What: SuiteCommerce is NetSuite's B2B eCommerce solution. The platform allows B2B sellers to create eCommerce sites to 'engage business buyers' and 'maximize their buying efforts and time'.
Capabilities include the ability to convert online quotes to sales orders, detailed customer profiles, and much more. Unlike Elastic Path, Oracle's USP is that it offers a completely unified platform. This means, you 'eliminate integrations between separate systems with natively unified eCommerce'.
Pricing: Netsuite's B2B eCommerce solution is available as an add-on solution to its core offering. A breakdown of pricing structure is available here.
Anything else:
Forrester recognize SuiteCommerce as a leading B2B commerce platform
Other key pieces of B2B eCommerce software
Your eCommerce tech stack shouldn't start and end with your eCommerce platform. In fact, many best-of-breed eCommerce platforms will integrate with additional technologies out of-the-box.
However, most B2B eCommerce businesses need additional functionality due to the complex nature of their business, including sophisticated pricing and loyalty. For more complex businesses, a best-of-breed composable solution is the way to go.
So, to finish off, here's a round of up some of the best technology B2B eCommerce businesses should implement:
Disclaimer: With some of these technologies, there is some overlap. So, it's important to thoroughly measure the goals of your business to discover the best fit.
Order Fulfillment Software
Order fulfillment software will automate inventory management tasks. Generally, fulfillment software will provide supply chain optimization, assisting with inventory reporting, order and returns management.
Examples include: Sendcloud, Shipmonk, ShipBob, Zoho Inventory, and Linnworks
Product Information Management (PIM)
PIM software like Pimberly is a must-have for B2B companies. This is because PIM software manages complex product data and digital assets from a central source of truth.
From the PIM, users cleanse, enrich, and standardize product data and digital assets, ensuring it's consistent throughout the supply chain. Powerful data governance tools and foolproof product data management processes ensure your product data is fit for end users.
Syndication platforms
Syndication platforms such as Feedonomics will automate product listing and order management. This provides B2B businesses with time and flexibility to expand their eCommerce business across marketplaces across the globe.
However, listing your products on markets isn't always so straightforward. Each will have different requirements. With a syndication platform, product feed management is taken care of. This means, B2B eCommerce platforms will synchronize data more efficiently and expand reach into new marketplaces at a quicker pace.
Examples include: Feedonomics, ChannelEngine
Order Management Systems (OMS)
Order management systems play a crucial role in ensuring the smooth and efficient operation of your business behind-the-scenes. Think of it as a digital way to manage the lifecycle of an order and overcome and trickly fulfillment hiccups.
The primary function of an OMS is to manage customers orders throughout their lifecycle. From order creation and fulfillment, to post-sale activities. They typically provide sales representatives and other personnel to manage and edit order details.
Examples include: Linnworks, SKUVault, Teamwork Commerce, Brightpearl, ShipStation
Warehouse Management System (WMS)
A WMS controls daily operations in a warehouse. This includes ensuring inventory is stored, packed, and shipped in the most effective and efficient way. The majority of WMS solutions integrate seamlessly with your tech stack, providing full traceability of materials and more effective management of labor.
Warehouses are busy environments and, with everything happening simultaneously, it's easy for things to get confusing. Even more so when you rely on manual processes and pen-and-paper methods.
Key Points
Quick definition: B2B eCommerce involves the sale of goods/services via online transactions and sales channels
B2B eCommerce isn't an exact science. In fact, no two B2B businesses will operate the exact same way.
There are a wealth of eCommerce platforms to help B2B merchants grow and scale their eCommerce game. Features typically include: inventory and ordering management, product catalog management, flexible pricing structures for bulk orders, customer and account management.
Although eCommerce platforms are good at handling the transactional side of eCommerce, sometimes you need that little bit extra. As many best-of-breed eCommerce platforms have integration capabilities, this makes it easy to add new technologies to your tech stack. The flexible nature of eCommerce enables B2B merchants to scale with greater speed and agility.