Change is a constant part of life and that's especially true for the eCommerce sector. Market conditions alter, new trends appear, technology shifts. In addition, a new age of demanding customers has dawned. Modern buyers want personalised product experiences. They want their shopping journey to be seamless across all channels. To keep up with customer expectations, business agility has become essential for retailers.
It's no longer enough to display your product range on a good-looking website. From purchasing to marketing, brands must be proactive and reactive in all areas. Changes happen in real-time. If you can't respond in real-time with your products, then it will lead to lost revenue and incur costs. Therefore, business agility is crucial for meeting consumer demands.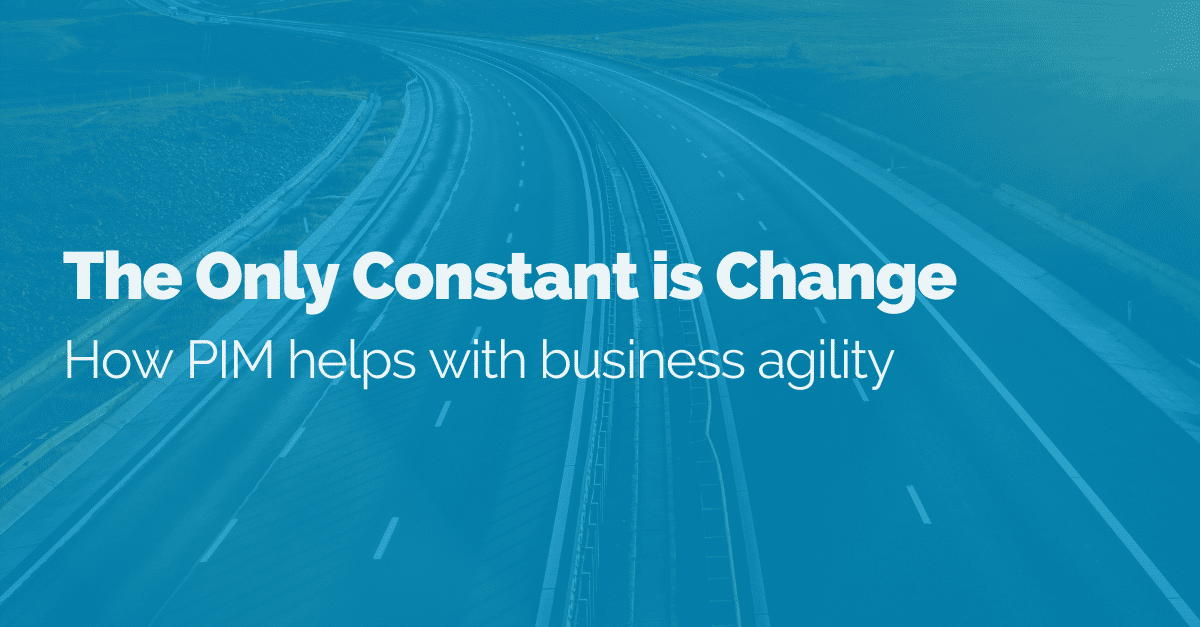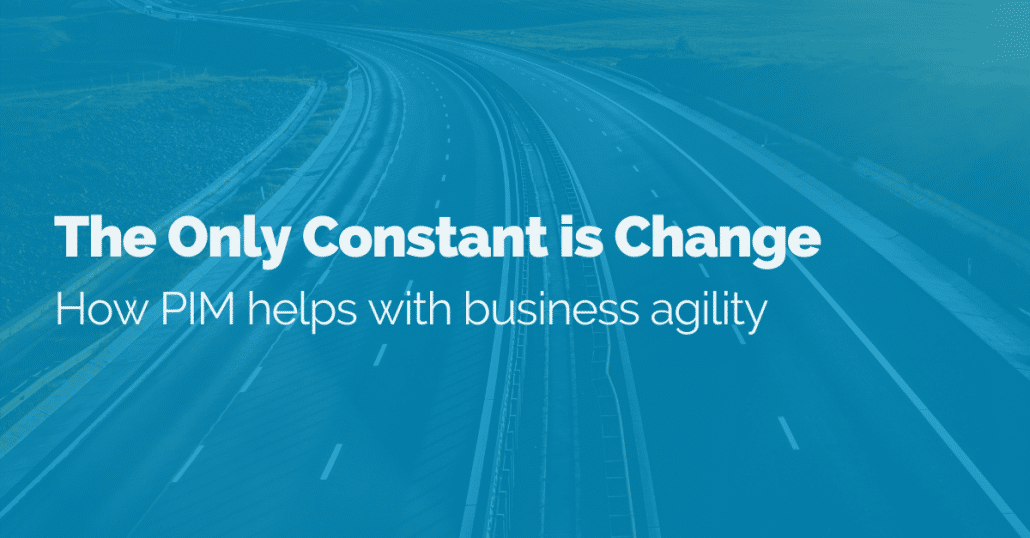 What Changes Should Businesses Plan for? 
The most agile companies are able to react to all kinds of external and internal changes, such as:
Weather conditions e.g. a torrential downpour that leads to a business reacting with a flash sale on umbrellas.
Event days e.g. a company providing discounted tickets ahead of a football game.
New trends e.g. a fashion brand bringing out a new kind of dress that taps into the trend of sustainability.
New product releases e.g. a clothing business getting a new range of hats to market faster than a competitor.
Up to date technology stacks e.g. a manufacturer moving away from manually processing product data.
Agile companies are able to sell more products, increase their ROI and build brand loyalty. Product data plays a key role in creating customer experiences that lead to more sales. The more detail you can provide your customers about a product, the more confident they'll feel in their purchasing decision.
But to make the shift towards being proactive, companies need to examine what affects business agility around their products.
What Challenges Need to be Overcome?
Outdated technology stacks
It's worth thinking about how you manage product information within your current technology stack. Are you relying on a legacy platform like an enterprise resource planning system (ERP) to manage product data? Or perhaps you're keeping the data housed within an Excel spreadsheet.
Such practices can be detrimental to business agility. While ERPs are suitable for keeping track of stock, they weren't designed with business agility in mind. They lack the ability to enrich product data and distribute it quickly to all sales channels.
If you're housing all your data in a spreadsheet, then sifting through it all takes a lot of time and energy. This can lead to slow reactivity from a company.
A lack of understanding around customer buying behaviour 
Slow reactivity around product strategy can be disastrous in a quick-paced eCommerce environment. Think about all the changes that can affect customer buying decisions in real-time. Event days, weather conditions and festivals are just a few.
Companies may be slow to react to these changes for a variety of reasons. Perhaps it's a lack of communication between team members. Or maybe it's because there's a lack of understanding about the type of buying experience that resonates with a consumer.
Brands that understand their audience and can tailor the sale of products in real-time will win out. For example, a tenting retailer might want to take advantage of an upcoming music festival.
They could tap into the fact that some consumers will make an impulsive buying decision. Perhaps it's a case of offering a flash discount product sale to coincide with the release of festival tickets.
Lack of automation
Another common challenge is a lack of automation for the product management process. Having rapid management in place is important at every step of the supply chain. From sourcing products to delivering items at speed, it all links to be more agile.
Without the right automation processes in place, companies run the risk of falling behind the competition and losing out on sales and ROI. Manually uploading data is time-consuming. Automation will provide the necessary quickness for uploading information and increasing the rate at which products are sold.
Solving these challenges and becoming more agile with product data means investing in new technology. It means finding a way to gain complete control over the journey of your products. This is where Product Information Management (PIM) can help.
How Does Pim Help Businesses to Be More Agile and Increase Roi?
From a business agility perspective, there are several advantages to using PIM: 
Easy to access cloud-based software
As economies have evolved, cloud-based software has become more common. The beauty of this kind of technology is that people can access it from anywhere. PIM solutions operate in the cloud as well. This means everyone within a company has fast access to product information.
So, you have the power to change any aspect of a product. Attributes, titles, descriptions, images. All the necessary information is ready for alteration. Having the ability to access this data easily means you'll be able to better prepare for changing market conditions.
Seamless integration
Integration is key to being agile. If your product data is disparate, making changes or taking action using the information will be much harder. Without any connectivity, you may have unreliable information passed to key stakeholders. Integrating systems together means that your data is always up to date in real-time.
PIM systems integrate seamlessly with other data management platforms like ERPs. PIM makes the transfer of product information across systems much faster. This helps to reduce delays and makes the onboarding of new products easier.
Agile automation
Within the eCommerce industry, there are some changes you can prepare for like:
The changing of seasons
Price fluctuations
Events
Stock availability
PIM software allows you to plan for these changes by creating automated responses.
Imagine a fashion company that wanted to release a new line of sweaters for winter that a competitor was also selling. PIM would give them the ability to automate for the seasonal change and get the items out to market faster than the competition.
There may be products that are non-exclusive to you and your competitors may be selling those products. So, when those items are made available from your supplier and you can get your products to market quickest and with full attribution, then you win. 
Colin Wells, VP Sales at Pimberly.
The brand could take it a step further by being able to respond in real-time to a freak weather event like a snowstorm. And as a result, they would be able to create upselling opportunities.
Increasing sales for old stock
In addition to increasing sales for new products, PIM is handy for old stock as well. In the context of business agility, it allows you to identify how you want to react with items that aren't selling well.
If you wanted to get rid of an old product line, PIM can help you make a decision on which channel it should go through e.g. eBay.
Flexibility
PIM gives brands the opportunity to be flexible with their product data. This flexibility means you'll be able to tailor the information to a variety of mediums and channels.
For example, a personalised gifts retailer could use PIM to create product collections for a Mother's Day email offer. They could also generate a weekend offer based on an event in the local area. This level of nimbleness is what being business agile is all about.
Providing the right data at the right time
Another PIM advantage is being able to provide accurate information ahead of competitors.
Say a retailer asks all its suppliers to provide product data for a special promotion they want to run. It might be a case of them asking for information around products from specific categories.
The supplier who tailors the products to the retailer's demands is going to come out on top. It's been agile enough to react to what the retailer wants and therefore win business.
Living in the Age of Agility
The one thing that will never change is constant change. The success of an eCommerce company hinges on how well they are able to navigate a market forever in flux.
To be truly business agile, companies need to have the right data at their fingertips. Ongoing analysis ensures that your team can respond to unforeseen circumstances. And within this age of agility, product data is becoming increasingly important. By having access to detailed product information, brands will be able to create experiences that meet customer demands no matter the occasion.
Learn more about how PIM can create a frictionless eCommerce experience for your customers