What is Google Shopping?
Google Shopping is a service that enables customers to easily search online for products from different vendors. The advantage for customers using Google Shopping is being able to compare prices from different vendors, as well as being able to see all product reviews. This gives direct insight into the best options available. When a shopper clicks on the products listed on Google Shopping, it takes them directly to the vendors' landing page.
This is how items display in Google Shopping once a customer's entered a search term. Here, we've searched for a green couch: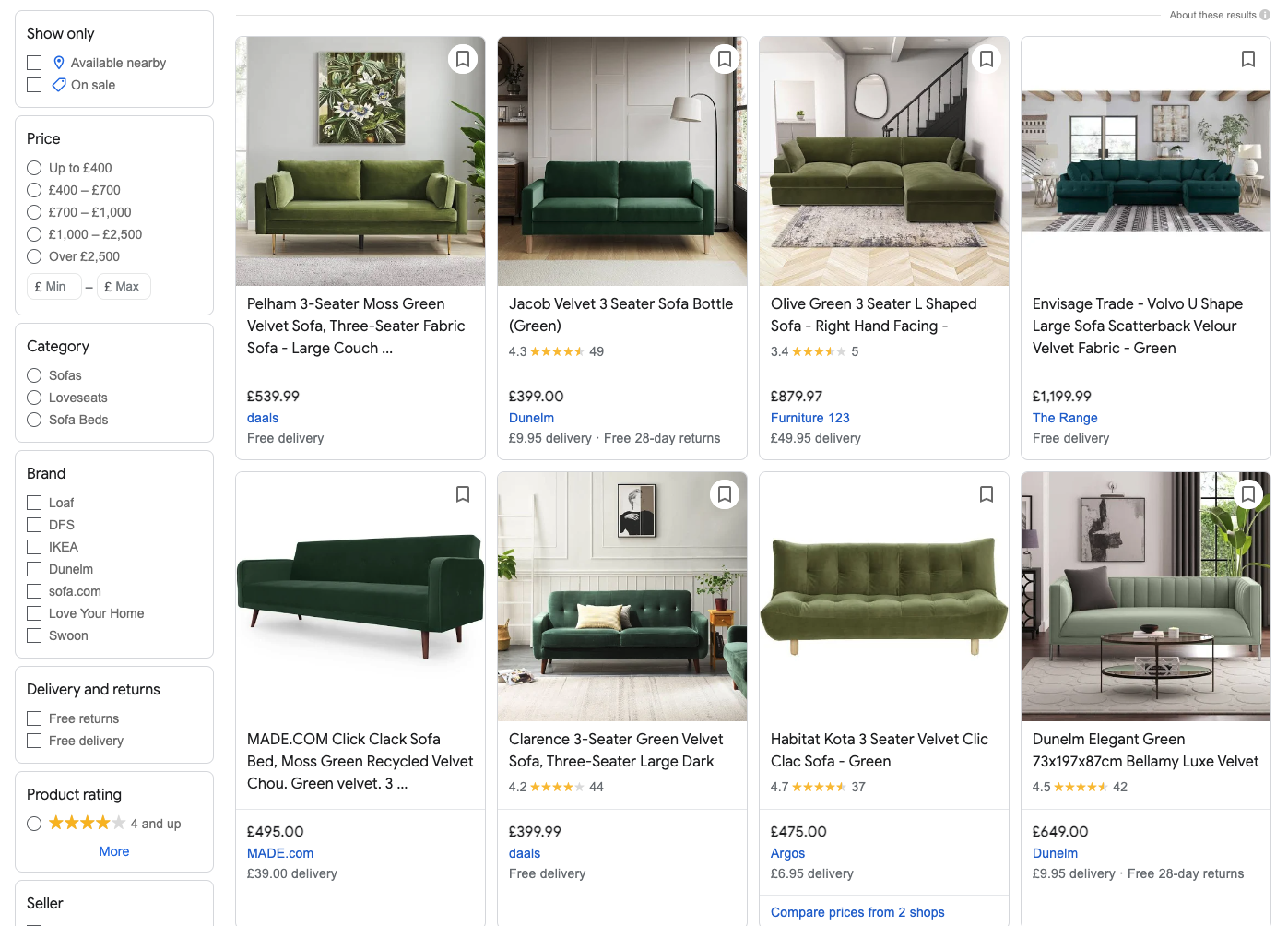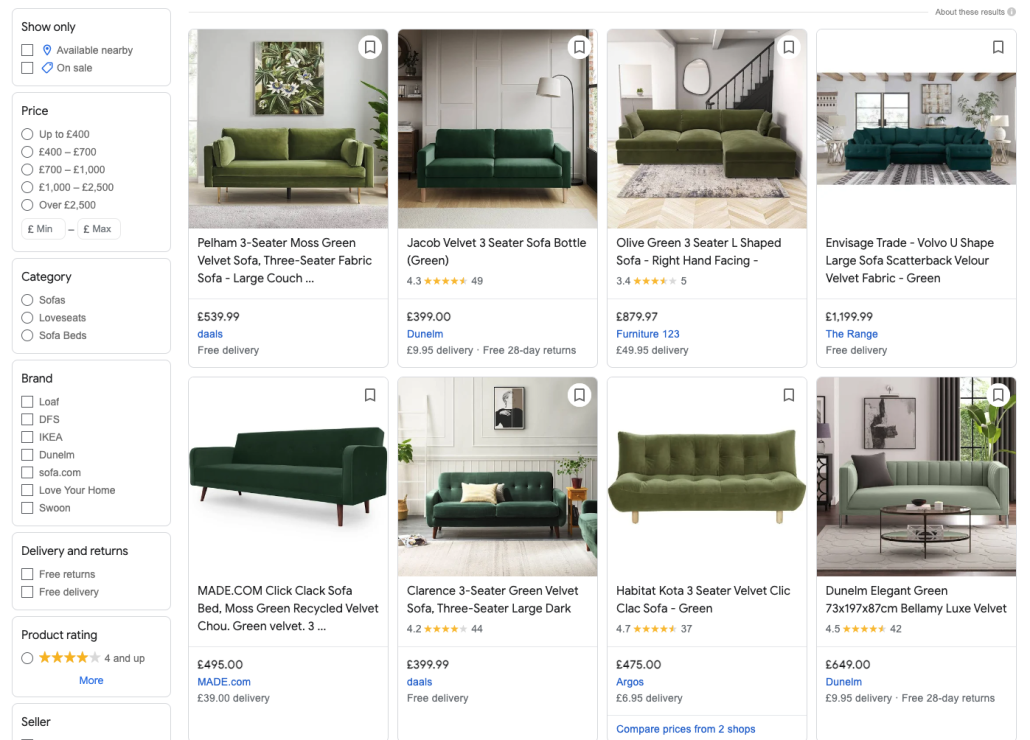 Key stats:
Google product listings account for 36% of all discovery online
Ad spend for Google Shopping grew 41% more than text Ads in 2018
Google Shopping Ads generate around 85% of all clicks on AdWords and Google Shopping Campaigns combined
There are 1.2 billion monthly searches on Google Shopping
The average Ad has a conversion rate of 1.91%
Mobile devices account for 65% of all clicks on paid Google Shopping search results
When you list on Google shopping, you appear in SERPs multiple times:  as a website result, a text-only PPC result, and Google Shopping results.
Google listings have a 30% higher conversion rate than text ads
How to start selling on Google Shopping
Google shopping represents a huge opportunity for you to significantly increase the exposure of your products on SERPs. However, there are certain steps you should follow to make sure you get the best bang for your buck. We'll go through each step you need to follow, then you'll get a deep dive into the data you need to include to rank well. There'll also be an overview of some of the other things you can include to really set yourself apart from the competition.
Set up a Google Merchant Center account:
You need a Google account to complete this step. Once you're set-up, you can go to the Merchant Center and get started. This will essentially be the home for all the products you'd like to list on Google shopping. Within the Google Merchant Center, you can also determine where your customers will check out. Here are the options:
Checkout on your website
Checkout on your local Google shop
(Currently only available if you select the US as the location of your shop) direct checkout on Google
Optimize your product imagery:
Google Shopping will use the featured images from your own eCommerce site, so you need to make sure they're fully optimized for search. Be sure to include all the relevant keywords, longtail keywords, and LSI keywords, to guarantee the best possible results.
Your digital assets play a key role in the Google Shopping experience as it's so visual. For instance, your Google Shopping campaign will be denied if the images are poor quality.
Collect and input data into your Google Shopping feed:
Now, you're ready to set up your Google Shopping data feeds for the products you want to list! Creating a feed enables you to provide Google with all the information required to surface your products in search results.
As with your digital assets, your products will be shown when consumers enter certain search terms of specific attributes. It's important to include the countries you sell to so Google can properly identify the correct demographics.
Link your Google AdWords account
Once Google has all your product information, you'll need to link your Google AdWords account so customers can find them. Once you've linked your AdWord account, you'll need to set up an ads campaign to advertize your products. This will involve determining sufficient bid amounts. This, coupled with high-quality product data and digital assets will earn you a higher rank.
Target and schedule your Shopping campaign
This dictates who will see your products and when they'll see them. This is super handy if you're looking to target specific demographics or geographies. For example, you can set certain rules for when and where ads appear to ensure you generate the most relevant traffic.
Build ad groups
This is where you can decide what type of ads you want to run. There are a couple of different options you can go for. One is the "Product Shopping Ads" which promote a single product. Alternatively, you can opt for "Showcase Shopping Ads". This is a new format that gives you the option to promote multiple items as part of a product or lifestyle ad.
What is the Product Feed Specification?
Google Shopping is all about offering the best possible user experience. The specifications very clearly set out how you should structure your product data feed so Google Shopping can compare the right products when customers are looking for something specific.
Why does the Product Feed Specification matter?
The quality of product data ultimately determines how your products will be indexed and surfaced in search results. If you don't provide data that meets the requirements set out, Google Shopping may delay publishing your listings. The longer they're delayed, the more revenues you could lose, so you want to get it right the first time around.
What are the Google Shopping data requirements?
When you're looking at how to get your products on Google Shopping, there are going to be fields that are
The imperative fields for Google Shopping listings
Global Trade Item Number (GTIN)
These are essential if you want to differentiate from your competitors and boost your rankings. These individual numbers give your products their own identity on the google Merchant platform. The GTIN also enables customers to find better product comparisons when shopping online as each GTIN is unique for every single product you list. Overall, it makes your listing richer, easier to classify, and suitable for all Shopping programs and features.
Product titles
You should test your product titles with a range of keywords you've identified as being relevant to the item you're selling and the sector you operate in. This will be a big factor in how well your listings perform. You also need to make sure there is consistency between what's displayed on Google Shopping, and what's displayed on the landing page your customers will end up on. A good way of ensuring this is the case is to optimize all product titles for your site and the Google Merchant Centre at the same time.
Quality info on landing pages
Like product titles, what customers see on Google needs to be consistent with what's on your landing page. Any mismatched information can lead to disapprovals which will harm your listings. Google crawls microdata on landing pages and will match product characteristics, such as color or measurements, to the landing page. The maximum length of product descriptions can be as long as 5000 characters. However, it's best practice to include all important details within the first 160-500 characters to avoid these being truncated.
Quality product data 
This is a user-focused shopping platform, which is why there's no such thing as "too much product data". Google will prioritize listings that have in-depth product information and high-quality digital assets. This means customers get the best possible online experience and all the information they need to make fully informed buying decisions. In other words, Google Shopping is unlike other web stores that rank products from an SEO perspective.
You should also ensure you're letting customers know about your product's availability and ensure this is always up to date. You should also prominently display the cost of your products in the currency of the country of sale. Remember, if you're selling in the US or Canada, you shouldn't include the tax in the price. If you're selling items in bulk or in multipacks, you should include the price for the minimum purchase quantity.
Sales and merchant promotions
Sales and merchant promotions enable sellers using Google Shopping to add special offers and reductions to their listings. Items listed with sales and merchant promotions will often deliver higher click-through rates and lower costs per conversion. Google research shows that listings with promotions can see improved conversions by as much as 28%. Overall, this would be a great feature to take advantage of during sale seasons or clearance sales.
The specific image requirements
Images are an extremely important part of the user experience on this platform, which is what Google focuses on. It's extremely visual by nature, so images must be high quality, show all angles, and accurately represent the true product.
A poorly optimized version of an image can dramatically reduce the quality of your shopping feed. In other words, poor-quality images will essentially mean you'll end up ranking lower than your competitors.
Unlike other Google tools, Google Shopping develops ranks based on product information uploaded by the Merchant Center user.
Best practice for Google Shopping images: 
Use clear and even lighting
It's best to use a white background for the main image
Offer zoom, 360, etc.
Show product in the correct scale
The product should take up 75 – 90% of the image
For apparel images, you should show it being worn
Use shadows to add depth
If you can, show people using the product
Other tips on how to win with Google Shopping
Be sure you're including reviews from third-party sites such as Trustpilot etc.
Map out the customer journey, from discovery right through to checkout, and make sure you're providing the right information at the right time
Prioritize your most valuable products and do lots of testing to generate the best results
Make sure your business information is up to date i.e., store opening hours, phone number, etc. as you can now set conversion value rules for store sales and store visits
Make use of product-specific insights to gauge which of your ads are underperforming, spot listings with missing attributes, and see what bid strategies your competitors are using
Quickly and easily manage your sales and promotions at scale with the content API to attract more bargain hunters
You can now include shipping and returns information to help alleviate any issues customers might have around stock and wait times, leading to higher conversions
Summary

Google Shopping presents a great opportunity to extend the reach of your products. It's also a great opportunity for you to differentiate yourself from the competition with quality product data. Remember, with Google Shopping – high-quality product data = excellent campaign performance!