We recently partnered with Increasingly on a webinar all about maximizing sales through the power of AI and product data. Our panel of speakers highlighted the importance of having a robust tech stack that enables them to maintain great results.
Meet our panel!


What do we all have in common? A passion for creating amazing customer experiences that ultimately lead to higher online conversion rates and increased revenues. During this webinar, we wanted to delve into how Bradfords and FurnitureBox have been using product data and AI to boss their eCommerce strategies at a time when it was most needed. Both Fergus and James spoke about the relationship between product data and AI and how they've been leveraging both to improve the customer experience as a whole.
Our partner Increasingly uses powerful AI to boost basket revenue, AOV and lifetime value by making intelligent product recommendations. Using the latest in machine learning, the platform intelligently serves AI bundles and cross-sell/up-sells.
There is also a research functionality that identifies the different search terms people are using for certain products. Think "is this what you meant" – that's what you can achieve with AI and machine learning.  Because of this, you won't miss a trick even if your customer has entered an incorrect term.
AI bundle technology isn't completely binary though. You can add extra complexities to the machine learning that will enable you to set certain rules. For instance, you can specify which products you'd like to be displayed when a certain search term is used.
Read on to take a deep dive into the insights from our panellists on their journeys with product data and AI: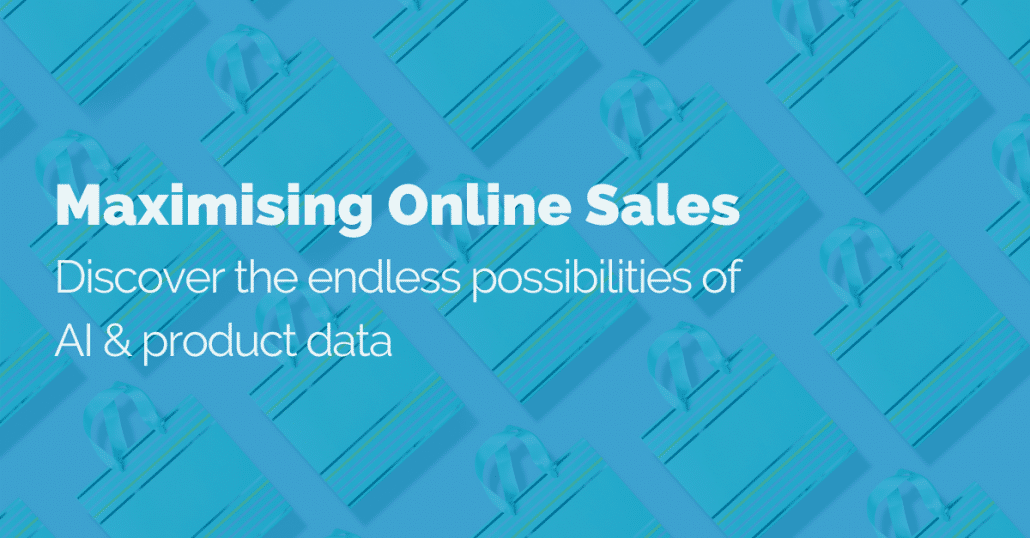 Looking back
WOW, well what a year – especially in the world of eCommerce, which has been booming. With online sales expected to account for 35% of all retail sales this year, it's been absolutely vital to create amazing online experiences that stand out from the crowd.
This huge increase in activity led to mounting pressures on internal systems and supply chains. Expanding into new sales channels to alleviate some of the pressure on eCommerce sites was a popular option for many. There was also heightened importance to have clear data in terms of availability and lead times.
Tech stacks have been pivotal in helping manage these transitions. Using ERP and a PIM solution to ensure there was always totally accurate information around product availability. Expanding into new channels and managing all aspects of product data can be done in a flash with a powerful PIM system.
AI-powered bundle technology has proven to be really effective in maintaining good online conversion rates. When there is a massive influx of new customers shopping online, this should be front of mind.  Combining the power of AI and product data means you can maximise your online sales and create happy customers who keep coming back.
Quality over quantity
When it comes to product descriptions, it can often be a case of quality over quantity. You can have masses of product data, but if you don't have a single source of truth, it won't be of any value. It leads to a poor customer experience and it will negatively impact the effectiveness of AI.
AI bundle technology makes intelligent product recommendations based on data gathered, making it much easier to sell more products. It also delivers a great customer experience because your customers feel valued and they're getting more from their online experience. People crave a personalized experience, and you can deliver that by analyzing different customer behaviors. This is something you should definitely capitalize on as this isn't something you can achieve as easily in-store. Show your customers you know them and that you understand their needs.
Getting your products in front of the right people at the right time is fundamental for any eCommerce business. Getting them in front of the right people for the right reasons is also a key consideration if you're looking to ramp up product experiences. This is where your tech stack comes in to play, especially if you're looking to unify bricks and mortar and online operations.
You can use sales data from in-store and online sources to power your AI. Understanding your customers is the first step to eCommerce success. Putting the customer at the front and centre enables you to personalize the experience, create happy customers and amazing online experiences. Shape your strategy based on what your customers want and need, and constantly look to enhance your tech stack to cater to their needs.
You just can't make a wrong product recommendation when it comes to building supplies. With Increasingly, we used years' worth of in-store data to unify the in-store and online experience.

Fergus Bell – Head of eCommerce at Bradfords Building Supplies
Customizing the customer experience – pre-checkout
Everyone's unique so you can't just create one generic customer experience. One segment will have completely different requirements than the other. Put a good chunk of time aside to really get to know your different personas and profiles. Off the back of that, you can then put in place a strategy that serves their specific needs and interests.
Getting to know what works and doesn't work can be long-winded without a strong tech stack supporting you. AI enables you to A/B test a lot more effectively. Something you think is great may just not resonate with your audience. Machine learning, data and AI can identify what really gets your customers going. Once you've nailed that, you'll be on to a winning eCommerce strategy.
With AI, you can cater to variants in customer behavior and the types of search terms they use. To make sure a customer will find what they're looking for, leverage your product information and add more product attributes. Essentially, if you have a good number of attributes and rich product content, the more powerful your chosen AI tool will become.
What you learn from one group of customers is totally different to that of another group. That's why you can't just have one generic experience – it needs to be unique and meaningful

James Ewens – Head of eCommerce at FurnitureBox
Customizing the customer experience – post-checkout
We've looked at some of the pre-checkout challenges PIM and AI help you overcome. Let's have a look at how they can work their magic at the later stages so you can create an experience that's super, start to finish.
Cart abandonment rates generally sit between 65% – 80% – ouch! This is where PIM and AI will work their magic. To combat high cart abandonment rates, try using thumbnail images throughout the buying journey. This way, your product will be front-of-mind when it comes to checking out. You also need to make sure you've got super clear information around shipping fees, lead times and delivery options. All this can be managed within your PIM and your DAM.
AI will analyze digital body language to identify when customers are abandoning their purchases. Consider re-marketing to customers who have abandoned their carts. Once you're able to spot the red flags, you can send your customers re-marketing communications at the right times to keep them on track to finalizing the transaction. If you're only giving them one shot to cross the line, you won't be getting the results you could be.
Increased online activity means more purchases, but it also means more product returns. 40% of products are returned due to incorrect product descriptions. You can create a single source of truth within your product information management system. This means you have complete confidence in the quality and accuracy of your product data.
Digital asset management (DAM) gives you the ability to include any number of high-resolution digital assets to your product pages. This enables your customers to properly visualize your products and will boost confidence in their buying decisions.
Virtual bathroom and kitchen tours worked really well last year. We also introduced the paver picker, which enables customers to configure them in different laying patterns.

Fergus Bell – Head of eCommerce at Bradfords Building Supplies
Constantly striving for innovation
In the world of eCommerce ambition, creativity and innovation are our main drivers. This is all well and good but alas, sometimes we're a little limited in terms of time and resource. This is where sometimes it just makes more sense to work with third parties. There's only so much you can do in-house, whereas they've developed the expertise over years and years. More importantly, they'll have all the time to focus on delivering a solution that's right for you (that's what we do, and that what Increasingly do too).
When it comes to big projects like PIM and AI integrations, this could take months, even years if you were to do it yourself. Not to mention, once your in-house development team deliver it, there will be continued pressure on them to maintain it and offer support.
You can make HUGE savings by outsourcing to third parties, and SaaS solutions guarantee continued support one the implementation is complete. If you don't have a PIM in place, the likelihood is you'll have a dedicated product data team fervently trying to update things manually. This doesn't give you any room for manoeuvre when it comes to growing your eCommerce business.
The changes we've seen in eCommerce over the past year will likely become the norm. That's why you need to look at your eCommerce tech stack as an open book in terms of constant improvement. Opportunities will arise, and it's a case of capitalizing on those opportunities

James Ewens – Head of eCommerce at FurnitureBox
Final words
To achieve great results, you need to invest in a tech stack that's right for your business and aligned with your visions and goals. The same applies to the partners you choose to work with. Make sure they are not only highly competent but also understand your business, how your team works and your visions for the future.
Tech stack solutions often 'pay for themselves' because it frees up your time and enables you to achieve operational excellence. You'll have more scope to really focus on improving the quality of your data and refining your strategy as a whole. The possibilities are endless, but by having clean, accurate product data, coupled with a powerful AI integration, you can totally transform the customer experience and reap massive rewards.
Access the webinar recording to get a full view of how our panellists are bossing their eCommerce strategies with AI & PIM