eCommerce conversion rates are one of the critical metrics most businesses selling online will be keeping a close eye on. The objective of conversion rate optimization is to get as much value as possible from the web traffic you generate. In other words, it's not necessarily about increasing the amount of traffic you have but driving more value from the potential customers visiting your eCommerce site.
There are a bunch of benefits you can gain from implementing a winning eCommerce conversion rate optimization strategy. Firstly, you can drive more Return on Investment (ROI) from your marketing spend. Secondly, you can also drastically reduce the Cost Per Acquisition (CPA), amongst other things such as increased online revenues.
The way you have to look at it is – if a customer lands on your product page, they're likely a high-intent visitor. So, you need to make sure you have everything working in your favor to make sure you convert them from browser to buyer. Now, before we dive in, let's take a look at what CRO is, and how to calculate your conversion rate.
What is the eCommerce conversion rate?
The eCommerce conversion rate is calculated by dividing the number of conversions (transactions) by the number of website visitors. You then multiply by 100 to get the conversion rate percentage.
So, if you had 1,500 visitors per month, and converted 50 of those visits, your conversion rate would be 3.3%.
[50/1,500] x 100 = 3.3%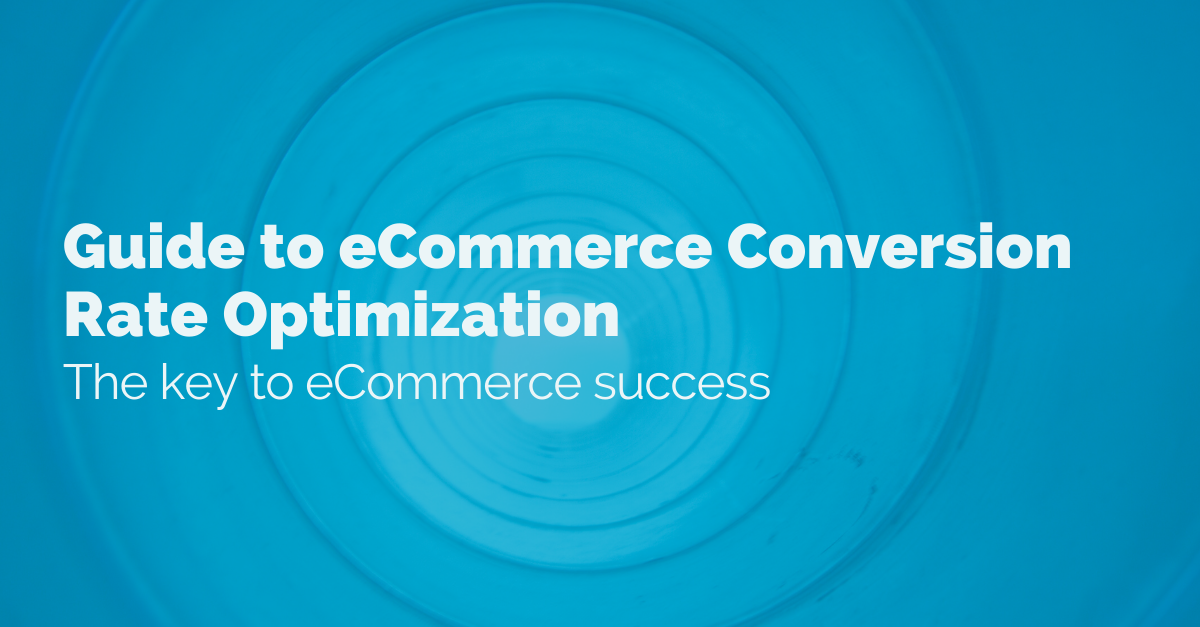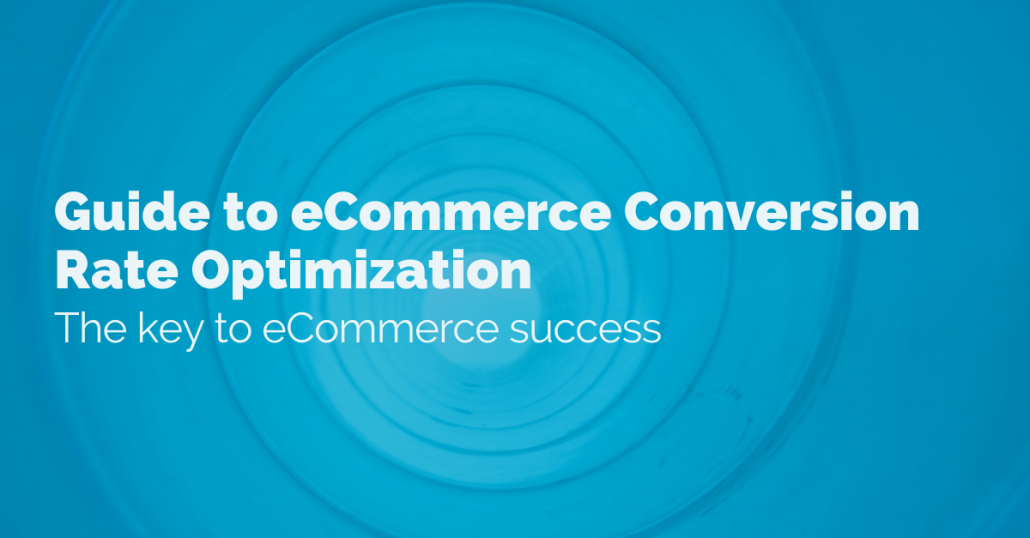 A higher conversion rate means more site visitors are being persuaded to buy something, which is the whole point of CRO.
The typical eCommerce conversion rate is notoriously low. As of April 2022, it was 1.72% across all industries, and it will vary from industry to industry. As it's so low, it's no surprise a lot of focus goes into optimizing every aspect of an online store to generate product experiences that lead to more sales.
The key factors of eCommerce conversion rate optimization
Conversion rate optimization involves ongoing effort and incremental changes to improve the customer experience. There are also certain tools and techniques you can use to improve eCommerce conversion rates. Essentially, it's all about determining what a high-performing web experience looks like.
Conversion research – This is where you can use analytics tools to see how potential customers are behaving on your eCommerce website. Google Analytics, HotJar for heat maps, and visitor recordings will help you pinpoint the areas for improvement.
Personalization – The future of eCommerce is largely based on personalizing the online experience you deliver. Typically, personalized experiences can improve online conversion rates by 8%, so it's definitely worthwhile.
Good user experience (UX) – Consumer expectations are continually on the rise, and you need to make sure you're meeting and exceeding those expectations to stay ahead of the game. Make it super quick and easy for customers to find all the information they need to make informed buying decisions.
Website persuasion – Ensure you're using copywriting best practices and provide detailed and engaging product descriptions to boost customer confidence. High-quality and varied digital assets will also help customers engage with your brand and your products.
How to increase eCommerce conversion rates
Right, time for us to dive into how you can go about increasing your conversion rates. Sit back and get ready to learn everything you need to know about getting the most from your web traffic.
SEO
Creating a strong Search Engine Optimization (SEO) strategy is the first step you can take to boost your conversion rates. You can't convert web visitors if you aren't generating web traffic! You want your product listings to display as high as possible in SERPs. To make sure that's the case, you need to make sure you're using the right keywords to ensure your products get in front of the right people at the right time.
Meta descriptions are a key SEO component, and they're also key in improving conversion rates. It's the first bit of text a customer sees in their search results, so it's going to determine whether or not they click through to your site. Ensure your meta descriptions clearly set out what the customer can expect to see once they're on your product detail page.
Digital assets enable customers to visualize your products, so they clearly play an important role in the buying decision. From an SEO perspective, you need to ensure they're optimized with keywords featuring in the ALT tags. This will guarantee them a spot in image search results and will drive more potential customers to your site. It's also important to re-size them whilst retaining their quality so your site speed isn't affected. Video is definitely something you need to include on your product page as it encourages customers to spend longer on your site (an important ranking factor) and it helps customers see your product in action.

Site structure
A site that's easy to navigate will provide a much better customer experience. In eCommerce, consumers expect to find what they're looking for quickly. It should take a web visitor no more than three clicks to land on the product they're looking for. The average consumer has an attention span of about four seconds, so it's imperative to quickly capture their attention and pique their interest.
Having clearly defined product categories will help you structure your site in a way that's logical for the customer. In addition, search engines love structured sites, so you can improve the customer experience whilst boosting your SEO ranking. Overall, the simpler and more straightforward the online experience is, the more likely a browser will convert to a buyer.
Hyper-personalization
Personalized shopping experiences generate higher revenues, but you can take it a step further and offer a hyper-personalized experience. Whether you sell B2B, B2C, or D2C, your messaging needs to resonate with your audience. By leveraging technologies such as Artificial Intelligence (AI), you can gather tons of data that helps you tailor the experience to your customers' specific needs and interests.
For instance, you can look at previous browser or purchase history to understand what their interests are. Using this, you can then serve potential customers with intelligent product recommendations you know they'll love. Alternatively, you may want to provide different product descriptions and digital assets depending on demographics. This may be based on age, gender, ethnicity, or different use cases.

Product page design
Your product page is the eCommerce equivalent of your shop window, and it's a key page as it leads to a transaction. It's where the magic happens, so make sure you're giving potential customers all the information they need to make fully informed buying decisions. It's about instilling your customers with confidence. Be sure to include social proof to reinforce this, such as user-generated content or product reviews from previous customers.
Provide information around deliveries and returns on your product page so they're not taken aback at checkout. Moreover, it'll massively reduce cart abandons as well as increasing your conversion rates. Another great way of persuading a customer to buy is to create a sense of urgency or scarcity. Show stock levels and clearly highlight if they're low. You can also use countdown banners to show when a promotion is ending, or when next day delivery will be available until.
Write targeted and detailed product descriptions and offer the choice to see a shorter or longer product description. Where applicable, you should also include trust symbols like certifications, Trustpilot ratings, and payment card logos. We also spoke about the importance of having quality digital assets to move customers through the buyer journey. Video will be especially important as it enables the customer to visualize the product and see it in action.
Lastly, make sure you have clear CTAs to guide the customer from one stage to the next. Try using contrasting colors to make them stand out because, after all, you want them to hit add to cart and buy now!

The checkout page and process
You've done all the hard work to get your customer to the checkout point, so the last thing you want to do is lose them at the last hurdle! It needs to be as simple as possible, and you need to ensure you're providing a good range of payment methods. Around 50% of consumers will abandon a purchase if their preferred payment method isn't available, so cover all ground.
Keep form fill details to a minimum and make sure data auto-completes for any returning visitors. You should also offer guest checkout options so customers don't have to spend tons of time filling in their details. Remember, the whole point is that the experience should be quick and convenient!
To further reassure customers who are just about to convert, you can add reassurance copy to the CTA. this might include confirmation of delivery timeframes, money-back guarantees, or your privacy policy to let customers know how you'll use their personal details. These factors will all help nudge your customers towards a conversion.

Other considerations
As well as optimizing your product detail pages, you should also consider optimizing other key pages on your eCommerce website. Think of your homepage and any blog posts too. These are all pages your customers will interact with, and it helps them form a bond with your brand and products.
Last year, over 50% of eCommerce transactions took place on mobile. Make sure your customers have consistent experiences regardless of the device they're using. Your product page view and digital assets should all be optimized for mobile to guarantee higher conversion rates.
How PIM helps with conversion rate optimization
A central repository
Product data comes from many sources: ERP systems, spreadsheets, suppliers, etc. Storing and managing everything in one central hub means you have quick access to the data you want to optimize.
Optimizing products is much easier when you're working from a central location. With PIM, you can give relevant team members access to the data they need so they can focus on their respective areas of expertise. In turn, you can ensure customers are provided with totally accurate and high-quality product data. This will build their confidence and arm them with all the information they need to make informed buying decisions.
The Pimberly PIM has visual dashboards that enable you to quickly identify any gaps in product data. When this is the case, an automatic notification will be sent to the relevant team member
Give your product data superpowers: Automation!
Dealing with large volumes of product data is time-consuming. Automation is crucial for helping businesses scale this process. This is achievable through the creation of workflows.

Workflows within Pimberly enable you to concentrate on creating product campaigns that generate more sales. In other words, you can be more productive instead of constantly checking for gaps in data.
You can also use workflows to control different stages of the product enrichment journey. If a fashion company wanted to optimize a shirt for search engines, they could create an approval rule. Before the shirt could go live, a relevant team member would need to check to make sure the right keywords had been featured in the product description. As a result, consumers would be able to find the shirt easily during an online search.
Analyzing customer behavior
The flexibility of a PIM system enables you to integrate with other systems and analyze customer behavior. For instance, you can take stock data from an ERP to determine what products consumers are buying most. Then, you prioritize the enrichment of your best-selling products with PIM.
Moreover, you can utilize PIM to create offers for high-selling items. This could involve setting up cross-sell or upsell opportunities. It could involve updating product categories and improving the structure of an online store.
As new technologies arrive and customer expectations change, you can look toward creating smarter conversion optimization techniques. Product information is an essential part of that process.
From creating better product pages to developing personalized shopping experiences, the conversion opportunities with product data are practically limitless.


*We always want to make sure we deliver the highest quality content, which is why we updated this blog in May 2022. This blog was originally published in December 2019.