If 2020 taught us anything, it's that a well–thought–out digital-first strategy is essential for businesses to succeed in the current climate. Digital transformation should be embraced with open arms and has paved the way for many manufacturing businesses to shift to a D2C (direct to consumer) model.  
The ONS reported that the proportion of retail sales in the UK via online channels pre-COVID was 22%. At the height of the national lockdown, this rose by 50% to 32% meaning that £1 in every £3 was being spent online in the UK. This rises to nearly £1 in every £2 spent by UK consumers when we're looking at non-food.  
The already unstoppable "oil tanker" that was Online Retail Sales has undeniably had a one-time boost from the impact on shopping habits due to COVID, and it has pushed this transition forward by at least five years.  More consumers have had to use online services for the very first time (banking, shopping, delivery, video streaming, health, video conferencing services, and so on) and everyone has had to buy much more online than usual whilst physical stores have been closed.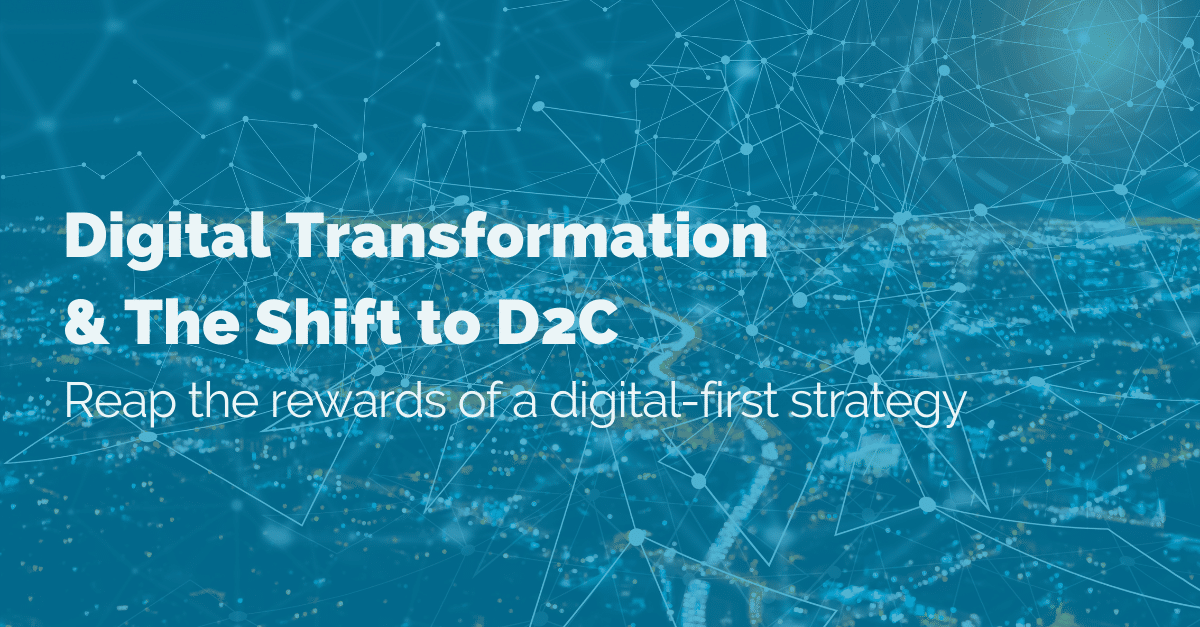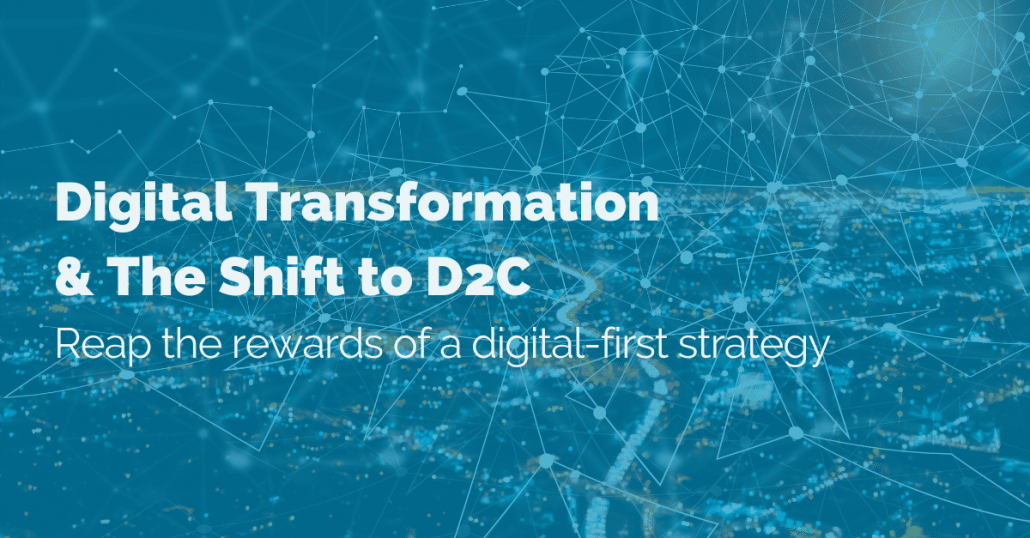 If any businesses weren't previously thinking about eCommerce and digital transformation, they surely will be now. If they don't seize the opportunity to go online, they're putting themselves at a competitive disadvantage and the decline for them is very likely to be steeper now than ever before.   
Change was a huge factor everyone had to deal with last year and leveraging technology to remain agile was something that so many companies actively embraced. Consumer needs changed, their behaviour changed, and providing a seamless and amazing online experience was the road to success.  
Businesses who were significantly reliant on bricks and mortar, whether directly or via their existing distribution and/or supply chain, for example, were suddenly impacted because of the situation logistics providers and retailers found themselves in. Even if consumers were scrambling to buy a manufacturer's products, they couldn't as many manufacturing businesses didn't have transactional web stores that consumers could go to.   
We expect many manufacturers & brands to start being far more questioning as to their logistics, distribution and retailers online, as well as eCommerce capabilities. To stay competitive, they may even accelerate their own plans for D2C sales, if they haven't already been forced to do this during the height of COVID. 
This shift from B2B to B2C/D2C was one of the primary ways of countering the rapid shift we saw in consumer behaviour and market trends. This meant brands and manufacturers had to up their game and start thinking about things that previously, they wouldn't have had to worry about as much.  
They were more discerning about the retailers they chose and the investments they were making in their eCommerce strategy. They were also more conscious of their product's digital footprint as well as the digital personification of their products all round.  
All this was driven by consumers and making effective use of technology was key in staying ahead of the game. The winners in all this will be those who know how important the online journey is, who understand that rich, detailed product descriptions and digital assets are paramount to creating unique online experiences.  
In a pre-COVID world, most manufacturers simply wouldn't have had to think about the way in which their products were represented and left this to retailers and distributors. Though a shift to D2C represents a massive change, what are the advantages for manufacturing businesses considering D2C? Here's a snapshot, along with an overview of how a smooth transition can be achieved.  
Quicker Time to Market:  
By cutting out the 'middle-man' and selling directly to consumers, manufacturers can be more agile with the products they release to market. They can test a specific product on a specific demographic to quickly gauge the products that are and aren't working. This enables them to make the necessary adjustments and release the best-sellers in no time at all.  
Having the right technology in place to facilitate a swift release is undeniably a huge consideration here. Mastering product data and being able to create online experiences that are customer-friendly will go a long way in determining the success of a D2C model. By storing all product data in one centralised hub, adjusting entire product ranges can be done quickly and easily.  
Providing an Omnichannel Experience:  
Manufacturers can reach a larger pool of customers by having a presence on more channels, marketplaces and, when permitted, even consider establishing a physical presence to deliver an omnichannel experience. Despite current restrictions, consumers like to have the choice of being able to visit a physical location after researching a product online or vice versa. 
An omnichannel experience can help drive sales, as customers have more choice in terms of where they can shop, leading to a much-improved customer experience. By increasing this customer engagement, you're highly likely to see an increase in ROI. One thing to consider, though, would be how to ensure consistency across all channels. An effective solution to this is to utilise workflows and lifecycle stages, which will mean products are never released with missing information.   
Greater Control Over Data:  
Whilst previously, manufacturers would have relied on retailers and distributors to create the 'shop window' for their products, a D2C approach means this now lies with them. In terms of the product data, there will be a much higher level of control and they can choose the specific details they want their products to be associated with.  
This also means manufacturers can provide a deeper, more granular layer of detail which will ultimately give customers more confidence in their buying decisions. In addition to the product data, manufacturers will also have ownership over any data they collect from customers. Having this data will contribute a large amount towards improving the overall customer experience thanks to a deeper insight into trends, behaviours and product preferences.  
Better Customer Relationships:  
Recent research from IMRG, the UK's leading online retail association, states that over 50% of consumers prefer to research products directly with the manufacturer, so it makes sense to ensure as much detail is provided. Accurate and rich product descriptions help to give customers a better relationship with your products and you will likely see an increase in engagement and conversion rates.  
Having a deeper understanding of the customer journey, thanks to more insightful data, will also enable manufacturers to tailor the experience they offer. From which products are performing better than others, to the best times of day to interact with audiences, the process of making these decisions can be streamlined.  
By adopting the right technologies, manufacturers can still benefit from the key things they would have gained from working with a distribution channel. For instance, logistics, transacting and payment processing can all be managed with eCommerce platforms such as BigCommerce or Brightpearl. With seamless integration to home delivery services by the likes of UPS/DPD and payment gateways with PayPal/Visa, doing business directly with consumers can be made super simple and is completely achievable.
It doesn't matter what type of business we're talking about here, be that a retailer, distributor or manufacturer, digital transformation is a strategy that can yield huge benefits for any or all of them. It's an approach that touches all elements of a business so, where possible, businesses need to be thinking about how things can be done in a digital form. Those who do stand to reap the rewards, those who don't run the risk of losing out big time.  
Here at Pimberly, we've developed the world's most powerful product information management platform. It gives our clients the power to make their products really resonate with their audience, by providing them with the best possible product information so they can make informed purchasing decisions.  
Learn more about streamlining your day-to-day operations with Pimberly
https://pimberly.com/wp-content/uploads/2021/03/digital-transformation-and-the-shit-to-d2c.png
627
1200
lucy
https://pimberly.com/wp-content/uploads/2017/03/pimberly_text_2017_unofficial-1030x366.png
lucy
2021-03-10 08:43:40
2021-05-18 11:40:58
Digital Transformation & The Shift to D2C