It's not surprising that consumers are increasingly opting for the convenience and accessibility of online browsing. But many are still drawn in by the immediacy and experience of in-store purchasing, which is where webrooming comes into the mix.
Combining the benefits of both online and in-store shopping, webrooming has become a popular trend with modern shoppers. Some people feel more comfortable buying certain products in person, where they can physically see, touch, try on or test the merchandise.
Many shoppers still like to go to a physical store to:
Physically touch and see the product
Buy certain things like clothes need trying on or testing
Get the instant gratification of taking home your purchase there and then, be it through necessity (last-minute gifts for your friend whose birthday drinks later you'd totally forgotten about)' or just because sometimes it's nice to get what you want quickly.
Stores also provide a physical connection with customers and the opportunity for face-to-face interactions with products and your staff. That's an opportunity not to be missed.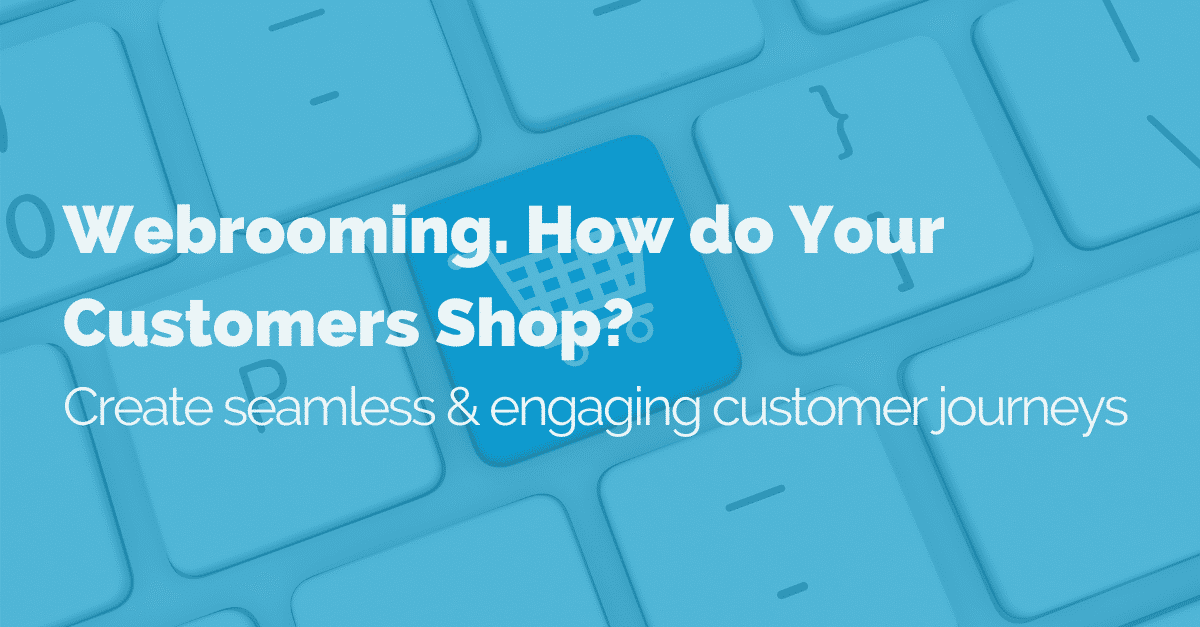 The rise of webrooming and ROBO
In some industries, showrooming is standard practice. Consumers go into a store to view the range, gather information from staff, and then make orders online. This could either be for convenience or to take advantage of an online deal. This is approach is more common for high-value or large goods like furniture and white goods.
In recent years, it's become more apparent that a lot of shoppers have moved their browsing and research activity to online stores. However, the benefits they get in a physical store mean that in many cases they will purchase in-store instead. The practice of browsing online and purchasing in-store is known as "webrooming", or ROBO (research online, buy offline).
Shopping is about gathering information
The product experience you provide across your online platforms and in-store relies on a number of factors, as well as the skills and expertise of many departments. From designers and stock control to eCommerce and visual merchandising, collaboration is key. You need the systems and processes in place to enable your team to deliver those experiences.
Check out this infographic to see how PIM facilitates collaboration across departments 
Important to note the process of shopping is all about consumers gathering product information in order to make a decision. Retailers and brands are racing to provide customers with the most seamless and integrated shopping experience across all platforms. Remember, the quality of your product data will ultimately the quality of the product experience. As such, the key to getting this right is the smooth integration of business systems and processes.
A solid CRM system will help you provide high-quality customer services and marketing messages. Your product information needs the same attention to support the efforts of all sales channels.
Without good product information, a fancy new eCommerce website design will go to waste. Customers who find conflicting information at different touchpoints will lose faith in your brand. Ensuring your product information is up to scratch will also improve your SEO. This means customers will be able to easily find your products.
Take a look at our whitepaper to understand how you can leverage your product data to boost SEO performance 
For customers who love the instant gratification of taking home their purchase today, good product information is even more vital. Without it, there's a greater chance they'll have to return something that isn't quite what they wanted. Goods that need to be returned or replaced lead to unsatisfied customers who will potentially lose confidence in your brand. Furthermore, it takes a lot of time, and money to correct the situation.
Expanding the shopping experience with rich product data
To stand out from the competition, you're not just competing on price in order to grab a customer's attention. As the retail game is changing and buyer habits constantly evolve, it's a case of constantly looking to improve the online experience you offer. Keep up by adapting, innovating, and providing something new. Many stores understand the need to provide more than a shopping experience, and that customers aren't just there for information. This might be because they've most likely made most of their buying decisions online.
Why is rich product data so key in driving eCommerce success?
Many brands are bringing technology into the retail experience. Gadgets and gizmos to detect your perfect makeup shade or help you understand what type of running shoes you need are becoming more and more commonplace. Even the seemingly simple (but realistically tricky) task of arming sales-floor staff with the information customers might ask them for. Rich, accurate product information powers these technologies. These experiences are what enable retailers to maximize the value in all their store space' both virtual and physical.
Adding value to webrooming with PIM
A seamless and engaging customer journey now involves many touchpoints across multiple sales channels. A great online experience with ease of comparison and plentiful information on all products enables customers to self-qualify.
By the time they're in your store, they're ready to purchase. The hard work is already out of the way which means a smooth transition from visitor to customer.
By creating an enjoyable and interactive environment, you can maximize the opportunity by enticing them into impulse purchases or complementary products. They may already have encountered these on your website, and this is a great opportunity to upsell and cross-sell.
Consistent marketing messages and clear branding are important but not enough to communicate your brand and values to modern customers. Improve the way you manage product information across your organization and give your customers the confidence to browse and purchase from you.