Having the right system to gather and manage data is essential for eCommerce success. Whether it's consumer, stock, or product information, it all goes towards increasing sales. But every business has different objectives, and that inevitably affects how they choose to manage their product data. This is where the big debate around PIM vs MDM comes in!
Master Data Management (MDM) and Product Information Management (PIM) are two of the most common methods for managing product data. While the two systems are closely related, they are different from each other. So, in the battle between PIM vs MDM let's start by defining what MDM is.
What is Master Data Management?
Master Data Management is used within organizations holding more than one version of data. When this is the case, there will inevitably be inconsistencies. So, MDM software essentially unifies people, processes, and technologies to ensure data values are consistent.
The types of data MDM deals with include:
Employee information
Customer information
HR data
Finance data
What is Product Information Management?
Product Information Management (PIM) is a subset of MDM that specifically deals with enriching product data for the marketing and sale of products online. PIM is a centralized hub that connects to multiple internal and external data sources. From this centralized hub, you can manage, enrich, and distribute product data to all your sales channels. In other words, PIM is an essential tool that enables businesses to optimize product data and grow revenues.
Want to dig a little deeper into Product Information Management?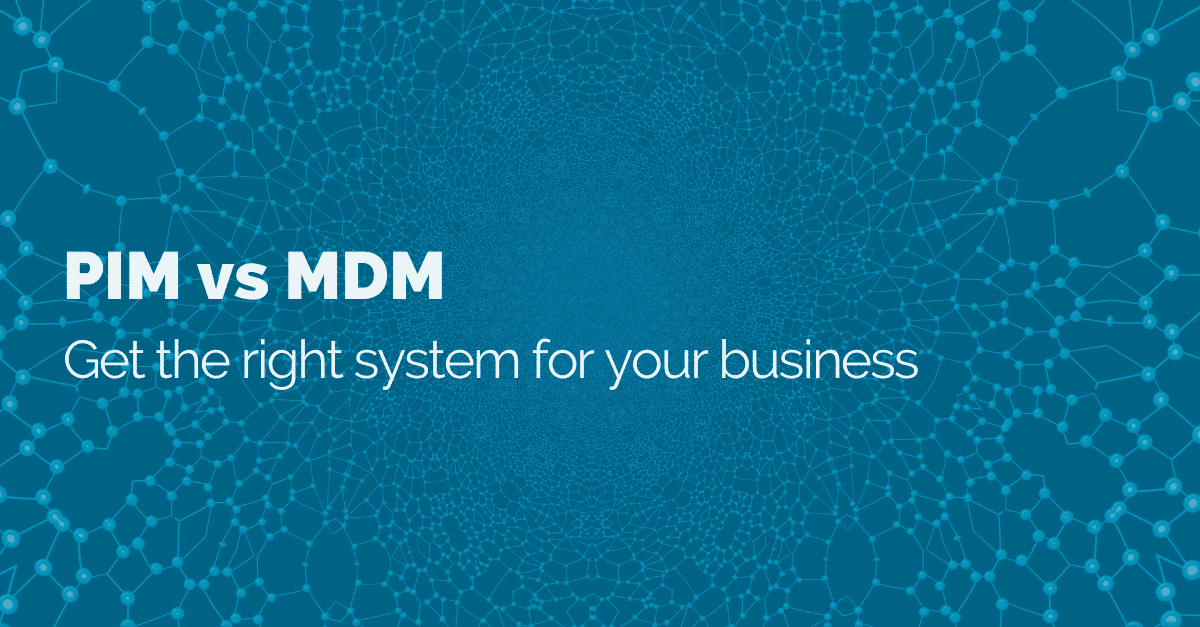 MDM vs PIM
MDM solutions help cleanse and organize information within a business to ensure data governance. However, the needs of your product data are very different from internal business information. PIM solutions specifically meet those needs by giving you full visibility on all aspects of product data.
For example, a retailer could use PIM technology to import data directly from an ERP and house it in a single location. Then, the retailer would be able to enrich the data and distribute it through all sales channels. Similarly, a manufacturer could connect to a PLM to track the product development process. They would then be able to determine when it will be ready to market.
Find out why PIM and PLM are the dream team
Streamline how you process product data
As product information isn't the main focus of MDM, managing it will typically take a long time. PIM vastly improves the process by automating up to 80% of manual tasks relating to product data management. Furthermore, it provides a hyper-focused approach to improving the product enrichment journey.
Workflows can be set up to approve different stages of product enrichment which ensures a high level of consistency. Different departments have different tasks at each stage of the product enrichment process. When different tasks are due to be completed, workflows will notify the relevant department to ensure products are fully enriched.
Increase revenue
MDM isn't designed for marketing purposes, but PIM is. It's the perfect solution for businesses looking to leverage product data to supercharge eCommerce operations to increase revenues. PIM enables you to create rich and unique product descriptions that ensure you rank well in Search Engine Results Pages (SERPs). It's also super easy to extend the reach of your products by opening up new sales channels and entering new geographies.
Access our whitepaper on the ultimate guide to PIM for eCommerce SEO to boost your rankings
Less complexity, more simplicity
MDM projects typically take place in enterprise companies looking to refine all internal data processes. Implementing MDM takes up a lot of resources and can develop into a complex project.
Storing data in disparate systems often leads to more complexity. For example, customer names could be stored in a marketing platform, and addresses might be stored in an ordering system.
PIM focuses on a more precise set of product data objectives. This means PIM projects are quicker to deploy because they focus on product enrichment. Once the software is live, you can massively boost productivity. From accessing product data quickly to improving communication between departments, the time-saving benefits of PIM are huge.
Putting the focus on your product data
The quality of your product data will ultimately determine the quality of the online experience. Quality product data drives sales, and PIM solutions enable you to ensure you only distribute the most accurate and complete product information.
Quick to implement and sales-focused, PIM provides companies with limitless possibilities. It enriches products to a high standard, increases profitability, and provides high ROI. Create stronger relationships with your products and deliver exceptional shopping experiences for your customers. So, whether you want to build immersive experiences with digital assets, or increase time to market, PIM puts the power of product information in your hands.

We always want to make sure we deliver the highest quality content, which is why we updated this blog in February 2022. This blog was originally published in December 2019.