What are the key eCommerce trends that will be taking the digital landscape by storm in 2022? Well, look no further! Here are some of the key things you can consider to guarantee eCommerce success this year and beyond.
In part one, these are the things we covered:
The rise of D2C
Creating a greener future
The power of personalization
Consistency is key with omnichannel
Social selling
To make sure you're at the absolute top of your game in 2022 and beyond, here are five additional areas to consider: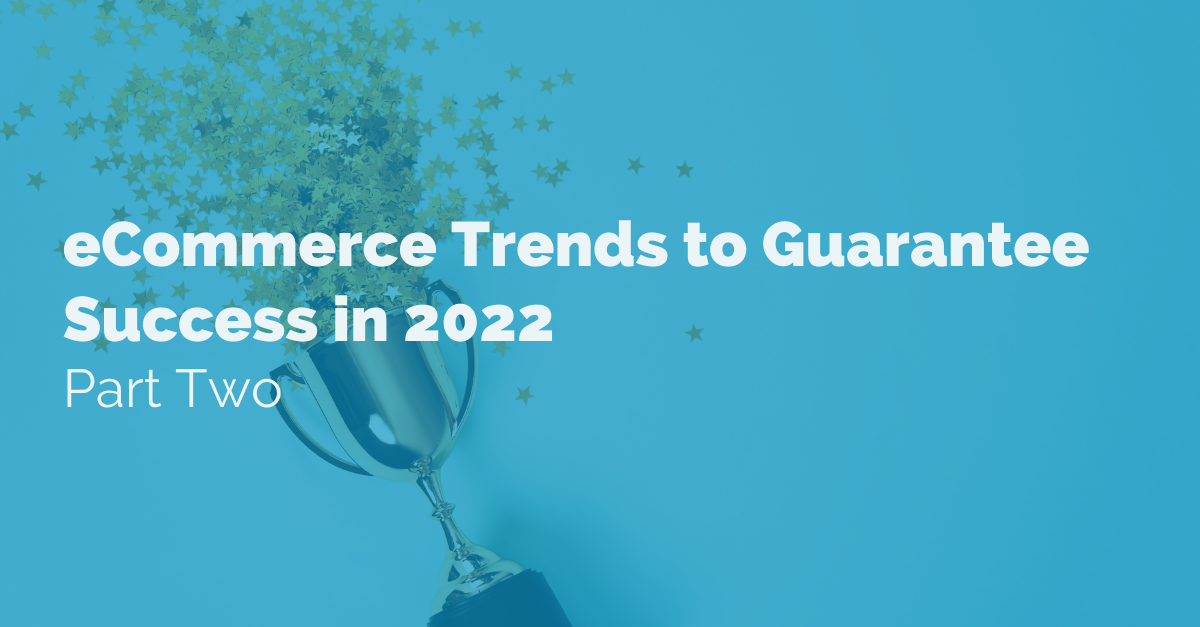 Say hello to the future of online payment methods
50% of online shoppers abandon their shopping carts if their preferred payment method isn't available. After you've done all the leg work to get them to the buying stage, you don't want to lose them at checkout.
As digital commerce continues to evolve, so do online payment methods. The most popular payment option in 2021 was PayPal closely followed by credit and debit cards. However, there's been a rise in other payment options such as digital currencies, BNPL (Buy Now, Pay Later), and eWallets. You may be serving a B2C, B2B, or even D2C customer base. Whatever the case, you need to be flexible as consumers often shop with brands that offer their preferred payment method.
Dynamic pricing is another route to achieving eCommerce success. Making small adjustments to prices depending on different factors gives you a competitive advantage. For example, increase the price of umbrellas when it's raining or coats when a cold snap is forecasted. Alternatively, you can monitor other market trends to ensure you sell your products at the right price at the right time.
Use the power of AI for cross-selling and upselling
Nobody likes to be sold to, but everyone likes to buy (if it's going to satisfy a need or want). That's why you need to gain a deep understanding of what drives your customers to convert from browser to buyer. Artificial intelligence (AI) helps you improve the user experience by arming you with in-depth information about your customers. Having this information means you can totally tailor the experience you offer to each of your customers.
We spoke about personalization in part one, and AI takes that a step further with intelligent product recommendations based on your customer's previous browser of buyer history. AI harnesses all this information, so you can display products and services you know they'll love. Because you can create unlimited product bundles and relationships within a PIM, this is super easy to manage.
Overall, AI helps you get the best possible results from start to finish. Cart abandonment in eCommerce is notoriously high (up to 81% globally across industries). Analyze digital body language to figure out when your customers are about to abandon. Having this information means you can make small tweaks to improve the checkout process. Furthermore, you can use email campaigns to re-market customers who've abandoned transactions to give them another push to purchase.  
Make online shopping mobile
Most people own a mobile device, and there's been a 222% increase in mobile traffic over the last eight years. Christmas shopping on mobile was upwards of £19.8 billion in the UK alone last year. These stats just go to show the importance of making sure your online store is optimized for mobile. Give customers the special experience they're looking for, even if they're on the go.
Making sure your products look just as good on mobile as on desktop is vital. Having a DAM in place will be a massive advantage as you'll know your digital assets will always be high-quality so your customers can zoom in and get a full view. Simplify the experience as much as possible, both in terms of the navigation and the checkout. You can always check your eCommerce website's mobile-friendliness using Google's Mobile-Friendly Test.
Bring the online experience to life with visual commerce
We know full well the importance of having spot-on, high-quality product imagery to facilitate online buying decisions. Not being able to try things on or visualize products is a huge barrier to buying online. Over the years, many online retailers have overcome this barrier by using zoom functionalities, 3D and 360 views, and videos.
Augmented reality (AR) and virtual reality (VR) are also enabling online retailers to bring the online experience to life. Effectively, online shoppers can "try before they buy" by visualizing what a product looks like. For instance, customers can see what a couch would look like in their living room. Alternatively, they can see which lipstick suits them best. Overall, this massively improves the online experience, boosts customer confidence, and increases conversion rates.
Including user-generated content on your product pages is also a great way of enabling your customers to see what a product looks like in real life. Again, this goes towards you improving the customer experience and your conversion rates. Another consideration would be to invest in a visual search tool which will likely gain prevalence in 2022.
Important to note is the file size of your digital assets. The last thing you want is to have amazing product imagery that ultimately slows page load time. Powerful digital asset management (DAM) solutions will automatically resize your product content so this won't be an issue. They'll be optimized for all sales channels, whether that be social media platforms, eBay, Wayfair, or your own eCommerce store.  
Make sure you're getting found with voice search
'Hey, Alexa/Siri/Google!' – a commonplace phrase these days and nearly half the world's population is using voice search. So, making sure your eCommerce website and channels are optimized is a no-brainer.
As well as being used post-checkout for updates on delivery estimates etc., it's often used in the research phase. This is where it's important to understand the language your customers are using to talk about your products. Product reviews are a great way of getting insight into this. Incorporate this language into your keyword strategy, making sure you include targeted keywords (longtail & LSI included) to drive traffic.
Voice search is a trend that will likely gain huge momentum over the next few years. Here are some of the best ways to make sure you appear in voice search results:
Think of the types of questions people will be asking with voice search and make sure your content provides valuable answers
Optimize your eCommerce channels for voice search
Ensure your product descriptions are as keyword-rich as possible
Make sure product attributes are correctly set
Achieve eCommerce success in 2022
To achieve eCommerce success in 2022 and beyond, you need to look at your eCommerce tech stack as a canvas open to improvement. There's always going to be an array of new technologies and platforms available to eCommerce businesses. Choosing solutions that will enable you to reach your goals is imperative, but growth and scalability must be front of mind.
Prioritize solutions that will streamline the way you work, all whilst giving you the power to create amazing online experiences. Remember, the quality of your product data will ultimately determine the quality of the online experience you offer. That's why PIM platforms are increasingly becoming an indispensable tool for eCommerce success.
PIM will complement your existing tech stack as it will integrate with any number of internal and external solutions, giving you total flexibility. Centralize the management of all your product data and give yourself more time to focus on achieving eCommerce success in 2022 and beyond!
Want to guarantee eCommerce success this year and beyond? Check out this webinar recording to hear from peers and professionals