When you look at the definitions of Product Information Management (PIM) and digital transformation, there are loads of cross-overs. As digital transformation gains more traction from businesses of all sizes, more investment will be geared towards future-proofing. So, it's unsurprising that 50% of IT spending will be dedicated to digital transformation initiatives by 2024.
When embarking on or refining your digital transformation journey, technology will be front and center of your thought process. Of course, every business has its different requirements, so the same will apply to your tech stack. Therefore, choosing solutions that are right for you will be key to any successful digital transformation strategy.
In eCommerce, it's even more important to carefully consider your tech stack as it directly impacts your overall success. This is where the discussion about PIM and digital transformation comes into play, so let's dive in!
What is Product Information Management (PIM)?
Product Information Management (PIM) provides businesses with a central repository for all product data needed to effectively market and sell products online. PIM connects with any number of internal and external systems enabling you to gather, store, manage, enrich, and distribute product information and digital assets from one central hub. Overall, it enables eCommerce businesses to create a single source of truth and to ensure accuracy and consistency across all sales channels
PIM is fast becoming an indispensable tool for eCommerce businesses looking to scale and grow. With PIM, you can totally streamline processes and automate up to 80% of manual tasks relating to product data management. In other words, this gives you more time to focus on wider business objectives, such as improving the customer experience.
PIM gives you the power to nail a super-effective omnichannel strategy and create consistently amazing product experiences across all channels. Moreover, you can incorporate hyper-personalization into your eCommerce strategy by linking with Artificial Intelligence (AI) tools to make intelligent product recommendations.
What is digital transformation?
Digital transformation is the process of leveraging digital technologies to create or change business processes. One of the main objectives of an effective digital transformation strategy is to improve efficiencies, drive innovation, and add value. Streamlined processes lend themselves to a future-proofed business, which is essential in any fast-paced environment such as eCommerce.
Many manual processes hinder growth and don't favor scalability. For example, managing product data in spreadsheets or across multiple disparate systems is incredibly time-consuming and labor-intensive. To add to that, it often leads to human error and inaccuracies. This negatively impacts the customer experience you deliver and may deter customers from shopping with you again.
In short, digital transformation changes the way you operate and alters the way you engage with team members, customers, and technology as a whole. It's all about future-proofing your business, all while improving the employee and customer experience. While technology is clearly a vital element of any digital transformation strategy, people will always play an integral role in driving change.
The link between PIM and digital transformation
Digital transformation focuses on improving internal processes to in turn improve employee and customer experiences. This is also one of the main benefits of having a solid Product Information Management system in place. So, it's no wonder the two go hand-in-hand.
To conclude, PIM enables you to boost operational efficiency, reduce costs, speed your time to market, and improve the customer experience. All of these factors are intrinsic to digital transformation initiatives, so it's no wonder more and more eCommerce businesses are adopting this technology.
Check out this infographic for the full low-down on the relationship between PIM and digital transformation!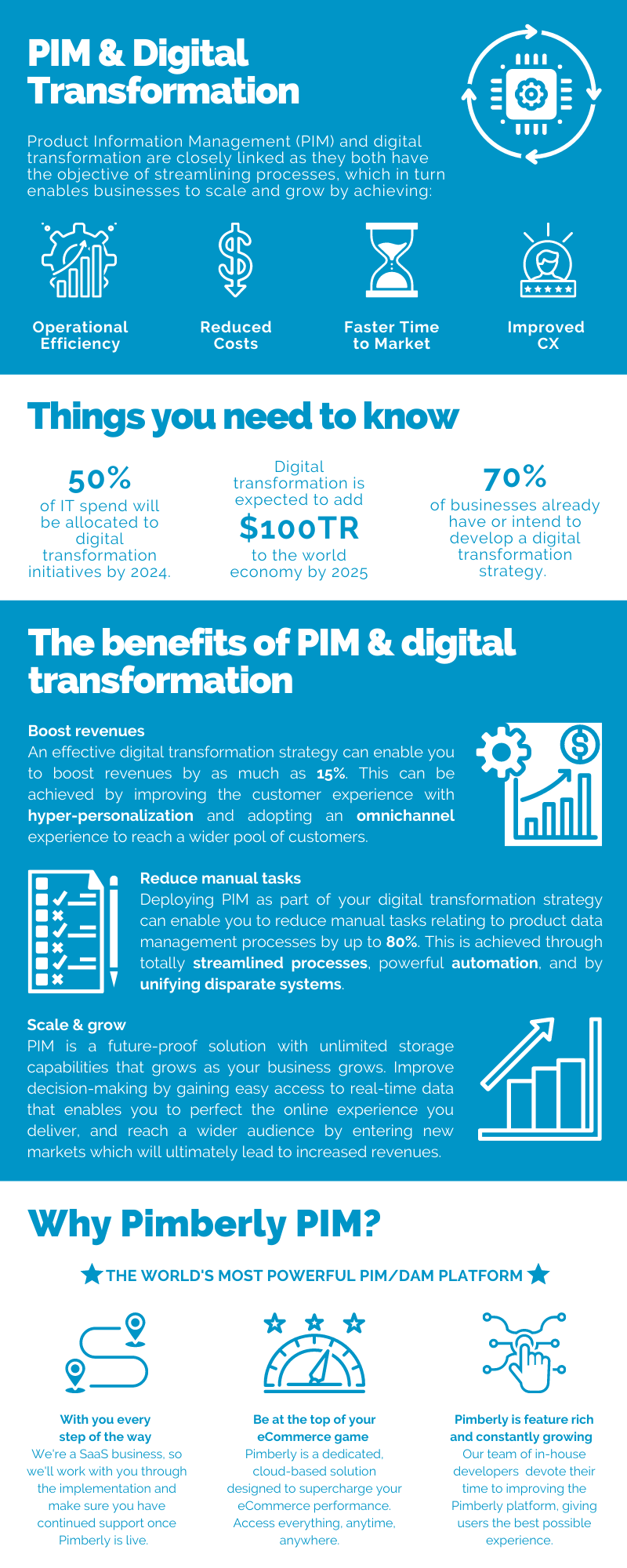 Like what you see? Watch our super quick intro to learn more