PLM vs PIM – what are they and why are they the dream team? PIM and PLM both have very different functionalities. However, they can work in tandem to streamline the product development process from ideation through to commercialization. PLM is especially important for brands and manufacturers managing the product lifecycle from start to finish. Furthermore, properly nailing the product lifecycle management process is key when products need to be launched really quickly.
Firstly, let's start by looking at what each management system does. Then, we'll move on to why they're quite the dream team.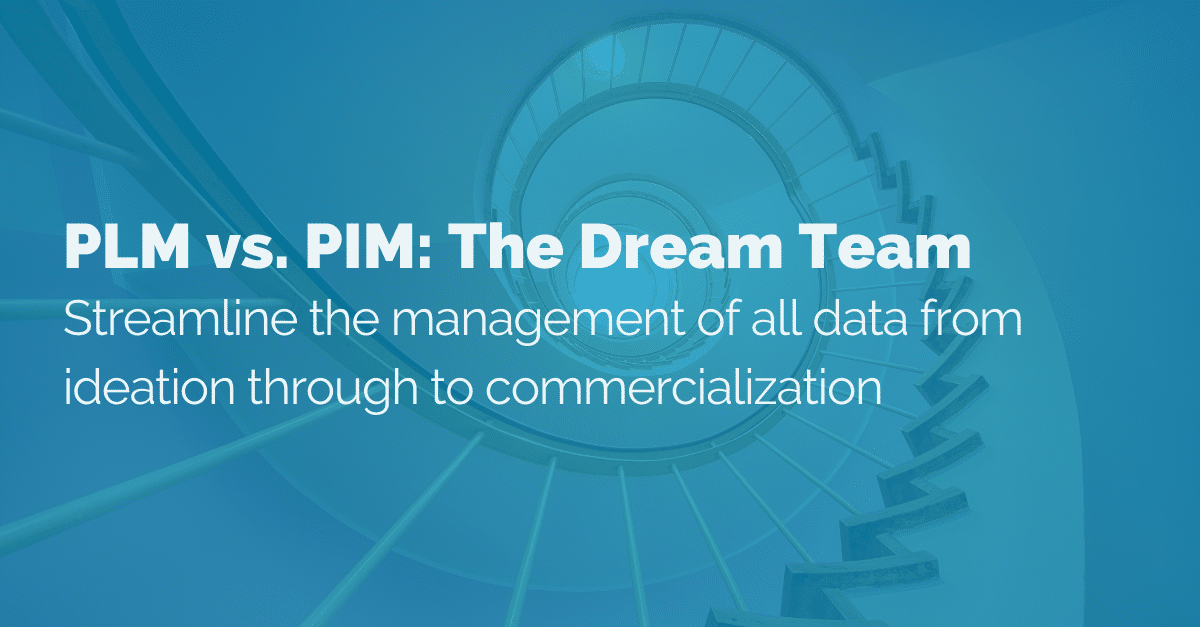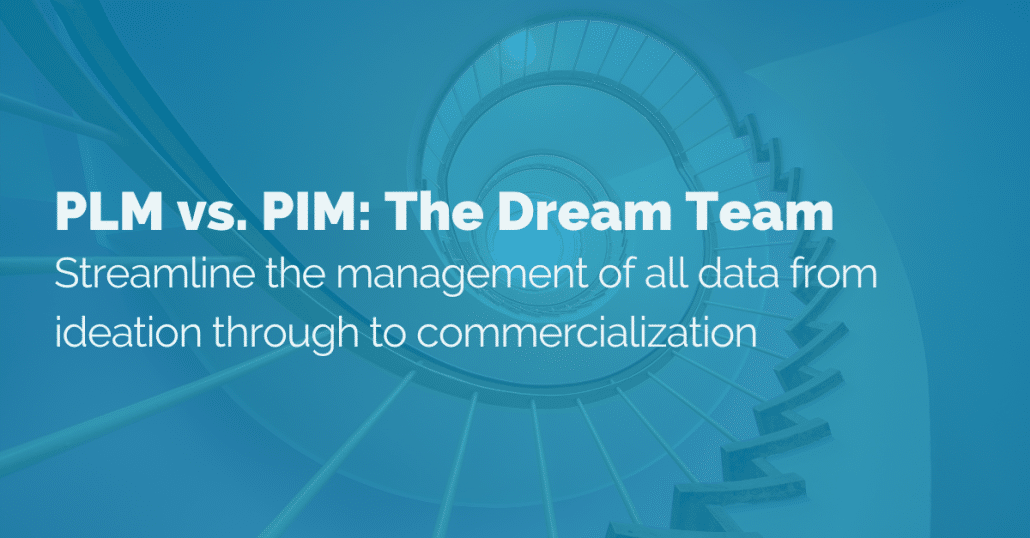 What is PLM?
Product lifecycle management (PLM) is the handling of a product as it moves through the product development process. This starts at ideation and goes through everything from design and manufacture, logistics, launch, commercialization, and eventually product retirement. The overall process of product development lifecycle management helps inform business decision-making, from pricing and promotion to expansion or cost-cutting.
PLM software is a system that enables a business to streamline this entire process, so collaboration is key. An effective PLM system gives everyone involved in product development visibility of where the process is up to. This may be between internal teams, suppliers, and manufacturers all working on the development of the product from concept to launch.
There'll also be a ton of data to manage and store. For example, quote management will be vital to ensure you go for the best manufacturer bid. Furthermore, your PLM can store all the information around the different components and materials that make up the product. From this information, you can auto-produce the Bill of Materials (BoM). You'll then use these to calculate the standard cost of the manufactured item.
Lastly, having an integrated suite that enables you to create interactive 3D design processes is a massive plus. Your PLM will integrate with CAD systems or Adobe Illustration software making this super straightforward.
What is PIM?
Product information management (PIM) platforms provide a central location for all product data and digital assets. Connect to any number of internal and external systems to gather, enrich, and distribute all product content to your sales channels. Essentially, your PIM enables you to create a single source of truth for product data and the diagram below outlines the key functionalities:


Essentially, your PIM holds all the information required for the marketing and sale of your products. For instance, you can manage everything from product descriptions in several languages to product imagery. This may also extend to any associated documents you need to provide from a compliance perspective.
PIM software enables you to automate up to 80% of manual tasks related to product data management processes. Overall, this means your teams can focus on delivering the best-in-breed in terms of online experiences.
Powerful workflows and automation mean any product data changes reflect in real-time. As such, you can drastically reduce time to market all whilst having total confidence that your customers see the most accurate and up-to-date product information.
Because you can distribute product data across unlimited sales channels, boosting your reach and increasing your sales is easily done with PIM. Additionally, PIM systems offer massive storage capabilities. So, if you're selling to different geographies, you can make sure all your product data, from descriptions to currencies and sizing, are fully localized.
Why PLM and PIM are the dream team
Both PLM and PIM systems have the main objective of enabling you to reduce the time it takes for your products to go to market. As outlined above, your PLM is designed to manage the initial stages of product development, whereas your PIM is designed for the commercialization stages of the product lifecycle. Here's an overview of what that looks like: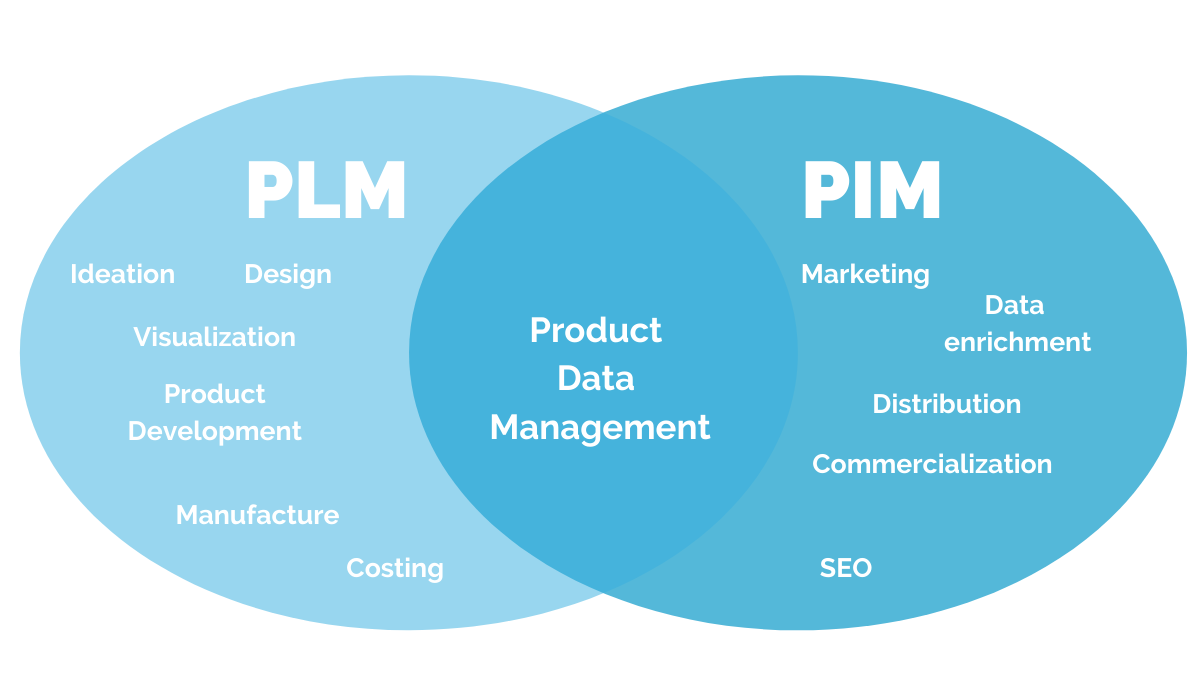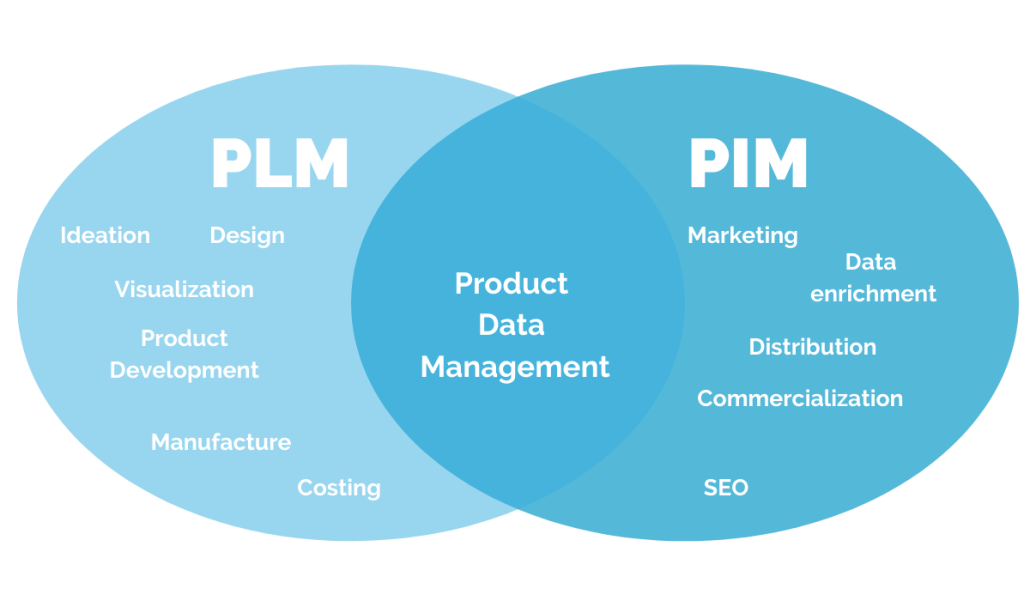 The reason these two systems are the dream team is because they can both manage all the data needed to turn an idea into a final product. The PLM will hold certain bits of data needed to commercialize, market, and sell the product. Similarly, your PIM will hold certain pieces of data taken from your PLM. As such, PLM data will feed into your PIM once the products have been created and are ready to sell.
In centralizing all data relating to your products and every stage of their development, you can make massive time savings. For one, all parties involved can access and track product development progress within the PLM. The same applies to all your product data once it's in your PIM. Lifecycle stages give you full visibility of the completeness of products, whether that be the required product descriptions, digital assets, and SEO optimization.
PLM, PIM, or both?
The Pimberly PIM system has some very light PLM functionalities. Pimberly enables you to add several primary IDs to one single product. This means you can search for a product with any one of these primary IDs that have been allocated at any time during the product lifecycle. So, regardless of whether a new unique identifier has been allocated as the product has moved through the stages, you'll always be able to find it.
Moreover, Pimberly can be configured in any way to suit your business. So, you can set the lifecycle stages used to determine the completeness of a product. It may be that certain product attributes, assets, or digital assets need to be provided before the product can go live. Visual workflows give full visibility of the product lifecycle, so you always know where it's up to.
Important to note these functionalities only serve light lifecycle management. For more complex requirements around product development, a PLM will be pretty much essential. Depending on the nature of the product, there may be very detailed design and development processes with input from a large number of suppliers and/or manufacturers.
That said, anyone using PLM who then passes information on to sales channels will benefit from feeding this data into a PIM system. The whole point of a PIM is to make the online buying experience super and streamlined. On the other hand, the whole point of a PLM is to make the production process quick and efficient. Overall, both systems have the primary objective of enabling you to get your products to market quickly. Whether you need one or both will largely depend on the scale of your operations. But, if you're looking to deliver a top-notch customer experience, PIM will be non-negotiable!
Read our "Making the Business Case for PIM" white paper for a deep dive into how to streamline day-to-day operations and create amazing customer experiences