Are you still managing product data in spreadsheets? If you are, I'm sure you're familiar with how time-consuming and laborious it can be. In a highly competitive and fast-paced environment, agility and efficiency are essential components for any eCommerce business. This can be hard to achieve with manual processes that just aren't fit for purpose, which is often the case when relying on spreadsheets.
To guarantee the best possible customer experience and to boost conversions, your product information needs to be on point. In other words, it needs to be accurate, always to up to date, and accompanied by high-quality digital assets. As such, it's important not to rush the product data management process.
As we always say, the quality of product information ultimately determines the quality of the customer experience you deliver. However, Excel spreadsheets don't give you full visibility of the accuracy and completeness of your product data. Moreover, it may be the case that teams are working on different spreadsheets in different departments. This disparate is tricky to manage, and it gets even harder as the volumes of data increase. As a result, you may often find there are errors and inconsistencies which is not good for the online experience. That's why Product Information Management (PIM) platforms are an essential tool for eCommerce businesses.
In this blog, we're going to cover:
The common challenges of managing product data in spreadsheets
Whether you should use PIM or Excel for product data management
The benefits of Product Information Management (PIM) software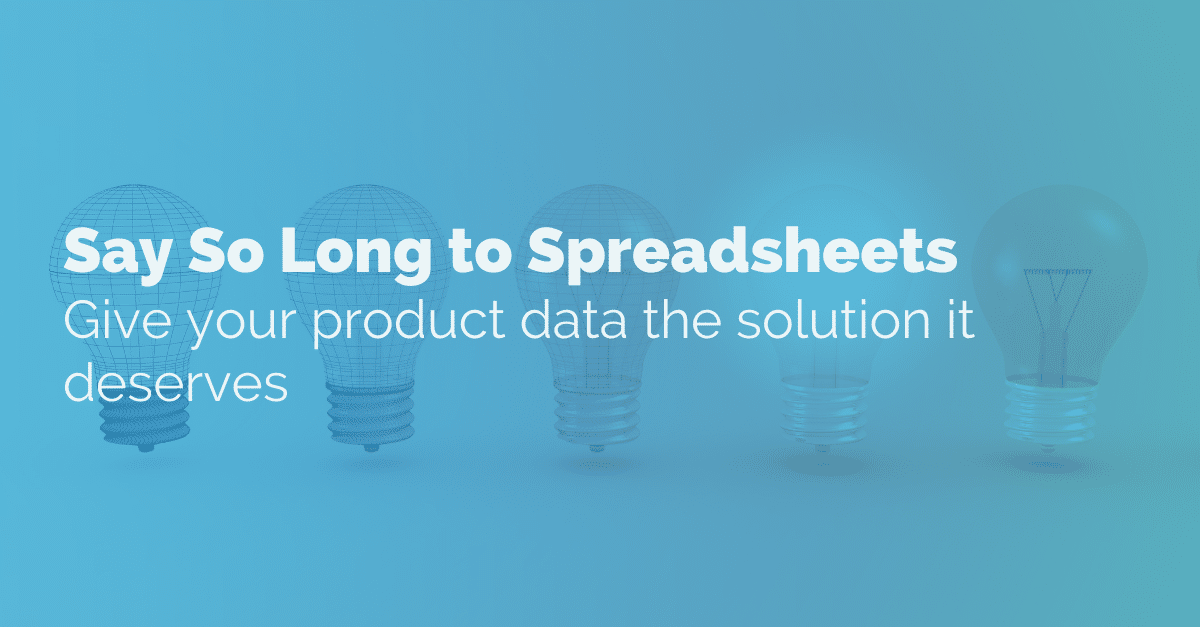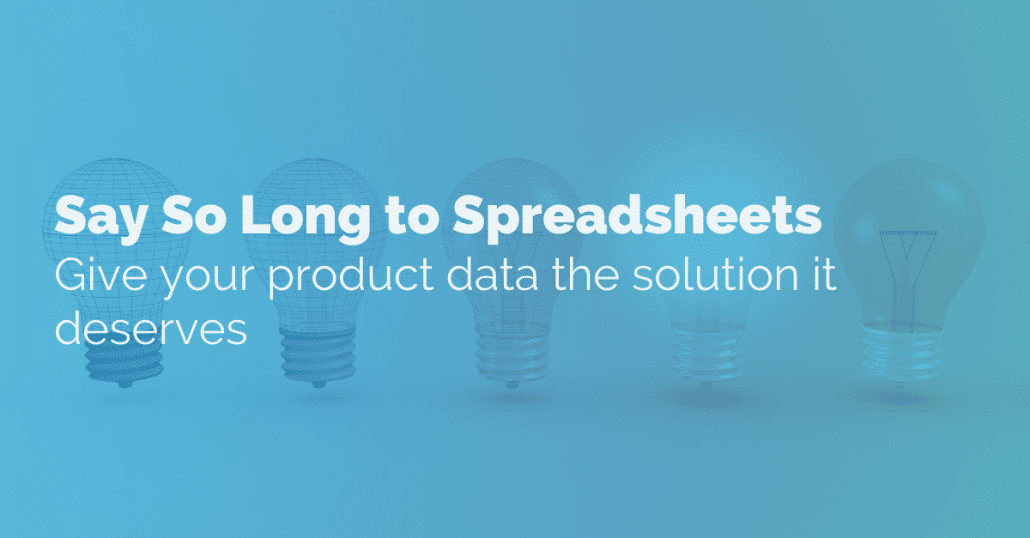 What are the common challenges of managing product data in spreadsheets?
Doing a good job of managing product data will always come with challenges. Often, businesses will instinctively use spreadsheets to manage product data. This is because many marketplaces and eCommerce platforms push customers to use this method to upload product information. Whilst this is tempting, you can use a PIM solution to automate this process, save loads of time, and have complete confidence in the accuracy and quality of your data.
As we said, you need quality product information to effectively market and sell products online and keep customers happy. Here are some of the issues that arise from using spreadsheets as a product information management solution. These can lead to poor customer experiences and even poorer online performance.
Slow and manual processes
When you have to search numerous rows and columns for the information you need, you have less time to focus on getting your product data eCommerce-ready. When this is the case it'll take you longer to get your products to market. Needles to say, this takes away your competitive advantage and you lose out on vital extra selling days.

A sea of inefficiencies
Employees can spend up to 90% of their week working on data-related tasks. When you're dealing with large volumes of complex product information in Excel files, this can be super laborious. Furthermore, there are no access or version control capabilities meaning there's a higher chance of workloads being duplicated. Overall, managing product data in excel prevents employees from being able to focus on their respective areas of expertise.
Prone to human error
The manual nature of using Excel for product data management processes leads to a higher probability of human error. Errors or inconsistencies within your product data really mess up the customer experience you deliver. This is the cause of roughly 40% of all product returns and around 86% of consumers won't repeat a purchase if this is the case.

No collaboration or integration
Multiple departments need to work together to guarantee the best possible product experience. In other words, collaboration is key to creating consistent online experiences across all sales channels. In addition, spreadsheets aren't capable of integrating with other systems. For instance, excel can't talk to the ERP nor can it automatically collect data from supplier feeds. Again, this means a huge amount of manual processing will go into collating all the data needed to effectively market and sell products online.
No Digital Asset Management (DAM) capabilities:
Excel isn't designed to manage rich digital assets which are crucial in the online buyer journey. How are customers supposed to know what your products look like with no images or videos? The average consumer needs 3-4 product images to gain the confidence they need to hit "buy now". As well as improving the customer experience, fully optimized and enriched digital assets will massively boost your SEO performance.

PIM or Excel for product data management?
If you're looking to grow and scale your eCommerce business, there'll likely be a stage where a PIM solution will become indispensable. Some of the signs you need a PIM include:
When you're managing large volumes of complex product information
When you need to standardize data received from external sources. For example, you may want to display Black instead of the BLK used by your supplier
There are multiple versions of your product data which is tailored to meet the requirements of your different sales channels
You need to quickly react to market trends and changes and reflect changes in real-time
Boosting sales is a priority and you want to sell across more sales channels
You need a solution that enables you to manage, enrich, and distribute digital assets
If you're looking to improve data quality across all your sales channels
You want to expand internationally and need to provide localized product data for different geographies
If any of this sounds familiar, it may very well be time for you to say so long to spreadsheets and hello to PIM!
The benefits of using PIM systems to manage product data
Now we've identified some of the pitfalls of managing product data in spreadsheets, let's take a look at some of the benefits of using PIM systems to manage product data:
Increase revenues
Streamlined product data management processes enable you to quickly get your products to market and gain vital extra selling days. This enhances your competitive edge and positions you as the go-to provider. Faster, more efficient processes also make it super easy for you to enter new categories and sell across more sales channels. Getting your products in front of a wider audience will inevitably lead to you generating higher revenues. You can also tap into new opportunities such as dropshipping or long tailing to further boost revenues.
PIM gives you the ability to get the most from your product data, which in turn means you can provide exceptional product experiences. By integrating with AI tools, you can take personalization to the next level. Enter Hyper-personalization! Offer customers intelligent product recommendations based on previous purchases or browser behavior which will drastically improve online conversion rates and boost Average Order Values (AOV).

Increase margins
PIM platforms automate up to 80% of manual tasks relating to product data management processes. As such, you can grow and scale your eCommerce operations without having to take on additional headcount. Moreover, dashboards give you full visibility of the accuracy and completeness of product data. This rich and accurate product information, coupled with high-quality digital assets and SKU-specific sizing charts, can help you reduce return rates by as much as 40%.
Powerful automation also enables you to create product campaigns that drive real results. For example, you can use workflows to determine rules for when certain products should be discounted. So, when stock levels reach a certain point, you can apply XX% discount. Overall, this means you'll always be selling your products at optimal prices.
Improve efficiencies
Having a central hub where you can gather, store, manage, and distribute all product data makes it super quick and easy to get your hands on what you need right away. Furthermore, a powerful PIM like Pimberly has bulk update functionalities. So, if you need to make any changes, or if you want to import new products, it can be done in a few simple clicks. And, the changes will reflect in real-time so you always know your customers are getting the most up-to-date and accurate information.
Not to mention, it gives your teams a single location to work from so they can easily collaborate and ensure consistency. You can also integrate with any number of internal and external systems to ensure you deliver the best possible user experience and reduce the need to manually search for data. This will massively improve employee wellbeing and will let your teams shine by being able to focus on their areas of expertise.
Reduce risk
Unlike spreadsheets, a PIM system will store all product data and gives you the ability to control access and changes made. Because Pimberly is hosted on the cloud, your team members can securely access everything they need, from wherever they are at any time provided they have an internet connection. This central hub also removes any reliance you may have on specific individuals who gather all the product data needed to market and sell your products online.
You always have total visibility over the accuracy and completeness of product data, enabling you to create a single source of truth. As such, you know you'll always meet regulatory requirements with the correct terminology, health and safety notices, and required compliance certificates before it's published. You can provide super detailed and up-to-date product data, which is especially important if you export.
Say so long to spreadsheets
All in all, using excel to manage your product data will end up costing you more in the long run. From inefficient processes to error-prone processes, there are multiple risks you face. This includes poor conversion rates, dissatisfied customers who won't shop with you again, and a mountain of product returns to deal with.
However, the initial investment of PIM will soon pay off. You can improve your conversion rates and reduce cart abandonment with details around delivery and returns and rich, comprehensive product information. Rich product information will enhance your SEO performance, so you can ensure you get the right product in front of the right customers at the right time. In summary, streamlined processes enable you to quickly extend the reach of your products and significantly increase online revenues.