Shoppers are undeniably shifting to spending more time (and money) online, so now is the prime time to boost your eCommerce platform with PIM integration. Online purchases rose from 19.3% (May 2019) of all sales to 33.4% (May 2020). The Coronavirus pandemic has accelerated this for many sectors in 2020, as physical retail has been limited or even closed. As a result, online sales accounted for 44.4% of all non-food retail sales in the UK in May 2020!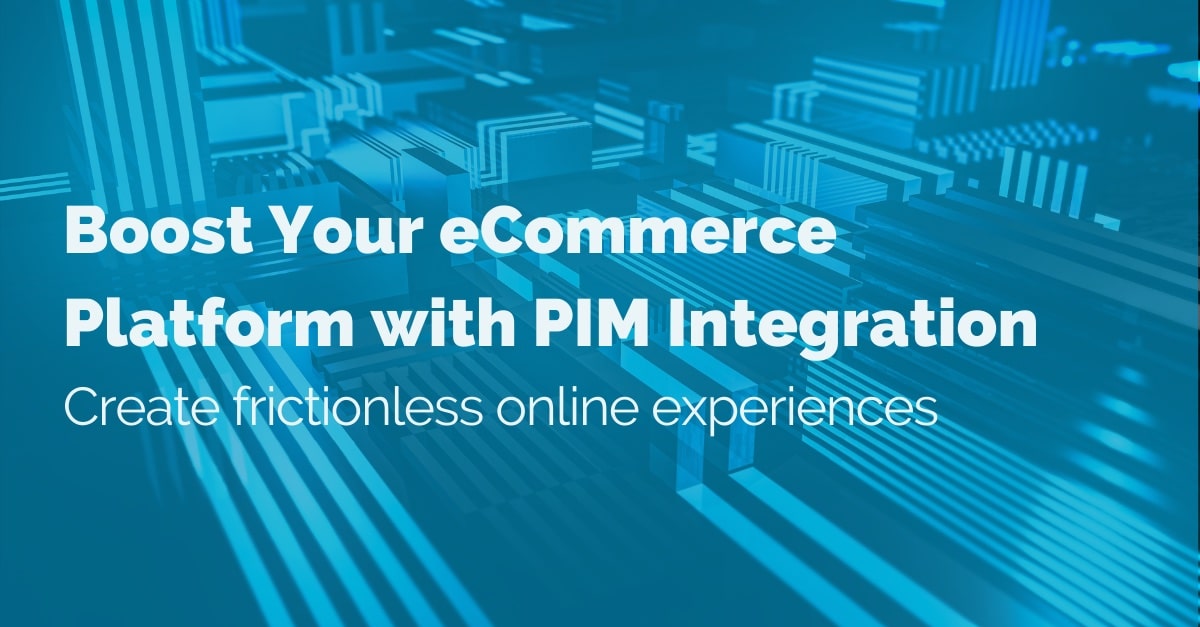 So, as more and more consumer interactions are happening digitally, eCommerce brands need to create frictionless online experiences that delight customers. And eCommerce platforms have incredibly rich functionality to do this. However, even the most innovative platform needs backup from additional services. Overall, this will give companies a solution that is tailored perfectly to the needs of their customers. One example of that extra functionality is Product Information Management (PIM).
PIM platforms are not in competition with forward-thinking eCommerce platforms like BigCommerce, Magento, and Shopify. Instead, integrating these two types of platforms will help supercharge an organization's eCommerce offering.
The power of eCommerce platforms
The eCommerce platforms of today provide businesses with a wide range of rich functionality to run their online stores, including managing orders & inventory, generating deep customer insight, handling accounting, and facilitating customer service. These platforms don't just offer incredible an out-of-the-box feature set. They often have high levels of customization and flexible integration options. These enable additional technologies, such as a PIM, to be tightly integrated.
PIM has a special set of skills
Product Information Management platforms are the ideal solution for handling – you guessed it – product data. And for eCommerce businesses, whose product data is the only connection their customers have with their product, it makes sense to treat it with some extra care and attention.
Building an eCommerce stack beyond your platform
Accelerate digital transformation with PIM integration
While digital transformation has been a bit of a buzzword for a while, it is also a crucial journey for businesses to take in order to be able to respond to customer demands and changing market forces quickly and with ease. Although it takes a willingness to try new initiatives along with effort and investment; leading organizations, such as Nike, Ikea, and McDonald's are showing benefits from embracing digital transformation.
Building a tailored technology stack based on your business's (and customers') needs is a key part of this transformation, and choosing the right software will have huge benefits, both internally and externally, further down the line.
Enhance customer experience
In today's world, the experience is as important as the products or services being purchased, with some reports suggesting 84% of customers feel this way.
Maximizing the effectiveness of your product data ensures that your customers will get the best experience possible. It helps with providing more information in the form of enriched descriptions, videos, images, product sheets, and technical specs.
All of this gives the consumer the opportunity to self-educate and provide them with the reassurance that the product or service is suitable for them, and your eCommerce platform will perform at its best when you feed it the best possible product data.
Centralize product data for a win-win
One of the key functions that a PIM serves is acting as a central repository for product data. In much the same way that eCommerce platforms enable you to create amazing online experiences, PIMs also consolidate data from disparate sources. As such, it will efficiently distribute it across your various sales channels. Bringing in data from suppliers and manufacturers with different data structures and conventions can cause big problems for eCommerce teams.


Leveraging the functionality of a PIM solution to centralize data enables eCommerce businesses to keep everyone on both sides of a transaction happy. On the one side, customers and prospects, and on the other side, suppliers and producers.
After all, these two groups have one very important thing in common. They want timely, precise information on products and services listed on your site. The optimization of data for internal benefits also provides consistency and clarity across teams. Thereby, it increases productivity. How's that for a win-win?
Agility across channels
If using multiple channels such as marketplaces are in your eCommerce plans for exponential growth, then a central PIM platform from which to manage your SKUs will become a necessity. Managing data requirements and quality at scale are beyond the remit of most eCommerce platforms.
Partners not competition
PIM & eCommerce platforms are a match made in customer experience heaven, each supporting and building on the success of the other. By harnessing the power of PIM alongside your eCommerce, you can expect:
Easy Access to Information. Your staff members are only human. If there are information silos in your business, it can be incredibly difficult to find in a short timeline. Having a PIM solution in place helps to de-silo product data and place it right at their fingertips.
Excellent Product Assortment. The bigger your business gets, the more cumbersome your SKUs are likely to become if you're dealing with everything manually. This is likely to become a major challenge when you have to adapt your product or service range to keep up with customer demands. PIM can help you to leverage robust product data to stay ahead of the curve.
Quick Introduction of new product Items. Does it take your team forever to load product lines because they have to deal with a deluge of SKU descriptions, images, item specs, and prices? PIM can cut down the time it takes to load fresh new products to your eCommerce platform by as much as 80%.
Key takeaways for PIM integration
Let your online store shine: PIM integration will enable you to create amazing experiences for your customers. So, let them get on with that.
Give your product data the PIM it deserves: your product data will work hard for you when it's treated right.

Prioritize integration: while these two platforms are powerful alone and better together, those benefits can be hard to get to if your integration isn't tight and reliable.
Find out more about boosting your eCommerce performance with PIM integration