JD Sports Runs Ahead with Global Expansion & Trainer Lifts
Welcome to the first issue of our Customer Spotlight! Our customers are our pride and joy, and we love to hear about all the amazing things they're doing. These features quite literally put our customers in the spotlight and give us the opportunity to share valuable insights with you, too! In this issue of Customer Spotlight, we spoke to Ryan Ralphs, Project Manager for JD Sports and this is what we took away. Read on to find out how they've overcome the COVID-challenges, along with a little insight into what's in store (or more like, online) for JD Sports in 2021!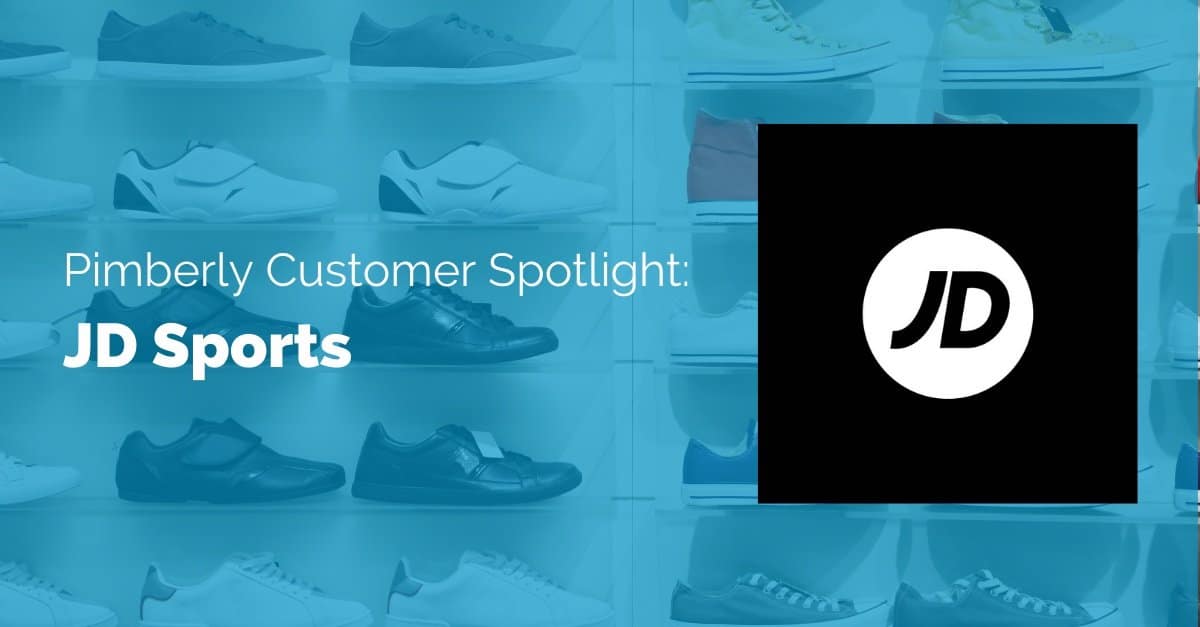 Like any high street retailer, JD were faced with store closures, not just in the UK but also globally. This led to a shift in priorities and a lot more focus was placed in online projects. Lockdowns and restrictions have meant a lot more people have been shopping online, so warehouses and fulfilment services were experiencing unprecedented amounts of activity.
Ryan worked on several projects that looked at how in-store stock could be used to fulfil the surge of online orders, which helped alleviate the pressure on their warehouses. This is a prime example of making good use of bricks and mortar despite the standstill of in-store footfall.
As a lot of Ryan's projects were store-focussed, there's been a slight shift in the timeline of when these will be completed, especially with further restrictions being put in place and no definite view of when the high street will be back in action.
When stores did open back in May, sales for JD were 20% down from the previous year but, with perseverance and resilience, they actually matched 2019 sales with online activity going through the roof and a smashing Black Friday performance.
Brexit also meant there were certain changes that needed to be made so they could remain operational in Europe. Getting a European distribution centre open was a priority because the majority of stock had previously been held in the UK. Having that presence in Europe and availability of stock has enabled JD to continue to fulfil European orders easily, with less costs and delays incurred. It also means suppliers can deliver directly to these new distribution centres.
Planning and implementing the logistics of homeworking for such a large company was a focal point for most businesses last year, and this is where JD Sports really came through; their support teams worked tirelessly over a period of three weeks to ensure everyone had what they needed to work efficiently at home.
Looking ahead at 2021, Ryan and his team is working on several projects aimed at improving the customer experience, as well as making the in-store experience safer when (hopefully) things return to some form of 'normal'.
The process of fulfilling online orders from stores is going to be streamlined and there will also be improvements made to the click & collect service in stores. When stores re-open, JD's aim is to give their customers real-time information on stock-levels, so they'll be able to see for themselves if what they want is in stock instead of having to wait for assistance. This is going to be achieved by investing in the technology they have to make it more efficient.
If anyone's been to the Trafford Centre store in Manchester, they might have noticed the iconic trainer lift which delivers your trainers to you, in your size, and you can pay there and then. Anyone who's shopped at JD will know the feeling of having to wait around for the right pair of trainers to be brought out, so this is definitely a win-win; customers are getting an improved in-store experience and it's a much safer and socially distanced way of shopping.
Carrying on with the theme of retaining that in-store experience will be the work they have planned for the Hero System, which is already live on the Size website, and will be rolled out to other stores over the next year. This essentially enables you to connect with someone in-store to talk about the different products available. This worked really well for the collector trainers but could also be a really nice touch for someone who's a bit unsure about what they're buying!
JD are definitely going in for the grand slam in 2021 and beyond, with their eyes set on global expansion. The JD Group bought two US companies last year so that will be a big market for them to expand into. Overall, despite the challenges presented by the current pandemic, JD have made leaps and bounds over the last year with another interesting but encouraging year ahead.
https://pimberly.com/wp-content/uploads/2021/02/Pimberly-Customer-Spotlight-JD-Sports.jpg
627
1200
Annabel Darling
https://pimberly.com/wp-content/uploads/2017/03/pimberly_text_2017_unofficial-1030x366.png
Annabel Darling
2021-02-15 00:00:00
2021-03-26 10:40:14
Customer Spotlight: JD Sports Undisputed King of Trainers