Sharing is caring, and knowledge is power – right? That's why we've launched Customer Connect and we're going to outline the benefits of sharing product data downstream. Increasingly, distributors, retailers, and manufacturers are placed in a position where they need to quickly and efficiently share enriched data with their customers. Swift changes in market conditions and consumer needs make this all the more important.
Silos in business are never a good thing. In eCommerce, multiple teams work in tandem, and sharing data in real-time enables everyone to work much more efficiently. Customers have a growing appetite for receiving data from suppliers. But up until recently, many organizations didn't recognize the true benefits of sharing data downstream.
Organizations that have been using it to good effect have been using insight data for multiple reasons; to create a stronger position in retail outlets, to consolidate, and to increase market share and margins.
In supply chain practices, the variability of an upstream member's demand [for data] is greater than that of the downstream member.
This can be referred to as 'the bullwhip effect' – a term that was originally coined by Procter & Gamble (P&G) in the 1900s. This phenomenon can be described as increasing shifts in inventory when there is a shift in consumer demand. Consequently, these shifts become more impactful the further you move up the supply chain.
This highlights the importance of having fluid communication between all parties and sharing product data downstream will help you:
Increase sales
Reduce supply chain costs
Build stronger relationships
Enforce brand consistency
Improve decision making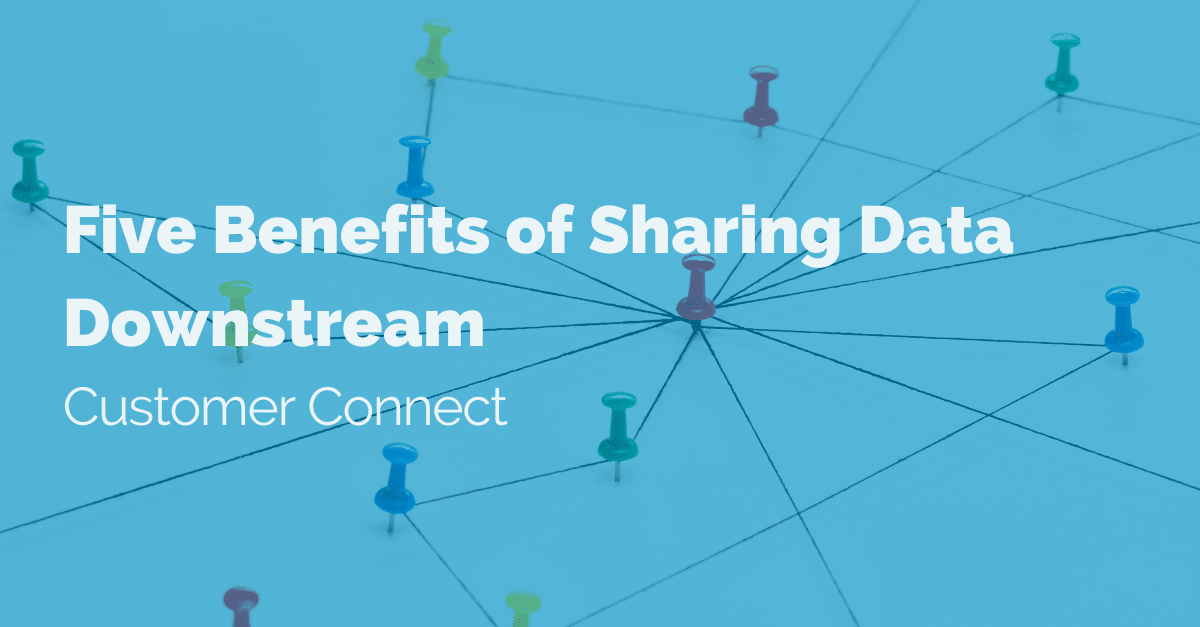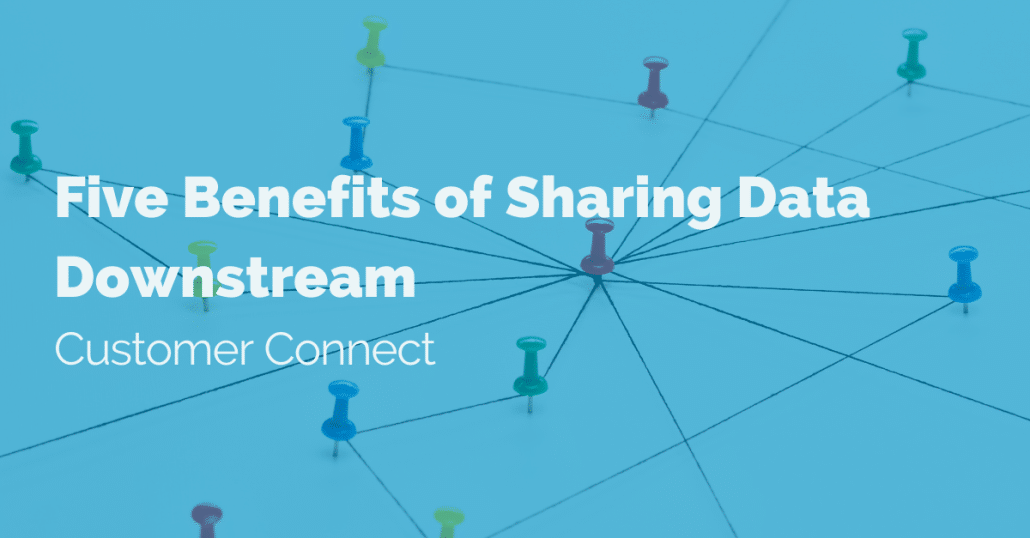 Increase sales
Sharing product data downstream to your customers also generates upsell and cross-sell opportunities. Show them a larger catalog of products and give them an exclusive first glance at new products or extended product ranges. Overall, this will contribute to both parties increasing your sales.
With Customer Connect, you provide a lens into your product data. Any changes are reflected in real-time. So, whenever you add new products or change any details, your Connected Customers get a view on it instantly. Consequently, this means everything is instantly available for them tto list across their channels and for them to sell.
When customers have this sort of visibility, it makes planning a lot more straightforward. They know what you'll be releasing and how this can tie in with their own upsell and cross-sell opportunities.  This will help them with their productivity and boost sales – win-win!
Reduce supply chain costs
The supply chain is a vital but complicated part of any eCommerce business. Supply chain optimization is one of the most effective ways of both reducing operational costs and increasing margins. Research also suggests that over 70% of industry professionals believe that a streamlined supply chain will contribute towards better customer service and improved business growth.
Customers expect to have the right products, for the right target audience, at the right time. If they experience persistent issues with not being able to get hold of what they need when they need it – they'll go elsewhere. Consequently, you could miss out on sales opportunities. This is where supply chain optimization can be a real game-changer. By knowing what your customers need and when they'll need it, you can streamline manufacturing and distribution operations.
One of the most important factors in optimizing your resources along the supply chain is transparent and clear communication between you and your customers. Providing a clear lens into all your product data and being able to reflect changes in real-time as opposed to sharing in a static CSV or XLS file format is a super plus for your Connected Customers. To add to that, Connected Customers can retrieve the data they need in the format they want. Overall, this means you don't have to spend time formatting it for them, and they've got instant access to everything they need. For a manufacturer, this will be a huge benefit as they'll be able to totally streamline their operations and gain massive efficiencies.
Build stronger relationships
If a customer isn't 100% happy with the service they're getting, they'll vote with their feet and go elsewhere. By sharing real-time data with your customers, you're providing them with super-duper CX that will set you apart from the rest. By providing the product data they need, you're also providing them with one source of truth. In other words, they'll know exactly what they need to know about the products they're receiving from you.
Connected Customers have a real-time connection to your data. This removes the need to share multiple versions and empowers your customers by providing them with the most up-to-date information. Within their own dedicated space, Connected Customers can add scopes, locales, make changes to the data and quickly export to their own sales channels. For instance, a clothing printing company with over 1,000 customers ordering different styles and categories of products can send a list of the products along with a range of product attributes and a collection of images to each of their customers in no time at all. 
Customer Connect also reflects any changes made to product data in real-time. To add to that, it's a totally secure way of sharing data. As well as granting Connected Customers secure access to totally accurate and up-to-date product data, it can also be shared with internal departments, other group companies, partners, suppliers – the list goes on!
Enforce brand consistency
Your brand goes far beyond a logo and tagline, and even your products (to some extent!) Your brand is what helps you differentiate from your competitors. So, with competition at an all-time high, you need to provide consistency to all stakeholders to set yourself apart.
The messaging of your product descriptions and your digital assets determine how your products are perceived and, in some cases, used. You spend a lot of time and effort bringing all product data together. Furthermore, getting product data to a stage where everyone is happy with it – from Marketing to SEO teams, takes a lot of time and consideration.
As your product data travels downstream, this essential messaging can sometimes go adrift or compromised. That information can be vast and varied – important safety information for a product, care instructions, technical descriptions, components, etc. Another key point will be the continuous evolution of product attributes. Increasingly, customers want extra layers of product information. Provide sustainability credentials such as where and how products are sourced, and whether they're vegan or ethical.
So, whether it's a carefully crafted, keyword-rich product description or well-thought-out, high-quality digital assets, give your customers access to everything they need. Firstly, this will improve how your customers work. Secondly, it'll mean the information published alongside your products will be of a standard you're happy with. For a distributor, this could mean their carefully crafted and detailed product descriptions will always be totally accurate and up-to-date, leaving no room for customer confusion.
Improved decision making
A wrong or misjudged decision in business can be costly and damaging to your reputation. Having the right information to hand can greatly aid the decision-making process. But how can you remain informed without good communication? The answer is – you can't. Being able to ascertain what product data feeds your customers are or aren't accessing will give you a clear view of their true requirements.
This makes the process of making informed decisions surrounding your production needs more straightforward. You can send them more of the products they need and less of the products they already have in stock. This is mutually beneficial for both you and your customers as you're able to make intelligent decisions and your customers are getting exactly what they need when they need it.
You can also make use of this "feedback loop" to improve communications with your suppliers. For instance, your customer service teams may need to access certain product details which suppliers will need to improve the service they provide.
Customer Connect conclusion
Creating a fluid flow of downstream data for your customers clearly has many benefits, can help you streamline your operational processes, and can help you increase sales opportunities and reduce costs. All of these things are highly desirable for any distributor, retailer, or manufacturer. However, the practicality of being able to share this data can be difficult without the right processes and technologies in place.
We've recognized this and that's why we developed the Pimberly Customer Connect feature. It does what it says on the tin essentially – it connects you and your customers. By sharing data downstream, you're helping to create better customer relationships, improving the service they receive, and giving them the ability to self-serve.
Customer Connect is a completely secure way of sharing data with customers, in real-time and in the format they require. It's easy for them to retrieve the product data thanks to their own dedicated space and, because you can choose which data they have access to, you can give them better insight into upcoming product releases.
Also, if there are any updates that need to be made to individual products or product lines when you carry out a bulk update, those changes will also be reflected in your connected customers' dedicated space, so they will ALWAYS have the freshest form of your product data.
Checkout the Customer Connect product page for a full view of all the Connect features