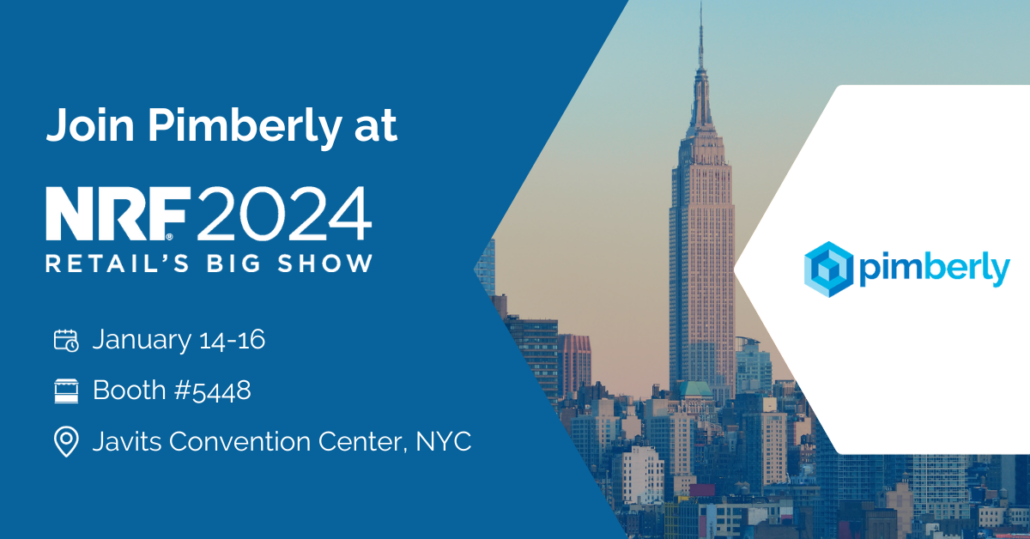 NRF Conference 2024
The world's largest retail conference will take place January 14-16 in NYC
Join over 6,000 retail brands for three days of learning, collaboration, and discovery. From retail marketing and business models, to supply-chain and technology, this tradeshow brings together top minds to provide new insights to growing your retail business.
About Pimberly
Our modern PIM/DAM solution gives merchants the ability to take full control of their product data. Choose how to present product information to customers, store all product descriptions and digital assets in one central location, and easily create consistent customer experiences with the power of AI. 
With key customers in the fashion and apparel space, we're excited to meet other like-minded experts to showcase the power of PIM!
Leverage your product data, and stop by booth #5448!
Key sessions we're looking forward to:
Day 1, Sunday, January 14:
11:20am – Reinventing retail for the AI generation (Featured Session)
10:15am – AI in retail (Expo, Level 3, Expo Stage 4)
Day 2, Monday, January 15:
Day 2, Tuesday, January 16:
Find Pimberly at the following locations during NRF
Booth #5448
Stop by our exhibition booth for some Pimberly swag, a PIM Guidebook, and a live demo of our AI product description generator. Make sure to take a picture in front of our Big Apple photo booth! You'll find the booth on the third floor near Shopify, Logile, and Mad Mobile.
UK Pavillion, Int'l Booths, Level 1
With company headquarters in Manchester, Team Blue is proud to have a presence at the British Booth during NRF with fellow UK Tech brands and the Department for Business and Trade. Chat with some of our UK Representatives on level 1 to learn more!