Customer Journey Masterclass: from Discovery to Delivery
Mastering the customer journey in the fashion industry is critical for eCommerce success.
The return rate of eCommerce purchases in fashion & apparel stands at 40%, compared to just 8.9% of in-store purchases. Which indicates the extent of the challenges online retailers face when satisfying their customers' needs.
So, we've teamed up with The Fashion Network and eCommerce Club to bring together a masterclass on the buying journey and how retailers can maximize their online experience.
Panelists from Pimberly, CTI Digital and Mosquito Digital cover discussion points on:
Why is it imperative to have a smooth customer journey?

​

Where does the purchasing journey start?

​​

The importance of the product page in the buying journey

​

How to optimize your website for the buyer journey

​

Checkout frustrations

​

Does the purchase end at checkout?

​
Returns: How are things changing here?

If you're a fashion retailer looking to improve conversion, reduce returns and drive customer loyalty, check out the recording below.
(P.S. – in a hurry? Check out the written summary below!)
Create the ultimate customer journey with Pimberly
Learn how Pimberly streamlines all aspects of your product content to drive online revenue and create the ultimate online customer journey. Accelerate your time to market, increase conversions and increase efficiency through our seamless integrations.
Book Your 30-minute joint personalized session with our team of experts, and start your growth journey with Pimberly today.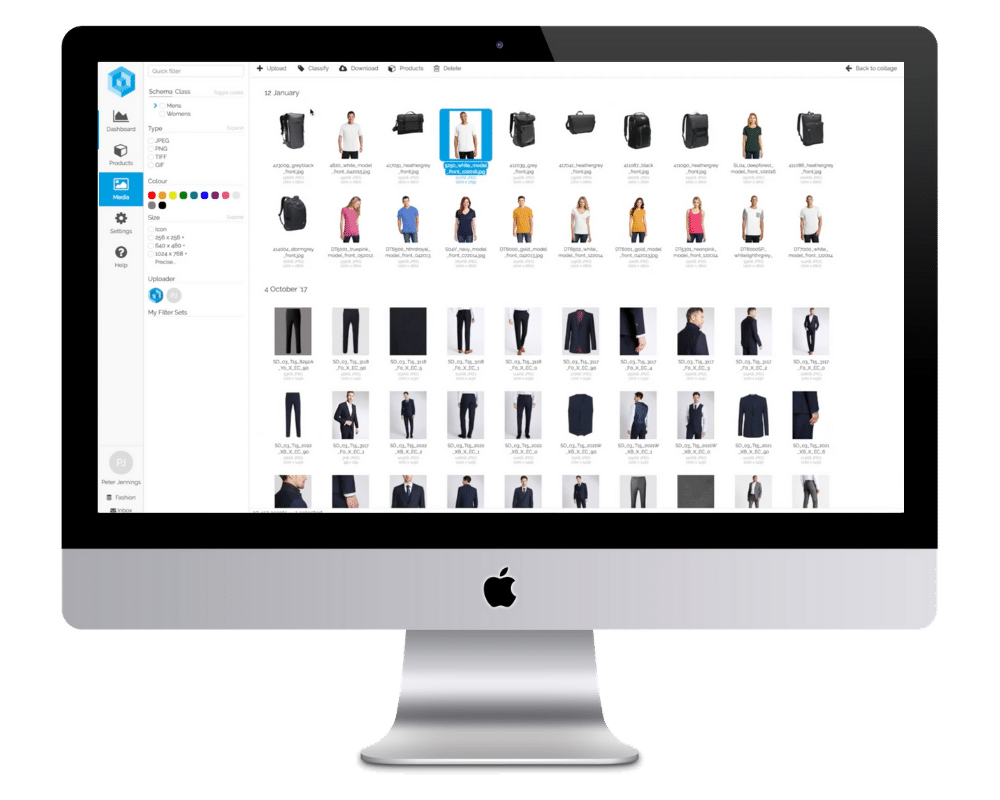 Masterclass Summary
Why is it imperative to have a smooth online customer journey?​
  Touchpoints – A smooth customer journey is about more than just a positive customer experience. There are several touchpoints on a buyer's journey before they convert from browser to buyer. From initial search to checkout and beyond.
  KPIs – There are KPIs that all eCommerce professionals monitor at every stage of the buyer journey. Online conversions, average order value and campaign performance are just to name a few.
  Memorable – The main focus should be around aiming to achieve the creation of memorable online experiences that keep customers engaged. This ultimately contributes to smashing those KPIs and increasing online sales.
The stages of the buyer journey
  The five classic stages of the buyer journey can be corner stoned with awareness, consideration, decision, retention, and advocacy.
  Awareness – This is really about the customer identifying a need. Let's use hot weather in the summer for example, where a customer may need sun cream, a t-shirt or barbeque products. This awareness stage is a direct trigger from a personal need or desire for a product.
  Awareness is dependent on the industry in which the product exists, however. The fashion industry, for example, operates on a lot of emotional or aspirational content rather than mitigating a specific need. Consumers want to keep up with current trends or book that next holiday. So there are many different angles through which awareness can be approached.  Make sure that you have the correct personas mapped within your product range to pair the correct content to the correct product.
  Content – Fewer are using the standard search engine with figures reporting as low as 35% of browser users. Make the correct content readily available on various channels to capture the customer at the awareness stage. Whether it is social, search or marketplace, the product data that is pushed to those channels should be representative of the audience and be fully optimized for that channel.
The importance of the product page in the customer journey​
  Online shop window – Your product page is the eComm equivalent of your shop window. It is an imperative component in converting browsers to buyers so make sure it represents the product properlly.
  Personalization –  Your product detail page is about much more than just the product copy. Digital assets such as imagery and video are highly valuable content that can provide up to a 40% higher conversion rate. 59% of respondents in Pimberly's survey stated that they want to see video content at the discovery stage of the buyer journey.
  Product descriptions – Ensure that your product descriptions address particular customer questions, such as sustainability credentials. This will further reinforce confidence in their purchases and encourage them to hit buy. The role of a product page is to get as close to a product experience as possible.
  Humanize your content – An example of this would be the use of review sites and UGC (user generated content) that solidifies the integrity of a brand. Building trust with new customers is imperative in generating new business. This can be done through the implementation of Instagram feeds on product pages to bring in a human element to your product and showcase real-life experiences.
How to optimize your website for the customer journey​
  Optimizing via the stages of the buyer journey – Enhancing your website for the buyer journey is easy when you break it down into the five steps we mentioned above. Address different aspects of your website to improve the overall journey .
  Awareness – Assessment of your digital marketing, marketing or social strategy and optimizing these channels to increase awareness of your brand in your chosen sector.
  Consideration – Do you have key information readily available for prospective buyers? Do you have things like lookbooks or use cases that provide lifestyle content? Blog articles are also useful in helping consumers understand the product.
  Decision – To increase conversion, deliver comprehensive product information that compels the browser to hit buy. As well as this, extensive delivery or payment options are key components to meet every browser's needs. Large volumes of customers will abandon their shopping cart if they do not see the payment method or delivery timescale that they prefer.
  Retention – Optimize your aftercare, online support, and processes such as returns to ensure that every customer has everything they need after they have made a purchase.
  Advocacy – Convert customers to brand ambassadors through loyalty schemes, promotional activities and product reviews. Initiatives like these increase customer lifetime value and overall brand satisfaction.
Checkout frustrations​
There are many common checkout frustrations. The big ones to watch out for are:
  Too many steps within the checkout journey – especially when there is no indication of the length
  Slow loading speeds will leave you with many customers dropping off halfway through their checkout
  Upselling too aggressively can be a deterrent when it isn't done well. When done well, it can really work in a business's favor, but it is important to get the balance correct.
  A lack of credit options for those high-value orders can put customers off. Payment options such as Klarna allow customers to make those purchases when the funds are running a little bit low before payday
  A lack of shipping options at checkout or lack of delivery estimation before payment is made
  Overcrowded call-to-actions that distract from the checkout process make the user experience less effective
  No guest checkout in an ever-growing data conscious society can put off customers who may not want to share personal information on every website
Does the purchase end at checkout?​
No, not if you want to increase repeat purchases and develop that all-important customer lifetime value. It is far more cost effective to retain your customers than attract new ones. Help your buyer retain the confidence in their purchase through effective communication, support or helplines. This ensures that post-purchase feedback remains positive.
There is also an opportunity to cross-sell and upsell post-purchase by interlinking complementary items that browsers didn't previously convert on. Intelligent data capture can also aid your post-purchase relationship with your customers and generate personalized communications. This can further entice them to make repeat purchases and ultimately become ambassadors for your brand.
What role do AI and sustainable fashion play in influencing new customers?
Sustainability in fashion will explode in the years to come. There is a real spotlight on the problematic processes involved in fast fashion and consumers are becoming increasingly aware of the effects of their shopping habits.
  Sustainability page – Dedicate a sustainability page on your website that outlines your sustainability practices. Even if you've not yet met your long term sustainability goals, it is crucial to be transparent with the direction in which the business is heading.
  Intention transparency – It's understandable that shifting to an entirely sustainability friendly business model doesn't happen overnight. State a clear intention to amend processes over time to allow your customers to resonate with your business and its products.
Is there an optimum up-selling position in the customer journey?
  Product page – The product page is an important component of the up-selling tactics. At the product discovery stage, where the prospective buyer is exploring multiple options, introduce linked or complementary items.
During checkout,  the use of up-selling can overcomplicate the purchasing process and confuse prospective customers. The use of related products, such as a shoe cleaner for a pair of shoes, can provide an effective average order value increase. But being swayed towards a completely different product at the last buying step can sometimes work against you.
  Product bundling – An easy technique for increasing average order value comes in the form of product bundling. For example, on gifting websites where cross-selling is more expected, it is quite common for customers to use the product bundling feature.
Average order value can be a powerful KPI. It doesn't require an increase in traffic to your website. It simply relies on the correct products being present at the correct moment whilst your customers are in buying mode.
Returns: How are things changing here?
  Charging for returns – It is common knowledge that return rates in fashion are significantly higher online, amassing to a (fluctuating) average of around 40% vs 8.9% in-store. There are huge overheads in terms of costs relating to the returns process and reverse supply chain. So it is no surprise that more retailers are beginning to charge for returns.
Citing sustainability concerns, some retailers are justifying their charges through the upkeep of conscious practices. Be upfront with the reasoning behind an introduced charge on returns from the start of the buying journey to mitigate any possible issues later down the line.
  Customer satisfaction consideration – The returns policy is also an important thing in maintaining customer satisfaction. In many cases, the return policies of some businesses have led to customers vowing to never purchase with them online again. This is where the importance of product data really becomes an important factor in your eCommerce business. Accurate size charts and product specifications will minimize the number of returns that are processed as customers are entirely happy with them upon their delivery.
  Expectation vs reality – What consumers expect and what businesses can provide are somewhat mismatched at times. Most consumers expect a slick and easy return process. But retailers are pressured to add just enough friction to mitigate large product return rates. Make sure to get the balance right here.
Customer brands that are doing the journey well?
  ASOS – ASOS is nailing the varying communications for the different stages of the customer journey. They focus on top-level awareness that conveys a lifestyle message. Combined with a conversion focus, they deliver a high volume of sales through a more targeted approach. ASOS continually presents high-quality imagery and utilizes features such as 360* views with accompanying video and lifestyle/situational editorial.
  Glossier – The imagery and positioning in their market are in fine tune with the demographic they target. Constant utilization of reviews and UGC brings the products to life. Especially considering makeup and cosmetics are generally one of the more difficult products to buy online when it hasn't been purchased before.
  FurnitureBox – The entire end-to-end process that is facilitated by high-quality product data from the product page right through to the simple checkout process.
  Next – Their approach to multichannel shopping is well established and gives customers a lot of options in terms of acquiring or returning their purchases. Their after-purchase communications are targeted but non-intrusive or pushy, which allows for the development of genuine brand satisfaction.
Takeaway Tips
MOSQUITO DIGITAL – It is important to remember that there are lots of different personas shopping online. All these shoppers have different needs and triggers. So when you are formulating a strategy, reference multiple customers to make sure you capture everyone.
CTI Digital – Although it is one journey, there are five crucial steps to this journey. Use the journey as a framework for your business objectives to enable you to make visible progress in underperforming areas.
Pimberly – Give your product information some love and care and treat it as the heart of your business. Enrich every product description, digital asset or SEO feature to enable your product to shine at every stage of the buyer journey.

Are you responsible for online fashion KPIs?
Access our free whitepaper for top tips on smashing your targets!
What is Pimberly?
Pimberly is a powerful cloud-based PIM (Product Information Management) platform. It synchronizes and totally streamlines all aspects of product data and digital asset management processes. Powerful automation, coupled with scoping and localization capabilities enable outstanding product experiences across unlimited sales channels and geographies.
Increase your speed to market, easily launch new products, reach new markets and territories with ease and efficiency. The Pimberly platform will grow as your business grows, meaning the sky is the limit when it comes to taking your eCommerce operations to the next level.
Who are CTI Digital?
We are CTI Digital, one of the UK's leading full service digital agencies.
Established in 2003 by Nick Rhind, we have gained an enviable reputation as an industry leader through our commitment to quality, our focus on technology and our ability to build long lasting relationships with our clients. We have a wealth of experience providing award winning, innovative, enterprise level web based solutions for a diverse range of clients. Specialising in open source web technologies such as Drupal, Magento, Umbraco, and Shopify, we aim to work with you to identify the best technology that meets the needs of your business and exceeds your expectations.
Who are Mosquito Digital?
MOSQUITO is a creative digital brand communications agency based in Manchester and Cheshire.
Winning Digital SME 2020, the agency combines award-winning digital creative, user experience and engagement with a heritage of brand building and integrated marketing know-how. At Mosquito creativity is central to everything we do, from the work itself to the innovative channels we explore to make our solutions work with infectious results.