A product detail page is the eCommerce equivalent of your shop window. In other words, it displays all the information customers need to make informed buying decisions. Ultimately, potential customers land on your page because they've been using highly relevant, intent-driven search terms. They're already in buying mode, and your product page is the last step they need to take before hitting "add to cart" and completing their purchase.
That's why it's so important to get it right – it leads directly to a sale, and you've invested a lot of time and money into making sure potential customers find you over your competitors. So, by getting your product detail page design right, you can:
Drive product discovery:
Good SEO is the driving force behind making sure you get your products in front of the right people at the right time, especially in a highly competitive environment. Be sure to include relevant keywords in your product titles so they appear higher up in SERPs. For product descriptions, it's also recommended to include longtail and LSI keywords.
Check out our white paper: The Ultimate Guide to PIM for eCommerce SEO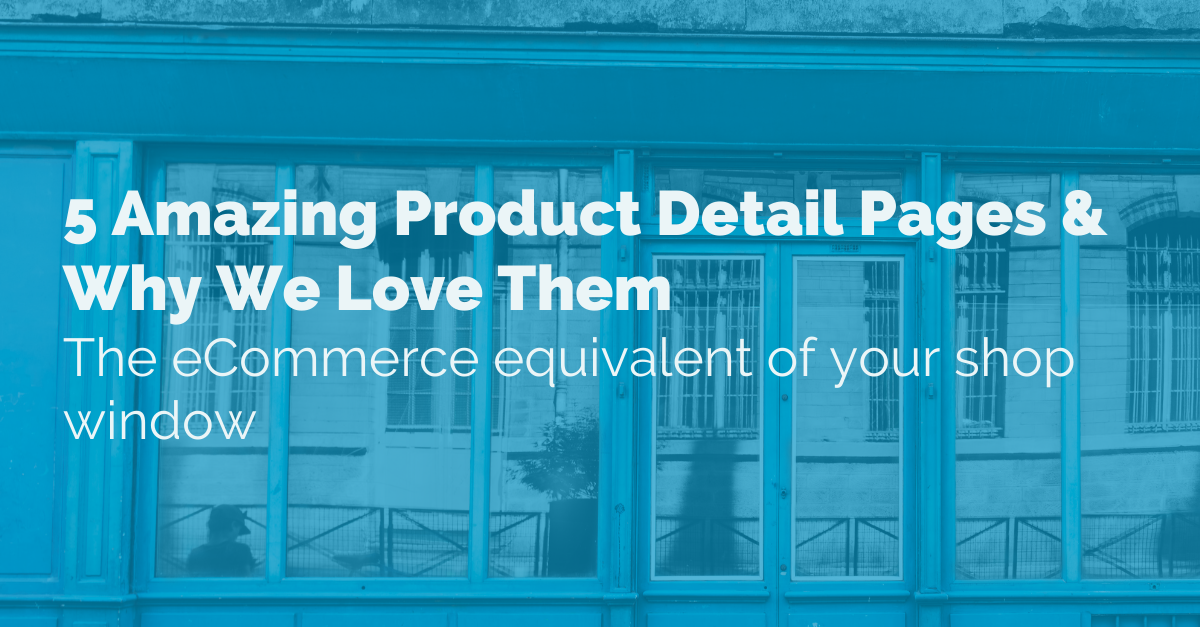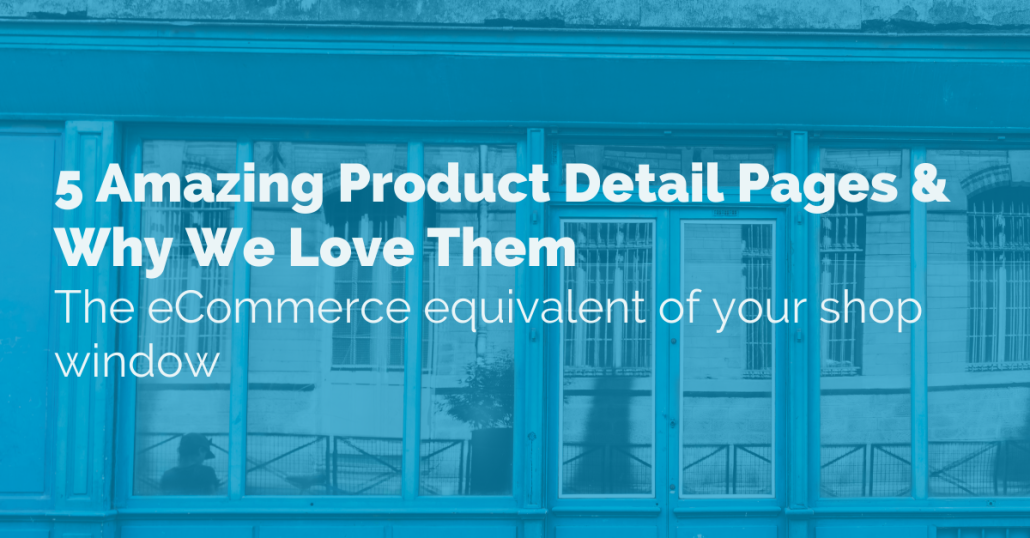 Provide better user experiences:
A well-designed product detail page should instantly give a clear view of the product, along with the key features and benefits. Customers should be able to easily find the information they need, and site navigation should be seamless. Furthermore, high-quality product images and videos are crucial, and ideally, you'd offer 3D and zoom capabilities.
Boost conversions and sales:
You need to give potential customers plentiful and appropriate information so they have the confidence to hit the "buy now" button. A great way of doing that is with social proof like customer reviews, and user-generated content to boost conversion rates. In addition, you can use intelligent product recommendations, kits, and bundles to increase Average Order Values (AOV).
Find out more about increasing AOV in this blog
Make sure customers are happy post-purchase:
Around 40% of online orders are returned due to poor-quality product data such as inaccurate or unclear sizing information. Make sure your customers are happy post-purchase by making sure they've got all the information they need to get the product that's right for them. Detailed product information will be vital, but it's also a good idea to offer a live chat functionality so customers can ask specific questions before buying.
Pimberly customer examples
Now we've covered some of the basics of eCommerce product detail pages, we wanted to show you some of the awesome things our customers do with their product detail pages. From creating a sense of urgency to using social proof and stand-out imagery, our customers create amazing online experiences, all powered by data from Pimberly. Let's dive in!
1. Aldridge Security 

Use of logos to highlight key features and accreditations
Creating a sense of urgency with same day dispatch countdown and free delivery for offers over a certain amount
Offer of several layers of product detail with associated documents and product data sheets
Provides the option to filter by product height
Customers can easily view similar products in the same category
---
2. Draper tools 

Good use of keywords in the product title, which also highlight some of the key benefits
A clear CTA that gives the option to either buy online or in-store which will reduce cart abandonment
Use of breadcrumb navigation so customers can easily trace their steps back to other product categories
Displays similar product recommendations and products other customers also viewed which helps prevent lost conversions and can increase AOV
Provides the product Trustpilot rating to give customers confidence in the product
---
3. Ellis Brigham 

A nice variety of images that showcase the product from all angles, as well as a lifestyle shot and different colors available
Gives a comprehensive product description that clearly outlines all the key features and benefits with keywords and phrases
Offers the option to look at a size guide so customers know exactly which size will be right for them
A clear call to action with the option to select the various different delivery options, along with further information on delivery and returns
Use of logos to show accreditations and also provides customers with the chance to look at recommended and similar products
---
4. Furniturebox 

Use of icons to add to wishlist or check delivery details which makes the necessary actions quick and easy, resulting in a much-improved user experience
Advises customers of the different payment options available and gives the option to be notified when the product comes back in stock
Enables customers to see different layers of product information, such as key features, dimensions, specifications, and reviews
The "click to expand" enables customers to have an in-depth view of the product
Also provides recommendations of related products
---
5. Yesss Electrical 

Creates a sense of urgency by letting customers know how many items are left in stock
Use of breadcrumb navigation so customers can easily retrace their steps
Customers can choose to view product prices ex VAT or inc VAT
Bullet points enable customers to quickly scan through all the main product details
Advises customers of free delivery threshold for orders over a certain amount
How PIM helps you create amazing product detail pages 
Because Pimberly streamlines and centralizes all your product information, you can always ensure you're delivering the highest-quality product data to your customers. Create unlimited product relationships to create cross-sell and upsell opportunities and provide customers with totally accurate and detailed product information so they can make fully informed buying decisions.
All the product information and digital assets seen in the product pages above are fully enriched and totally up to date thanks to Pimberly. Overall, PIM is an essential tool for eCommerce businesses looking to create digital shop windows that customers will love.