What is recommerce?
So, what is the meaning of recommerce?
'Recommerce' is short for 'reverse commerce.' It refers to selling used and second-hand goods. Recommerce typically occurs through trade-in, upcycling programs, or brand buyback.
However, 'what is recommerce?' isn't set in stone. Recommerce can refer to everything from selling records at flea markets to snagging deals on luxury fashion brands on cutting-edge digital marketplaces.
Over time, the practice has gained structure and sophistication. Technology integration has meant that the recommerce market has expanded significantly. It's no surprise the second-hand market will hit $245 billion by 2025.
How does recommerce work?
If you're looking for an answer to 'what is a recommerce business model?' The answer varies because there are many types of recommerce businesses.
Generally, resale initiatives allow customers to return used products for money or discounts. In addition, retailers often upcycle the product to resell it (online or in-store) at a discounted price. However, recommerce is broad, and brands constantly find new and exciting ways to revolutionize the format.
Buyback Schemes
Buyback programs urge people to return used items. In turn, the retailer will offer to refund part of the sale.
For instance, an electronics retailer might offer a buyback scheme for laptops. So, if the laptop was $300, the retailer might offer $30 of store credit.
Resale Marketplaces
Specific niche marketplaces facilitate the buying and selling of previously used goods. This ranges from fashion to homewares, musical instruments, and electronics.
These marketplaces are both peer-to-peer, but more retailers are setting up stores on resale platforms as an additional sales channel.
These marketplaces promote the resale of items and sustainable consumption, giving products a longer lifecycle.
Upcycling
Upcycling programs involve turning old items into new products. It's a perfect fit for furniture, clothing and textiles, industrial materials, and bicycle parts.
Consignment Stores
These are brick-and-mortar or online stores where items are sold on behalf of their original owners. When the item is sold, the store takes a percentage of the sale as commission.
What types of products are sold through recommerce?
Some products work better than others. However, recommerce is constantly reinventing itself, so it'll be interesting to see new markets open for different products as time passes.
Below is a selection of products that are a good fit:
Clothing & Textiles
From vintage apparel to luxury brands. Or how about a rug made from upcycled, unwanted clothes?
Nevertheless, fashion & apparel brands are major players in the recommerce ecosystem.
Used Electronics
Refurbished electronics have been a constant in recommerce. Nevertheless, this includes tablets, phones, computers, laptops, and game consoles.
Music Gear & Equipment
Premium and vintage instruments always maintain value, from guitars to accordions. In many cases, their value even increases.
Sporting Goods
This includes football jerseys, gym equipment, cleats, and bicycles.
What are the benefits of recommerce?
As we've established, the recommerce market is growing. However, the benefits of recommerce are multifaceted:
Sustainability. The planet is changing, and so are consumer expectations. On account of this, recommerce's circular structure helps keep products out of the ocean. Essentially, it works to extend the life of products, alleviating stress on our planet's finite resources. Moreover, it also allows retailers to establish themselves as eco-friendly, boosting their reputation.
It's easier on the pocket. Shoppers are more frugal than ever. Generally speaking, recommerce products are cheaper as consumers aren't paying a premium on new products. More and more consumers realize that refurbished products are as good as new! Consequently, it's a great way to save money.
A new revenue stream for businesses. If your products are the right fit (more on this later), then recommerce might be something new your business had never considered before. With Gen Z and younger consumers more likely to shop for secondhand items, it's a chance to target new shoppers sustainably.
Recommerce Definition: 4 Examples of Recommerce
As we've explored, the recommerce industry is wide-ranging. To illustrate how it works, let's look at some examples of leading recommerce brands.
Best Buy
The leading American electronics retailer offer a great (and simple!) example of the trade-in model. Best Buy Trade-In. Users can swap their used electronics for Best Buy Gift Cards related to the trade-in value of their item.
Best Buy's model encourages users to upgrade old electronics in an environmentally friendly way. In addition, it incentivizes them to shop with them again
Reverb.com
Reverb is a leading marketplace for refurbished and used musical instruments and equipment. With integrations to leading eCommerce platforms (Shopify, BigCommerce, and Magento), Reverb is an excellent example of a successful niche recommerce service.
As well as offering musicians a sustainable and affordable alternative, Reverb has a thriving community. For example, Reverb News offers users several guides, quizzes, demos, and interviews with musicians about their favorite gear.
Levi's

Levi's SecondHand is a trade-in program. Consumers can trade in Levi's jeans, denim shorts, and jackets for a Levi's gift card matching the trade-in value. If the item is 'unwearable' (rips, holes, stains, missing buttons), Levi's will dispose of the item properly or donate it. Rigorous quality control over second-hand jeans ensures consumers can trust the quality of its products.
The fashion sector, and denim production in particular, puts immense pressure on natural resources. By promoting the resale of used items, Levi's is actively reducing their carbon footprint associated with producing new products.
Reflaunt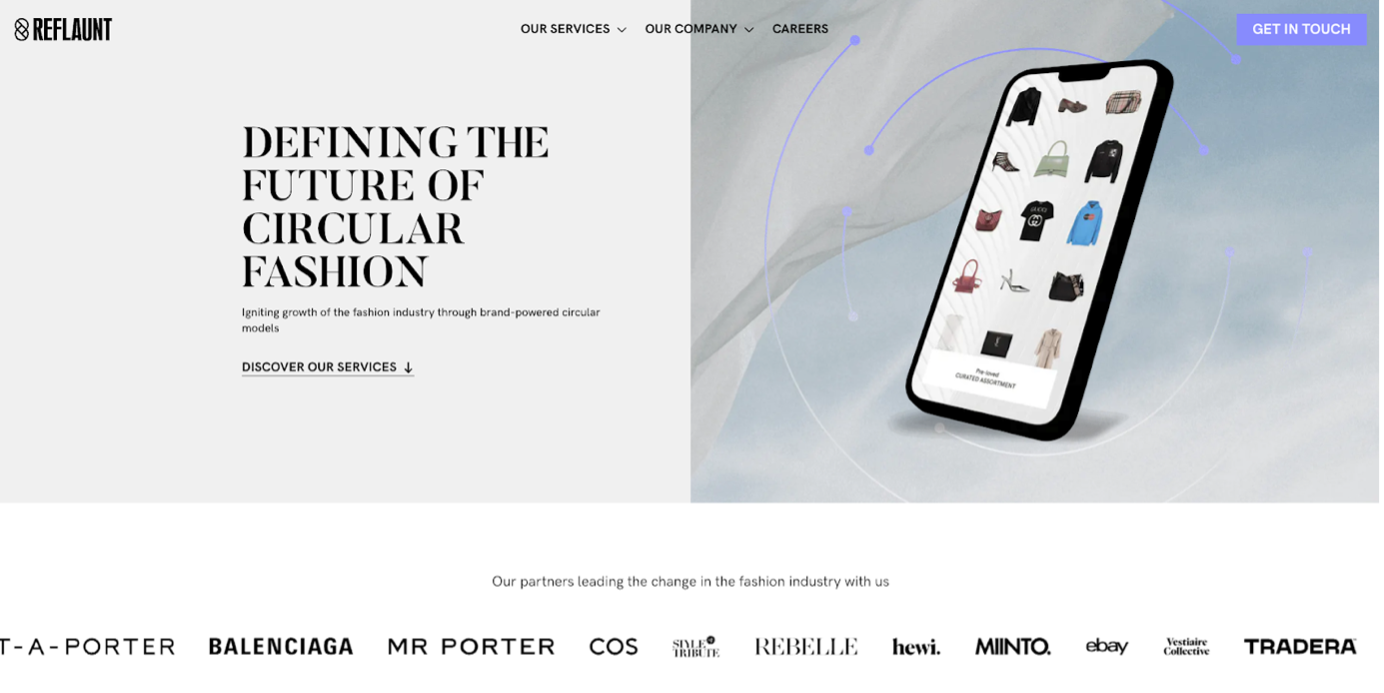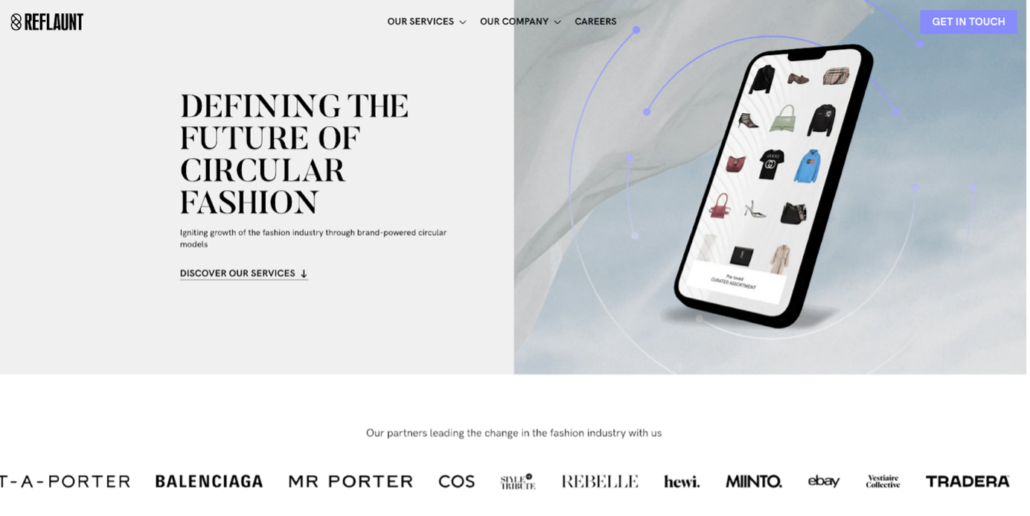 Pimberly customer Reflaunt works a bit differently from other examples. Reflaunt is a technology provider facilitating 'Resale-as-a-Service' for luxury fashion brands and retailers. With 30+ resale marketplace partners with a reach of 100 million second-hand customers at their fingertips, Reflaunt provides brands such as Balenciaga with the tools to facilitate resale ecommerce.
Look at this example from NET-A-PORTER to see how they partnered with Reflaunt to set up a dynamic and convenient resale scheme.
Is recommerce a good fit for your brand?
Although the definition of recommerce is broad, it isn't a fit for all brands. Here are some questions you need to ask yourself before deciding if recommerce is a good fit:
Is my product suitable? For instance, mattresses, child car seats, cosmetics, and beauty products aren't appropriate.
How will I control the quality of the goods? Remember, quality control is vital. So, set a solid grading scale when it comes to evaluating used products. Buying a used copy of To Kill A Mocking Bird in 'Very Good' condition for it to arrive with dog-eared pages and scrawled notes is incredibly frustrating.
Will a recommerce program easily integrate into my current retail set-up? If you're looking to introduce recommerce alongside your day-to-day operations, you need a way to incorporate it. From evaluating the quality of consumer products to listing them online or on a 3rd party channel (eBay/Etsy/Poshmark/Vinted, etc.).
Can our supply chain handle the logistical complexities? For all of its benefits, recommerce will inevitably place stress on your supply chain. You must ensure you're in a fit state to facilitate it, from implementing a robust tech stack to hiring and training new staff.
Key Points: what is the meaning of recommerce?
Recommerce meaning: 'Recommerce' is short for 'reverse' commerce. The concept involves selling used and second-hand goods.
There's no one way to define recommerce. Typical models involve upcycling, trade-in programs, buyback schemes, consignment stores, and online marketplaces. As recommerce continues to grow, it looks to set to reinvent itself again and again.
Some products are more suitable than others. Examples include clothing, refurbished electronics, musical equipment, and sporting goods.
The resale market is celebrated for offering a sustainable and affordable way for consumers to shop for products.
If your products are suitable, recommerce is a solid alternative revenue stream for businesses. On account of this, buying second-hand is a great way to tap into younger generations of shoppers.
Before your business takes on recommerce, you must ensure it's a good fit for your business. For instance, is there a consumer demand for your product? And, will your business be able to handle the additional legwork?