Read time: 6 minutes
Product Information Management (PIM) as a marketing tool can sometimes be overlooked when actually, it gives your marketing teams access to a mine of valuable data. Product data is the heart and soul of any successful eCommerce business. Marketers can gain huge benefits from leveraging the power of product data to create amazing brand experiences. Furthermore, product data is a key component in any product campaign and the overall online experience.
PIM provides a central hub to gather, store, enrich and distribute all product data across unlimited sales channels and geographies. Managing everything in one centralized hub promotes a collaborative way of working. Therefore, for marketing and eCommerce professionals, this will be key in aligning overall business objectives.
PIM for marketing will enable you to:
Improve your brand awareness and increase visibility with super SEO to drive demand generation
Lock and load campaigns well ahead of time to increase your conversion rates and online sales
Use data to make informed decisions on how to create online experiences that will keep customers coming back
Let's break it down and dig a little deeper into why and how product data can be leveraged by marketing teams.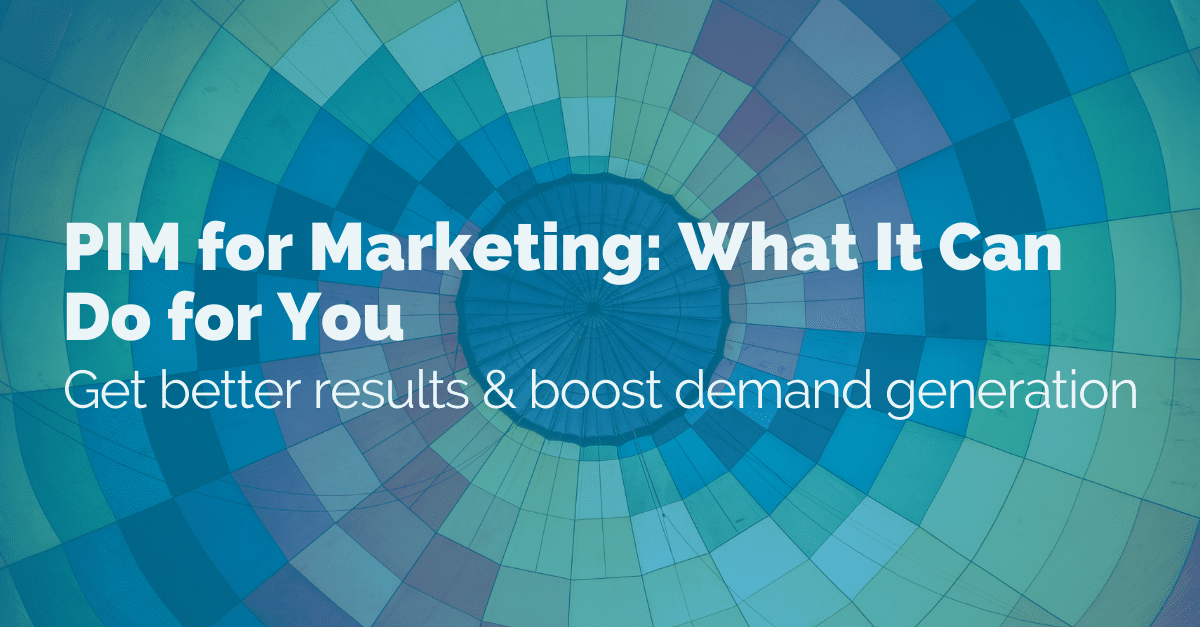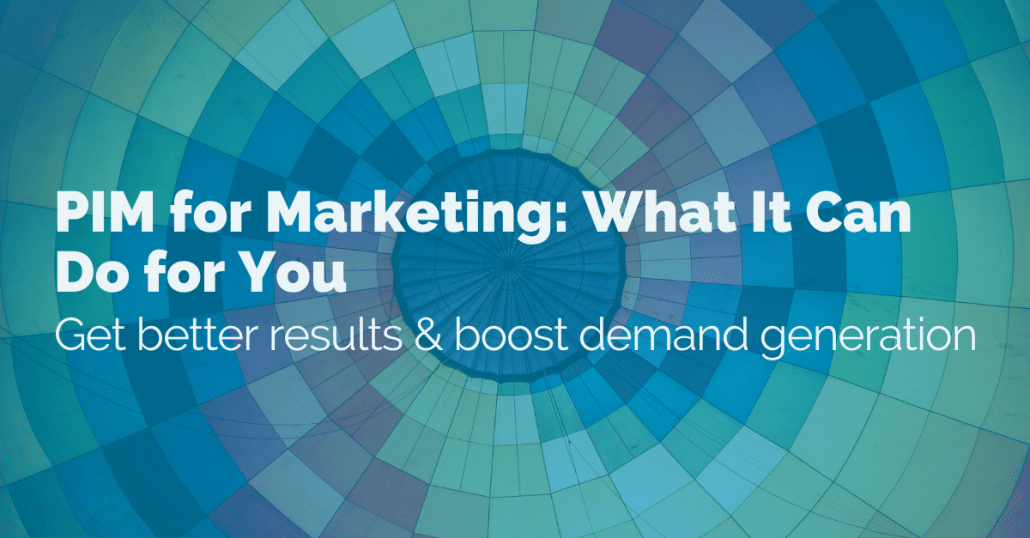 Improve brand awareness & visibility
There are several ways in which you can increase your brand awareness and visibility with product data and product content.
Storytelling
We all love a good story. They get our imaginations going and we get attached to the characters in the plot. The same applies to brand storytelling. Using product data and product content, you can build strong and emotive relationships with your customers.
Customers engage more with brands they feel are aligned to their own beliefs and values. This is why it's important to communicate this across your sales channels and weave it into product descriptions and titles.
For instance, it may be your commitment to sustainability goals, where and how you source products, or charitable donations you're committed to. In other words, product data needs to be so much more than price, size, and color. Tailored messaging that resonates with your target audience will leave a lasting impression that will keep them coming back.
Increased visibility & super SEO
It's a well-known fact search engines aren't a fan of samey content. This is where PIM will enable your SEO teams to shine bright! They can work in PIM's central hub where all product data and digital assets are stored. Focussing on keywords, they can enrich product descriptions, titles, and the associated digital assets.
Having this optimized data will mean you can create original product content that will make your brand stand out from the crowd. This will massively contribute to making sure your products are getting in front of the right people at the right time. As a result, SEO-optimized product data, content, and imagery will lead to higher demand generation.
Lock & load product campaigns
In the fast-paced world of eCommerce, giving marketing teams the ability to plan well in advance will be key. The collaborative nature of PIM for marketing teams means you can lock and load product campaigns well in advance. Store all your copy, digital assets, and any other related content in one place. You can then set the date for everything to go live using Pimberly's powerful workflows.
The studio team can make sure all digital assets are ready and raring to go. SEO teams can fully optimize everything for the best demand generation. Marketing teams can provide all the relevant comms around the campaign, so everyone is working off the same hymn sheet.
Importantly, having all this stored in your PIM system means eCommerce teams know what's coming up and when. As the saying goes – "by failing to prepare, you're preparing to fail." PIM for marketing will make this a thing of the past!
Omnichannel & multichannel strategies for more sales
PIM for marketing makes implementing omnichannel and multichannel strategies an absolute dream. Consistency is the obvious omnichannel objective. PIM means you can create a single source of truth for your product data. Consequently, you can communicate the same messaging across all your sales channels.
If you're looking at a multichannel strategy, PIM for marketing will mean you can determine what types of content and messaging you distribute across multiple channels. Either way, this is a great way of extending the reach of your brand to generate more demand and increased sales.
You can also communicate brand messaging that grasps the attention of your customers across all sales channels. Similarly, this will also apply to any image, video, or media assets. Your studio and marketing teams can work together to ensure they meet brand guidelines. This way, you'll be certain that only the highest quality digital assets appear in your product campaigns and in product catalogs.
Data-driven decisions
Data for marketers is about as important as oxygen for humans. We simply can't go without it and, for the best results, it has to be super high-quality. This applies to all forms of data, whether that be prospect, customer, and – here it comes – product data.
To craft the best possible user experience, testing will be the first go-to for marketing teams. Making tweaks and changes based upon customer behavior will enable you to make intelligent decisions based on hard evidence.
The PIM system gives you an indication of stock levels as it's linked to your eCommerce platforms. As a result, you get insight into how many products are selling, and when they're being sold. You can use this data to inform the structure of future product campaigns. You may have a load of stock you want to get rid of or a new product release you want to promote. Knowing when those types of products are selling well will mean you can optimize your campaign to get the best possible results. Additionally, you can set up workflows way ahead of time to automate this process.
Data and segmentation go hand-in-hand. In turn, segmentation is vital when you want to create online experiences that go above and beyond customer expectations. Quality product data is essential in creating online experiences that convert browsers into buyers. Any unclear or generic product data leaves room for confusion, which doesn't instill confidence.
Quality data means you can make data-driven decisions based on facts, not gut feel. You can identify what actually works, and what will keep customers coming back.
Are you going to consider PIM for marketing?
PIM for marketing is a great tool that marketers should and can make use of to make their brand stand out from the crowd. Product data will always play an important role in eCommerce and marketing campaigns. Therefore, it should be an important consideration for marketing departments.
Different departments can work together in a streamlined way to make sure everything is totally in line with brand guidelines. This creates a consistent and seamless experience for your customers. Improve your brand awareness with stand-out content and create more demand for your products with super SEO.
All this contributes to a superior customer experience, creating happy loyal customers who have a higher lifetime value. PIM for marketing is really a no-brainer!
Find out more about the benefits of PIM for marketing