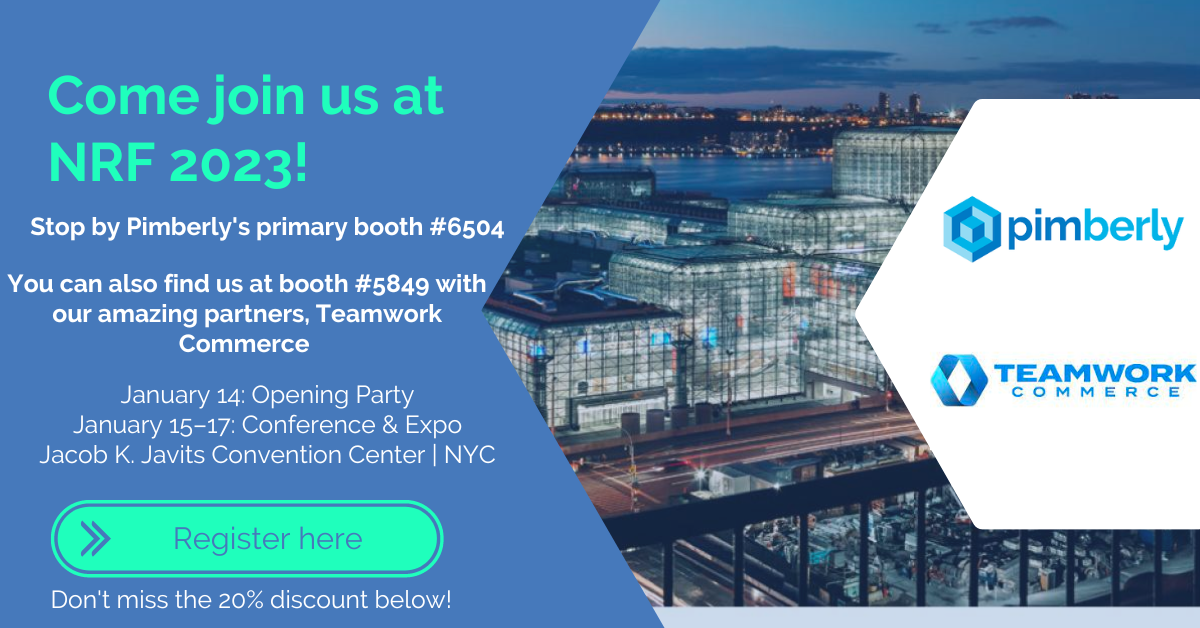 NRF 2023: Retail's Big Show
With three days of educational programing, an enormous Expo featuring the latest retail solutions, plus an Innovation Lab and Startup Zone featuring breakthrough technology, Retail's Big Show will introduce you to the ideas, people and partners that will put you on the fast track to success.
Where: Javits Center
429 11th Avenue
New York, NY 10001
At the upcoming event, we will have two booths with members of the Pimberly team ready to connect and walk you through what we do, some customers we work with, as well as where we are headed. In other words, you'll have twice the opportunity to connect with us!
Our primary booth is #6504, where our CEO, Martin Balaam, will be fielding questions from other professionals in the field.
We also have booth #5849 with our amazing partners, Teamwork Commerce, where both of our teams can provide some insight on each technology and how they work so well together.
With key customers in the retail space, we're excited to meet other like-minded experts to showcase the power of PIM!
Make sure to register your space and come stop by!
Don't miss the 20% discount below!
Learn how to power through challenges, push boundaries and make change from some of retail's most talented leaders in one of our educational programs:
50+ NRF-curated keynote and featured sessions led by 170+ industry experts
100+ Exhibitor Big Ideas sessions where solution providers share case studies and product demos
Food Service Tech Pavilion Stage
Partner Perspective sessions featuring a mix of retailers and solution providers sharing valuable insights into future retail trends
Scroll down for more info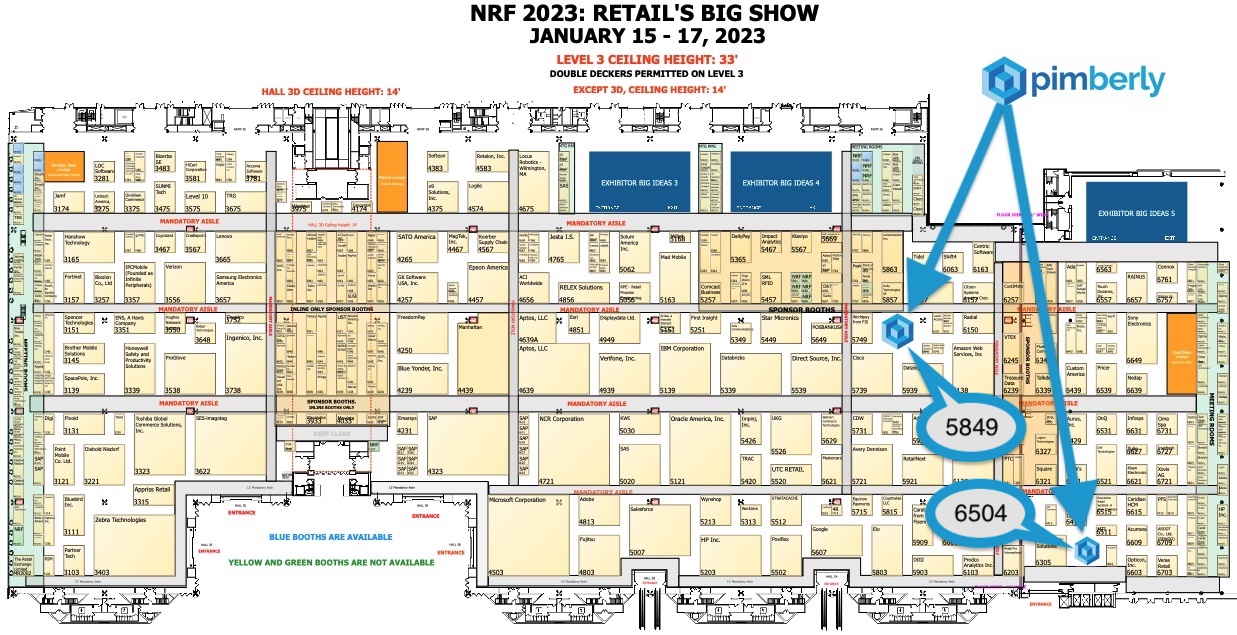 NRF has given Pimberly the opportunity to offer a 20% discount on Full Conference Passes for Member Retail Clients and Non-Member Retail Clients alike.
*The 20% Full Conference Pass discount is only available to the two registration types listed above, "Retail Member" and Retail Non-Members", and will not offer a discount to any nonretail registration types.
If you have any interest in taking advantage of this offer, please reach out to t.belle@pimberly.com
Come stop by booth #6504 and we can talk about the research we've doing at Pimberly (i.e. AI-generated product descriptions), what separates us as a PIM platform, and our approach to automating product data sheets.
Our, CEO, Martin Balaam will be present at the booth fielding questions for the duration of the event. If you'd like to book some time to chat, just use the calendar to select a time and the conversation will be set to go!