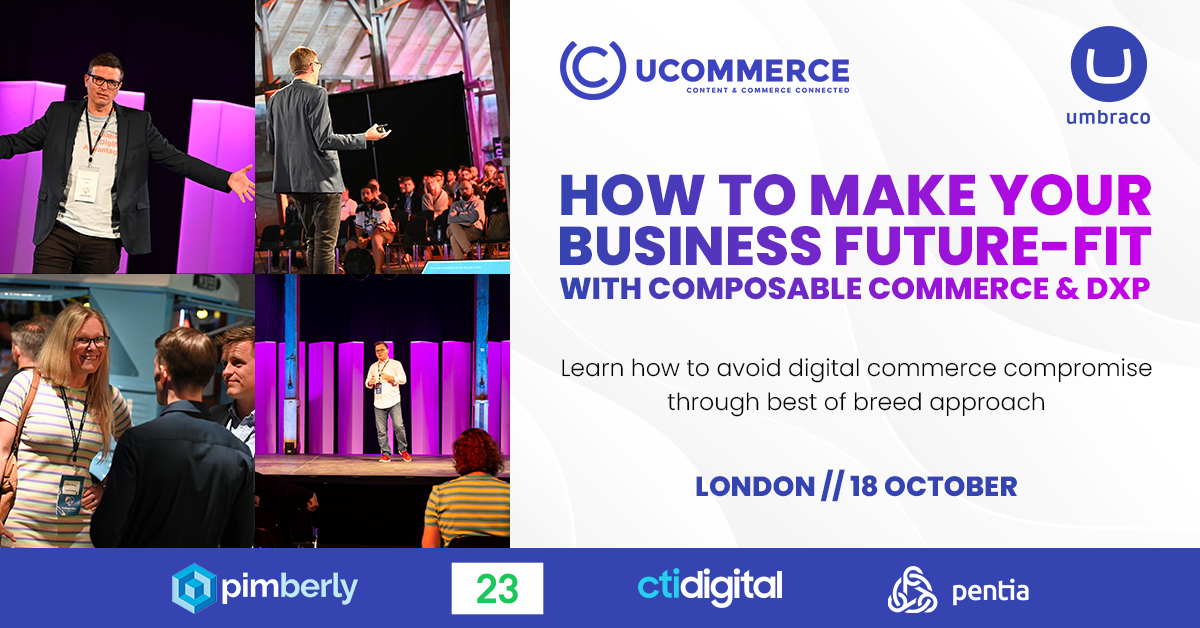 Making your business future-fit with composable commerce & DXP
We're proud to support our value partners, Umbraco
and

Ucommerce,

in this afternoon of keynotes, discussion, and networking on composable commerce.

This free event is a one stop shop for those looking to cut through the noise and understand how a composable commerce approach can deliver long-lasting value for their business.

At this event you will find out: 
What composable commerce actually means and how it works

How your business can meet its digital ambitions without the need for compromise

Why composable commerce offers resilience in uncertain times and avoids unnecessary costs later down the line

The benefits of using a composable approach

How to build a business case for composable DXP and choose the right providers
Sound good? Head on over to the event page to find out more and save your spot!
Take a sneak peak at the afternoon's agenda:
14:15 The benefits in composable commerce
Jesper Lyngbye, VP Tech Partnership @ Umbraco & Søren Spelling Lund, CEO & Founder @ Ucommerce
14:30 How to be future-fit: Why composable gives BSC scale without compromise
Steve Ward, CTO @ British Health & Safety Council
14:55  The business-centric composable DXP
Thomas Eldblom, CTO @ Pentia
15:15 The role of product data in connecting your composable solution
Nikki Ratcliffe, VP Marketing @ Pimberly
15: 35 The benefits of Composable Commerce
Steve Gale, Deputy CEO, CTI Digital
15:55 How video is changing commerce and how we market
Peter Inseleth Jørgensen, Head of Global Sales, TwentyThree