Manufacturers need to invest in PIM as they're increasingly expected to master their eCommerce strategies. Driven by shifts in market trends and consumer expectations, adopting a digital-first strategy is key to eCommerce success. So, what are the reasons manufacturers need to invest in PIM? Well, it links directly to any digital transformation strategy. A term that's been doing the rounds for a while, but what does digital transformation actually mean?
Product data represents a large part of any business, but even more so for manufacturers. The need to have accurate, compliant, and always up-to-date product data is essential for a number of reasons. Not only is product data intrinsically linked to the customer experience, it can also be used to enable manufacturers to outpace competitors and grow revenues when used to its full potential.
Any digital transformation strategy will focus on creating efficiencies where possible. PIM streamlines day-to-day operations, enables better collaboration between departments and enables manufacturers to make intelligent decisions across the entire supply chain.
The following reasons are why manufacturers need to invest in PIM and the benefits that teams across the organisation can gain from refining their product information management processes.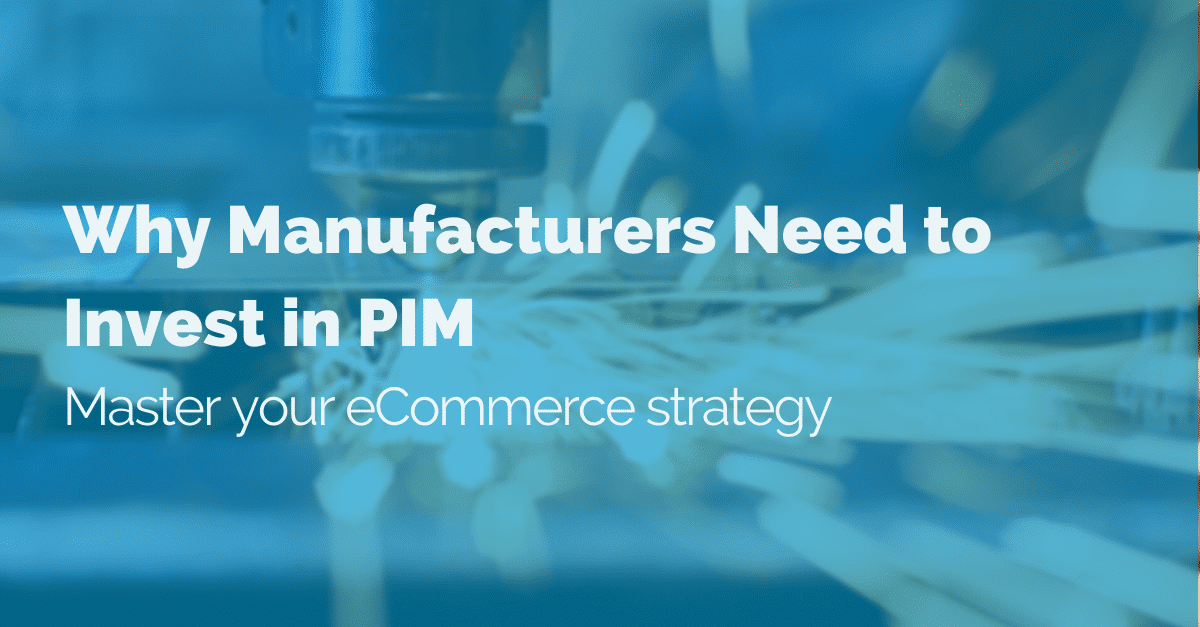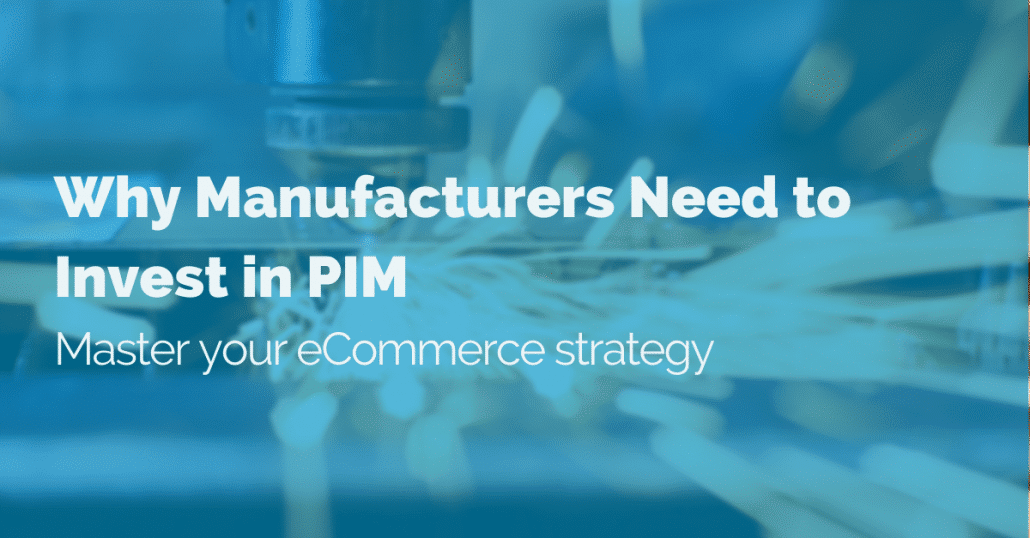 The main challenges faced by manufacturers
Managing multiple data variations & sales channels
Tracking the entire product lifecycle management workflow
Ensuring version control of product data and assets
Making data competitive to achieve better results
Managing multiple data variations & sales channels
The majority of manufacturers deal with huge amounts of product data from a variety of different sources, in a variety of different formats. Creating a single source of truth is vital in enforcing brand consistency and fostering stronger customer relationships. It's vital to get this right first-time round to ensure there are no detrimental impacts further down the supply chain.
Gathering data from disparate sources soon becomes a very manual and labor-intensive task. As demand for your products grows, you need to ensure you're streamlining this process to enable your teams to focus on their areas of expertise.
PIM software integrates with limitless data sources, giving you the power to gather, manage, enrich and distribute all product descriptions from one centralised hub. Whether you're collecting data from an ERP, supplier, or even Excel, data feeds can be set up in minutes.
Once the data is imported, you can determine the desired format with configurable and flexible workflows. The powerful and visual workflows within Pimberly enable you to set requirements and approvals so product data is only released once all conditions are met.
This then feeds into the specific requirements each of your sales channels will have, as well as the varying needs and expectations of B2B, B2C, and D2C customers. Consumer expectations are constantly on the rise. This means the experience you provide will ultimately determine their loyalty and your success.
With powerful scoping capabilities within Pimberly, you can determine which product details and digital assets are distributed to your different channels to suit the respective audiences. As much of this process is automated, you will see a marked increase in productivity. You'll also be providing a product experience that will improve customer relationships and put you ahead of the curve in terms of competition.
You can set up a limitless number of sales channels with Pimberly, so you can extend the reach of your products. By being able to serve a wider variety of consumers, and being able to easily reach new markets, you've got a good opportunity to see accelerated business growth and increased sales.
Remember, the customer experience continues post-purchase and customers will need to be able to access certain details. Whether that be installation guides, instruction manuals or care instructions, you need to make sure all of this information is accessible. Having PIM software enables you to publish all this on your website, along with the rest of your product data.
Because PIM stores all this information in one centralised, cloud-based hub, all your service departments dealing with post-sale queries will be able to get their hands on what they need when they need it.
Tracking the Entire Product Lifecycle Management Workflow
The beauty of manufacturing is seeing a product being developed right from start to finish. Though there is much satisfaction to be gained from watching this process evolve, there are a lot of moving parts that need to be tracked and monitored to ensure smooth product launches. It's also essential to harmonise how teams work together to ensure every step of the process is completed when needed.
The lifecycle stages in Pimberly can be used to determine the level of completeness of a product. Because the lifecycle stages can be configured in any way that suits your business, you control what attributes, assets and details are required before your product moves from one stage to the next. As the required data is added, the product will automatically move through the different stages. This is done with visual workflows that match the lifecycle stages. It's a fully automated process that will save you loads of time and you will always have a clear view of where your products are up to in the lifecycle.
With PIM software, you can also add multiple primary IDs to one single product. At different stages of the product lifecycle, it may obtain new unique identifiers which the product should be globally known as from that point in time. Because you can search with primary ID's that have been allocated at any time during the product lifecycle, you will always be able to find products with ease. This also gives you a complete audit trail of the progress the product is making.
Ensuring Version Control of Product Data & Assets
Brand consistency helps you build trust with your customers. When sharing data across multiple channels, you need to ensure that all product messaging is in-line with your brand identity. As well as your product descriptions, you also want to make sure your imagery is on-point. Your products help tell your brand story, so you don't want that to be diluted when they move down the funnel to your customers.
Ensuring version control of data with PIM is easy, and there are plenty of features that enable you to keep your product information consistent across all channels. Access control plays a key role, here. You can make sure the relevant departments can access what they need. You can also control what certain employees can do within the system. Not only does this enable employees to really shine and hone their expertise, you'll also avoid duplicated workloads.
When it comes to your digital assets, the DAM functionality within Pimberly gives you the ability to store as many digital assets for a given product as required. As this means that you have full control over the images that accompany your products, you can showcase them in the best possible light.
When it comes to being able to share your product data with customers or internal teams in a more granular format, product data sheets are a great resource to have, and they can be shared both off and online. They are especially useful for manufacturers who, often, have to ensure granular details are provided to meet certain regulations. Again, Pimberly automates this process, and any product updates will also be reflected in your product data sheets, so your customers will always have the correct, up-to-date product information.
As your product data and digital assets move downstream, one thing to be conscious of is the possibility of losing vital details, lower-quality images being used and tone of voice being drowned out. This isn't a priority for retailers; they're dealing with high churn rates and new product releases all the time. They're also limited in terms of the amount of detail they can display on their sites.
Another challenge is the risk of there being conflicting details from one sales channel to another. To have complete confidence in their buying decisions, customers will need vital information such as power consumption, dimensions and other crucial details that influence the buying process.
Manufacturers own all this data so; they need to act as a source of truth to avoid losing sales and damaging their brand. This is where PIM software comes in. a newly released feature we've been working on – Customer Connect – gives you control of the specific details you share with your sales channels. BUT it's also important you make this information available on your website and PIM software also enables you to do that easily.
Making Data Competitive to Achieve Better Results
Providing super-detailed, accurate and rich product descriptions comes with all sorts of benefits. Your customers truly value this, but you can also leverage your product data to act as your brand ambassador and gain a competitive edge. Having unique data, complete with rich detail, will set you apart from the competition. Customers notice and appreciate that extra layer of detail, which also gives them much more confidence with their buying decisions.
Non-price sensitive buyers also place a lot of importance on sustainability and traceability in their buying decisions, which will be predominantly led by their ethical values. Manufacturers should be aware of this and, consequently, need to be making sure all these details are also made available on their websites.
To make your product data even more competitive, manufacturers should also be thinking about the long-term customer journey, especially when it comes to white good where brand loyalty tends to be more common. If they encounter an issue with their product 5 years post-purchase, they're more likely to head to the manufacturers' website, not the retailers' site they bought it from. Here, you can grasp an opportunity to show these customers the next new equivalent products and new releases.
PIM software will give you the power to add keyword-rich descriptions to all your products, which will boost your SEO rankings. Better SEO rankings mean you're increasing your chances of getting your products noticed by your target audience on search engines. You can also optimise all digital assets so they can also be incorporated into your SEO strategy. Well-structured data also plays its role in SEO, as well as making it easier for your customers to search for what they're looking for. Your SEO team will also benefit from working in a single workspace, which will save time and reduce errors and duplications.
Enhance Your Digital Transformation Strategy with PIM
Granted, there is an array of different technologies that will go towards accelerating business growth. Knowing which ones to add to your tech stack isn't always straightforward. Because product information plays such a crucial role in your overall success, it's logical to have a dedicated solution that makes the product data management process easy. PIM software gives you the opportunity to streamline the way your departments work together, gives you the power to create amazing product experiences for your customers and, ultimately, will impact your overall success.
If you're focusing on your digital transformation strategy, it may well be time for you to invest in PIM software – they go hand-in-hand and can help you transform the way you do business.
Take a look at our dedicated white paper that delves deeper into the benefits of PIM