2020 saw a global shift across many areas of our lives; how we communicate, how we do business, how we socialise and even how we shop. BUT, with change comes opportunity and that couldn't be more apt as we look ahead to the new year, especially when it comes to the ever-changing landscape of eCommerce.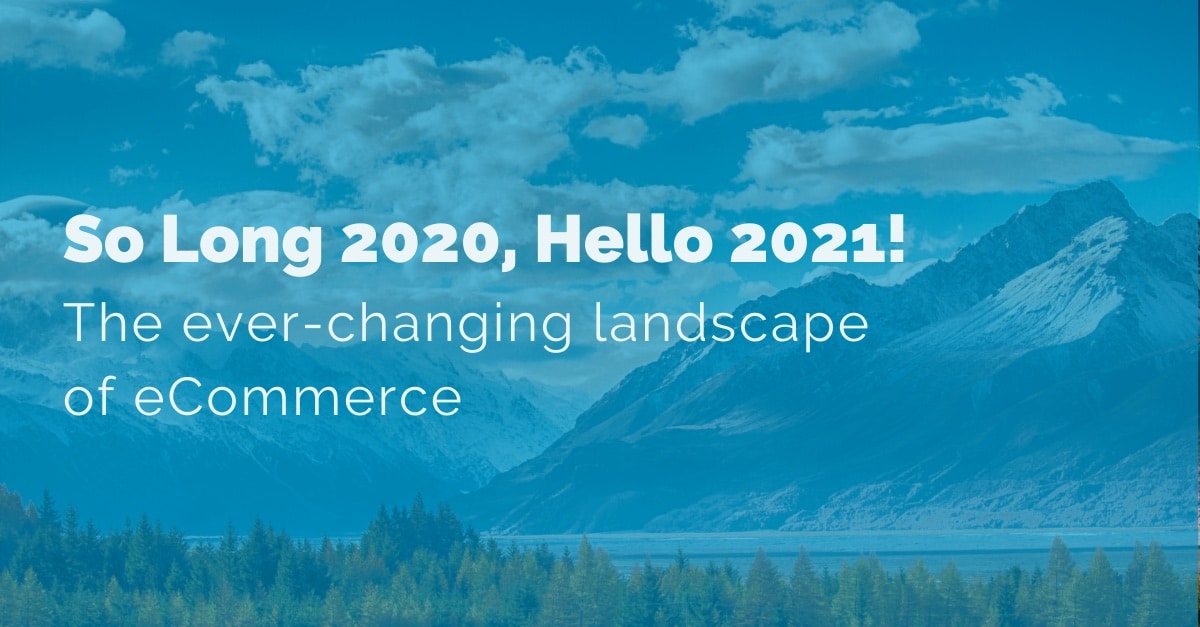 In this blog, we look back at some of the main trends from 2020, the challenges encountered, and how these learnings can be applied in 2021 to achieve greater eCommerce success.  As we look back on 2020 (what a year) we'll outline what we predict to see as we welcome in a new year.
2020 at a Glance
For obvious reasons, there has been a huge migration to online shopping over the past year and some really interesting trends have arisen. Brightpearl research shows that before the pandemic, Brits made an average of 32% of purchases online. At the height of the pandemic, this rose to 48%, representing a huge opportunity in terms of new customer acquisition for online retailers, especially given two-thirds of consumers say they will ONLY be shopping online within the next five years.
Now to Mention the Biggest Days for Sales – Black Friday
Some intriguing figures here: UK online retail association IMRG reported a 30% increase in YoY sales during the week of Black Friday, with the vast majority (90%) of purchases being made online in the UK. In terms of learnings for the year ahead, let's look at some of the things that worked well, and some of the things that didn't work so well.
Landing pages: Clearly defining what is on offer, in one centralised, dedicated area can massively improve results. Where there were dedicated Black Friday landing pages, businesses saw a 330% increase in revenue on a monthly average and 50% conversion rates.
What didn't work so well:
Despite over half of sales taking place on mobile, the overall performance was dire, with abandon basket rates up 80% on last year. A combination of factors could be at play here, with the two main ones being mobile-unfriendly sites and a lack of clear information regarding returns and delivery policies when arriving at checkout.
Tackling 2021 Head-on
The year ahead is bound to be slightly different from what we'd anticipated but 2020 has proved to be invaluable when it comes to learnings, which we can take with us to plan accordingly and adapt to any changes in the market.
Make the Most of Bricks and Mortar
Brands and retailers who have investments in bricks and mortar have proved to be super agile over the past year in the face of the pandemic. A decrease in footfall on the high streets and routes to market being suspended due to logistical issues has led brands and retailers to be imaginative with their approach, and greatly accelerated the shift to D2C!
With this approach, companies can get their products to consumers via a different route, so harnessing the right technology and maintaining this agility is paramount to ongoing success in 2021.
Though there have been marked changes in consumer behaviour, there is still an appetite for in-store experiences, even if they are completely different. When national lockdowns aren't in place, people do still want to get out where rules permit and giving them a reason to come in-store will be a way of keeping retail spaces profitable.
We're seeing more and more collaborations, such as in-store coffee franchises, and it's reported that Zara will be converting some of their stores into distribution centres. The Bose and Tesla experience stores are also a prime example of making effective use of bricks and mortar; customers can go in, try the product and then make a final, informed purchase from the comfort of their own home.
Another area where we'll see footfall maintained will be Click & Collect orders. Statista reported that whilst 90% of purchases were made online, 10% were Click & Collect orders. This brings us on nicely to some of the other key areas where we'll be seeing a shift in 2021.
Deliver on Great Deliveries
Increased online activity means that retailers and logistics companies are stretched. By making sure you're providing an amazing experience pre- and post-checkout, with excellent products and dazzling deliveries, your customers are sure to sing your praises instead of leaving negative reviews.
As we mentioned before, unclear information regarding deliveries can account for significant abandon basket rates and an overall poor customer experience, so make sure the terms are clear from the get-go.
Being flexible to meet consumer requirements should also be a focus and merchants can diversify delivery options to include:
Click & Collect
Curbside pick-up
Buy online, pick-up in store
Home delivery
Locker systems (like Amazon)
The Customer Experience Should Be at the Forefront 
A somewhat surprising learning from our 2020 research was how consumers will, more often than not, favour experience over brand loyalty.
Lockdowns and health concerns have meant less footfall on the high street so, now more than ever, it's vital to have very high-quality product information online to give consumers confidence in their buying decisions.
This is where the importance of customer reviews comes in. Research carried out by Brightpearl showed that:
92% of consumers say ratings are important to their buying decision
95% Read customer reviews before making an online purchase
89% stop doing business with a brand after a bad experience
Using the right technology to make sure there are no glitches in the system will provide a huge pay-off and may very well mean the difference between a new acquisition or a missed opportunity.
To Recap:
Be consumer-centric and make the most of customer reviews
Align your operational capabilities with the increase in online activity
Provide excellent digital customer experiences with rich product information
Be flexible with delivery options and transparent with your policies
Create dedicated landing pages for any promotional campaigns/sales
Consider new and creative options to use your retail space differently
Overall, 2020 was a very eventful year, to say the least; businesses and individuals alike had to adapt and, even when faced with hefty challenges, agility, resilience and strength prevailed.
As we reflected on some of the learnings from last year, it's clear that there are many exciting opportunities to be had in 2021. Be sure to keep an eye out on our blog page for more insight into some of the main trends of 2021, as well as some top tips on how to achieve eCommerce success. You can also watch the recording of the 'ever-changing landscape of eCommerce' webinar we hosted with Brightpearl for further insight into the facts and figures we uncovered.
Could your business benefit from using a PIM to improve the online experience you offer? Book a free demo today to find out