The festive season is upon us! It's the busiest and most profitable time of year for most retailers. However, it's also the time of year when retailers will be thinking of ways to increase their end-of-life stock sales as the season draws to an end.
Global spending during the festive season was forecast to hit $189 Billion in 2020 with the average consumer budget for the holidays being around $575 per person. Therefore, it's the perfect time for retailers to cash in on the wave of consumers who'll be shopping for their nearest and dearest.
This increase in consumer activity also means increasing stock in preparation for the onslaught of sales. However, what do you do if you don't manage to sell all your stock? Especially if that stock is heavily Christmas, Thanksgiving, or New Year's themed. It won't last sitting around waiting for the next year!
End-of-life (EOL) stock can be a huge problem for eCommerce businesses. Essentially, when it's not sold, it's a loss in profit.  To avoid this loss, we've highlighted some key ways you can increase your end-of-life stock sales. Read on for tips on how and where to sell it, and how you can use your PIM to make the whole process a walk in the park.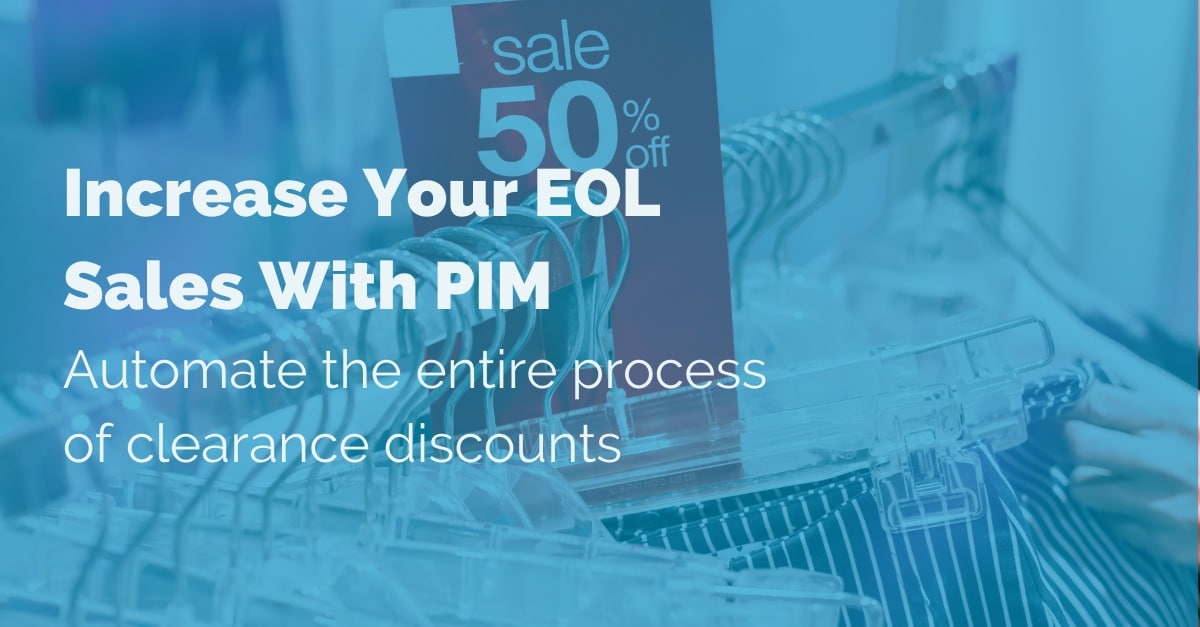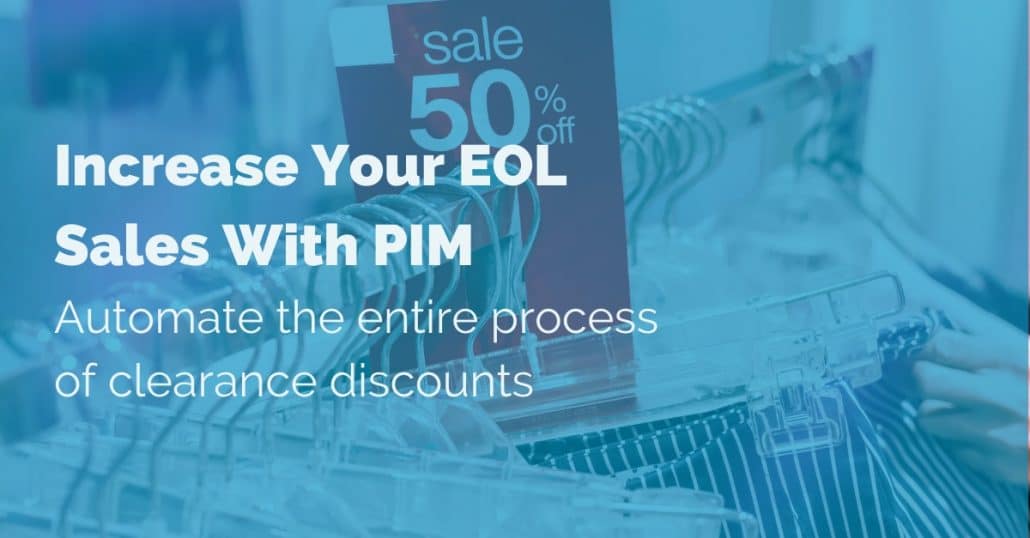 How do I sell my end-of-life stock?
The most obvious and effective way to sell your EOL stock is through a clearance sale. This sounds quite simple, but it takes some careful planning to avoid over-using clearance sales. In other words, the overuse of clearance sales reduces their impact. If customers notice your stock is often on sale, they'll be less impulsive when buying the products in your sale.
Here are some of our tips to maximize your stock clearance sales:
Clearance sales, not discount sales 
There's an important distinction to be made between a discount sale and a clearance sale. A discount sale is a promotional tactic used to attract more customers. On the other hand, a clearance sale is purpose-made to get rid of excess stock.
Customers know this difference, and this makes stock clearance sales much more effective than discount sales. This is because your customers usually think they're getting a better deal.
Use prices, not percentages 
It's the holiday season. Everyone is stressed and trying to maintain a healthy work-life balance.  Nobody wants to be doing mental maths to work out what 34% off $42.60 would be.
Give your customers the new price and the old price so they can easily make the comparison. This is a much more effective way of communicating a discount compared to a percentage off.
Timing is everything 
There's little point in starting your clearance sale once the season is completely over. The intrepid consumer may snap up some of your deals in preparation for next year, but these customers are few and far between.
Start your sale early in the season with a smaller discount, rather than at the end with a huge discount. In doing this, you'll be able to sell more stock at a better price. This will lead to a healthier balance sheet because you'll be making better profit margins, all whilst reducing your would-be excess stock.
Where do I sell my end-of-life stock?
So, we've covered some of the best ways to maximize your clearance strategy, but how do we put this into practice? Where are some of the best places to sell your excess stock and implement your clearance strategy?
Website clearance section 
Your eCommerce site is the perfect place to start your clearance sale. Create a dedicated clearance section on your site with all of the excess stock you want to sell. This is a great way to channel customers towards the deals that you want them to see. Having this dedicated section on your website can increase your conversion rates by up to 50%.
Marketplaces 
Even with the most careful inventory management, sometimes excess stock may exceed previous estimates. Diversifying sales channels can help to deal with this kind of situation. Sell on multiple marketplaces to reach a wider pool of consumers. You'll likely see increased sales, especially given 62% of global online sales took place on marketplaces in 2020.
Email and text alerts 
You've likely got access to extensive customer information, especially if you're using a loyalty program. Use this information to notify previous customers of your upcoming sale via email and text alerts. You can also use this information to send personalized offers on your clearance items to enhance the customer experience.
How can Pimberly help sell my end-of-life Stock?
Time is of the essence when it comes to the busy season. Make it a  memorable one with a powerful PIM solution like Pimberly so you can focus on delivering the best possible results. Here's how:
Powerful automation & real-time updates
One of the most frustrating aspects of creating a clearance sale is continuously re-adjusting discount prices depending on stock levels. For instance, you might have a 20% discount on product X. This may mean that product X doesn't sell very well, leaving you with a large excess stock towards the end of the season.
PIM automates the entire process of clearance discounts based on existing stock levels, so you can ensure you're always offering the price that will guarantee more sales. Monitor stock levels with powerful connectors and create rules to change the prices when the stock hits a certain level. These changes reflect in real-time across all your sales channels, saving you loads of time. It also means you don't have to employ additional team members.
Lock n' load well ahead of time
Because PIM offers vast storage, you can lock n' load your promotional campaigns well ahead of time. Upload all your promotional assets, prices, and product descriptions so they're ready to launch at a moment's notice.
With PIM, you can create rules to set them live on the date you choose, for whatever amount of time you want. Optimize your selling days by reducing the time to market of your end-of-life stock, and maintain your competitive edge – even when you're at your busiest!
Setting up new sales channels
A great way to increase end-of-life stock sales is to extend your reach across new sales channels. This will give you more scope to sell your products quicker, without having to create further discounted prices. PIM enables you to set up new sales channels in a matter of clicks, so it's really quick and easy to get your end-of-life stock in front of a wider audience.
Whether you're selling on social media, or want to ace Amazon sales, you can set specific requirements for each of your sales channels. This means your customers always get the best possible product experience wherever they're shopping with you.
Overall, there's lots of automation and functionalities that will put you in good stead to increase your end-of-life stock sales!
Watch the video on how to add products to your sales in a few simple clicks!