Preparations for Black Friday and the holiday season are in full swing, which means it's prime time to boost eCommerce sales! Holiday retail sales are set to soar by 7-9% this year, and the average consumer will be spending 20% more than in 2020.
The festive period is ripe for gaining new customers. But how can you convert bargain-hunting browsers into buyers? What's more, how can you then turn those buyers into loyal customers? We'll be covering all this and more, so read on!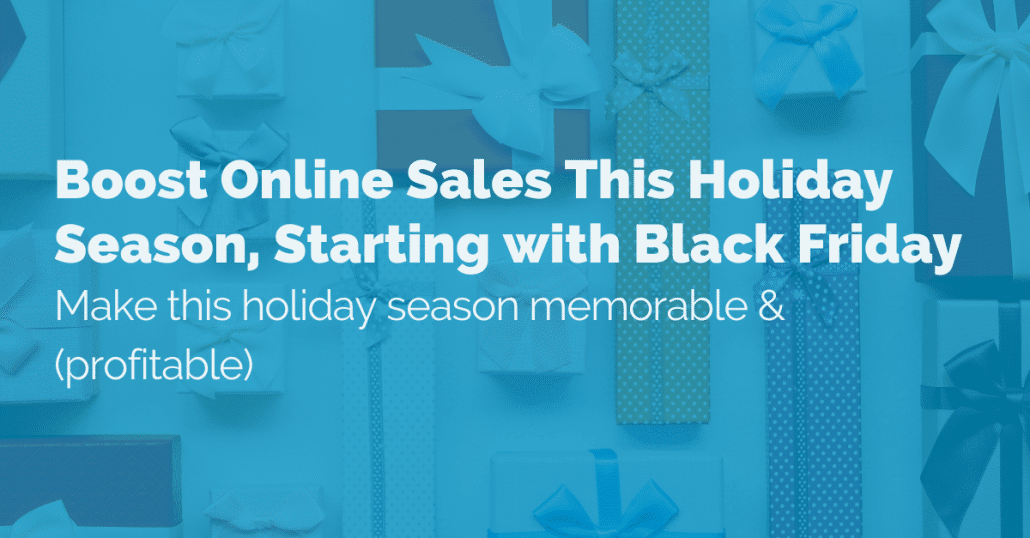 Circumstances last year meant there was a huge switch to online shopping. As a result, over half (57%) of consumers say they'll be shopping exclusively online in 2021. So, it seems eCommerce is still the place to be this year. With this massive surge in online activity, it's key to have the right solutions in place to boost eCommerce sales and make this holiday season memorable (and profitable)!
Black Friday
Many Black Friday fanatics started their bargain hunting early this year due to concerns around supply chain issues. Therefore, it's no surprise that Black Friday is set to be busier the week before Christmas. Over a half of early birds are aiming to finish by December 12, and a further quarter as early as November 30.
Here's a deep dive into some of the things you can implement to boost eCommerce sales for Black Friday:
Landing pages
Clearly defining what's on offer, in one centralized, dedicated area can massively improve results. Last year, dedicated Black Friday landing pages led to a 330% increase in revenue on a monthly average. Furthermore, conversion rates were 50% higher!
Countdown banners
Including countdown banners on your eCommerce store is a great way of creating a sense of urgency. For instance, you can either highlight low stock levels to get people to act quickly or create a countdown for when promotions will come to an end. According to a WhichTestWon survey, this can increase revenues by as much as 9%.
Mobile friendly
In 2020 over half of Black Friday sales took place on mobile. However, the overall performance left much to be desired. Abandon basket rates were up 80% on 2019. Having a mobile-friendly site that's easy to navigate regardless of the device being used isn't just a "nice to have", it's essential!
Super SEO
Having a solid SEO strategy in place for Black Friday will enable you to get your products in front of the right people at the right time with keyword-rich product descriptions. Having optimized digital assets that don't affect your product page load time whilst remaining impactful is also an important consideration.
Reduce cart abandonment
Great – you've got people landing on your site. But how can you ensure you're getting the best conversion rates and reduced shopping cart abandonment? Highlight delivery and returns info on the product page so customers know exactly what to expect. The checkout process needs to be simple and it's best to have a variety of payment options on offer.
Keep customers coming back
Delivering a top-notch online experience paired with excellent customer service is essential. However, in order to guarantee repeat business, you need to give customers a solid reason to come back. Think discounts or free delivery on their next purchase. You can also incentivize them to leave online reviews by offering a specific discount code.
Looking beyond Black Friday
Black Friday is the springboard for the rest of the festive season and customers will be on the lookout for the lowest prices on everything from the iPhone 12 to the latest Charlotte Tilbury palette. For a successful sales season, consider some of the following:
Open up new sales channels
Opening new sales channels over the festive season means you can reach a wider audience. Make the most of social media and reach your customers on the platforms you know they'll be on.
With PIM, setting up new sales channels can be done in a few simple clicks. Scoping functionalities also enable you to tailor product content in line with the different requirements of each channel.
Launch new products
Launching new products is a great way to gain a competitive edge. Overall, this is a great opportunity to offer keen shoppers more choice which will increase the likelihood of them choosing you over other eCommerce stores.
Having efficient product data management processes in place means this can be done super speedily. Bulk updates within PIM mean you can launch new products in days, not weeks. Real-time updates will also mean your customers always see the most accurate and up-to-date product info. As such, this will go a long way in improving the customer experience you offer and will also help reduce your return rates.
Make it personal
Take personalization to the next level with hyper-personalization. Use real-time customer and behavioral data to provide contextualized products or services that are totally aligned with their personal interests.
PIM offers a wide range of connectors to powerful AI tools and Google Analytics. Essentially, this means you can gain deep insights into what your customers are really looking for. In tailoring the experience you're offering you can build stronger and more meaningful relationships.
Upsell and cross-sell
Increased activity on your eCommerce site is the perfect opportunity to shine a light on your higher-value products. Give your customers the option to upgrade to a pricier version to increase average order values. Alternatively, you can offer complementary products to the one your customer's looking at with kits and bundles.
Create unlimited product relationships with P|IM to serve your customers the best possible options when they're on your product pages. Using powerful AI connectors with your PIM will also give you the ability to make intelligent product recommendations that resonate with your customers.
Promotions, promotions, promotions
Promotions give your customers an excuse to come back and shop with you, which will be one of the main aims of the game over the holiday season. For instance, BOGO (buy one, get one) either free or at a reduced price. You can also use your promotions as a tool to grow average order value by offering a discount when they spend a certain amount.
In other words, this is a great way of building loyalty and will keep customers coming back. Importantly with PIM, you can make sure you're offering the right discounts at the right times. For example, connect to your ERP and use workflows to determine which prices should be displayed when stock levels reach a certain level.
The round-up
During this busy season, it's going to be vital to take the pressure off where possible so you can focus on boosting eCommerce sales this Black Friday and beyond!
Having things like sizing charts so your customers know exactly which fit is best for them will go a long way in reducing return rates. Offering a range of delivery and payment options will also mean you have reduced shopping cart abandonment. Bargain hunters will be looking for the best possible deals, delivery fees included. Where possible, offer free delivery to drive more conversions.
The holiday season can account for around 25% of an online retailer's yearly revenue. As such, preparation will be key to ensure you get the best possible results. A Powerful PIM like Pimberly is a great addition to any eCommerce tech stack. Save time, automate up to 80% of manual data management processes, and have more time to focus on delivering amazing customer experiences to make this holiday season memorable (and profitable)!
Check out the "Making the Business Case for PIM" whitepaper to dig deeper into how PIM will boost eCommerce sales