Pimberly's product information management and digital asset management software solution, may be one of the newer options on the market, but it's quickly put itself at the forefront, boasting efficient, powerful and effective features.
This isn't just down to good design – the technology that runs through the application plays a major part in the PIM operation. Multiple, variable schemas mean Pimberly works for all users, and can quickly publish to all channels. It's speedy, no matter how much data you're processing, and has virtually unlimited capacity on demand, offering users infinite power. But probably one of the best things about the technology behind Pimberly? It uses the same multi-billion dollar technology that big brands such as Netflix, Dropbox and Adobe operate from. Meet the Amazon Cloud.
What is a PIM?
PIM stands for Product Information Management, and is a piece of software designed to help online businesses keep on top of product information. When businesses sell online, they often end up having a very large number of products displayed on their website. Editing the information of these products to be up to date and SEO friendly can be a mammoth task, but with a PIM, it can all be done via external software that can process your updates quickly and efficiently.
Who would benefit from using a PIM?
A business with eCommerce functionality

A business with a wide product selection

A business with constantly changing product characteristics
There's a huge market of PIM solutions, but Pimberly stands ahead of the rest, as they cut out the large level of resource and time needed to install traditional PIMs, instead offering access via the Amazon Cloud.
What is the Amazon Cloud?
The Amazon Cloud is a stable, reliable and secure cloud services platform offering compute, storage and content delivery solutions. Hundreds of thousands of businesses worldwide rely on the Amazon Cloud platform to power their businesses, and take advantages of the whole host of benefits that are included.
The key feature of any cloud computing system is its ability to be accessed and managed from a multitude of devices including mobiles, tablets and desktops. With the Amazon Cloud, there's no need to be connected to a specific server in order to access the information – as you can connect anywhere, at anytime with a modern browser and an internet connection. It's as simple as that.
The platform caters for an array of different cloud computing models, to meet the specific needs of different users. With different levels of control, management and flexibility, the cloud allows businesses the ability to build applications the way they want, with the added security of the infrastructure being managed by the cloud.
Amazon Cloud's Market Share
Amazon Web Services continues to lead the Cloud market share for both of their Infrastructure as a Service (IaaS) and Platform as a Service (PaaS) models, as can be seen in the graph below.
These are the 2016 stats from Synergy Research, released in February 2017.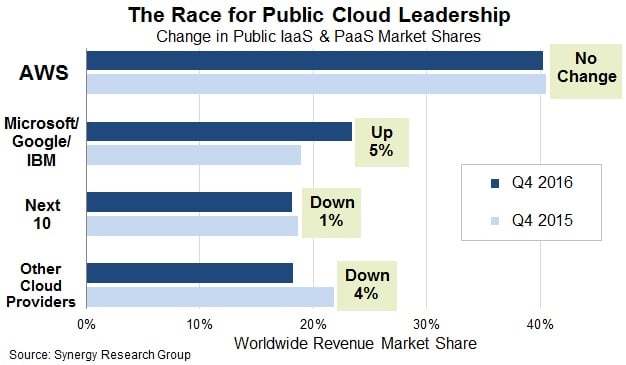 Key features of Amazon Cloud
Secure –

When relying on a platform to help manage your business, security is at the forefront of priorities. With Amazon Cloud, you can be sure that all data is safe, knowing that an "end-to-end approach to secure and harden our infrastructure, including physical, operational, and software measures" is used.
Reliability –

Gone are the days of poorly built, unreliable software prone to crashing. The Cloud is the most secure and reliable global computing infrastructure, used to power one of the biggest eCommerce marketplaces in the world; Amazon.com
Flexible –

The cloud allows simple migration for existing applications, along with minimal limitations as to what can and can't be customized, with the function to select services such as platform, database, operating system and other options required for the application.
High performance –

The platform is backed by Amazon's huge infrastructure, allowing quick and easy access to storage and compute resources when needed – a unique offering from Amazon.
Cloud Security
When it comes to handling and processing data, security is a must. Cloud security is now seen as one of the most reliable forms of IT security available, eliminating the risk of systems breaking down or storage devices being misplaced. Despite initial concerns of security breaches within the cloud, more and more businesses have come to realise that the cloud is much more secure than what they can do with hardware, and the number of breaches not protected by the cloud environment far outweigh the ones that are.
Corporations see the cloud as more of a central security system, reducing the need for various security systems and constant updates as the cloud can easily and quickly be updated to coincide with any new cyber security legislation's coming into place. All devices and networks connected to the cloud are protected centrally, meaning any device can be used to safely access documents and data in the cloud. This is why Pimberly uses Amazon Cloud.
Advantages of Cloud Computing
Cloud Computing can be a huge benefit to many different businesses if used properly. Some of the different advantages are listed below:
Cost efficient –

We all know how expensive it can be to use, maintain and upgrade traditional desktop software in order to keep it functioning properly and up-to-date. Along with having to purchase multiple user licences for all employees, it can work out to be a large expense. The cloud is available at a much lower cost, and the service provided reduces the need for the business's IT department to be constantly monitoring the software.

Unlimited storage –

For large businesses with a huge amount of data to process, having enough storage to handle it all is of utmost importance. Luckily, the cloud provides unlimited storage to combat any storage space issues.

Accessibility –

Your account can easily be accessed from anywhere at anytime, and all data can be managed at your convenience once uploaded to the cloud.

Backup –

With all data being stored on the cloud, it's much easier to back it up and recover it, compared to storing it on a physical device. This makes the whole process much simpler and reduces the risk of losing files.
Why does Pimberly use the Cloud & how does it benefit users?
In the past, setting up a new PIM & DAM software for big e-commerce companies could take months by the time you procure new servers and use teams of specialist resources to size and setup servers, install operating systems, setup databases and specialist storage, on which to operate your new DAM & PIM. You would need to open up your network using VPNs or other costly technologies to allow external parties such as suppliers, photographers, translators, copywriters or marketers to collaborate on your product data and provide digital assets. With Pimberly being cloud based, none of this is necessary. We can have your specific instance of the software ready to go next day and all you need is an internet connection. No matter if you're a tier 1 retailer with 100,000 products or a small boutique running an online ebay store with 1000 products, Pimberly is scalable to meet your needs. Our single code instance and cloud based platform means there's no need for costly upgrades to get the latest features or stay in support, you'll always be on the latest version benefiting from the latest features all housed on one of the most powerful and resilient cloud based platforms on the planet.
#MeetPimberly: Our PIM software is 100% cloud based, leaving you with no hardware to worry about. pic.twitter.com/CwwQADJZuj

— Pimberly (@pimberlypim) May 9, 2017
With old style software, if you want to upgrade or add new features, you will need to go through the hassle of performing software updates, and possibly re-installation on new infrastructure. With cloud-based Pimberly, all users need is access to a modern browser (eg. Google Chrome, Mozilla Firefox etc.), and an internet connection. From there, they enter their login information on the Pimberly site, and have instant access to their data with the ability to view and make changes. Any updates to the platform and new features are automatically delivered to the users. This can be done on a desktop computer, a laptop, a tablet, a smartphone – anything with a browser and internet connection.
With an on premise client server PIM, as your catalogue grows, the number of users increase, your requirements get ever more demanding, your servers and infrastructure age and the performance of the technology behind your PIM & DAM software will significantly decrease. You'll eventually need new hardware, software or both. Never face this problem again. With Pimberly being on the cloud, this is all taken care of and you never have to face this challenge again.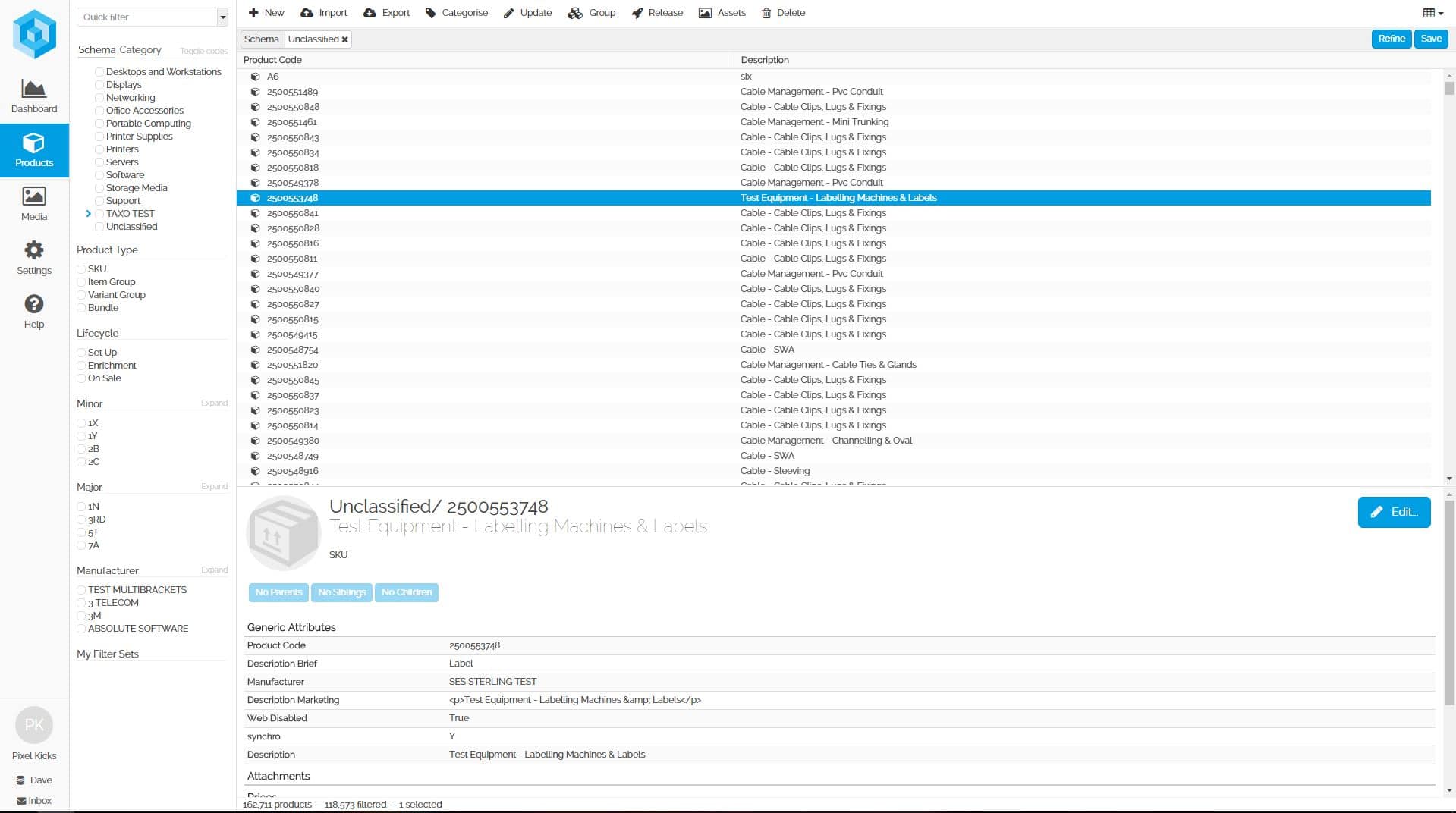 A typical large retail e-commerce installation
In large retail organisations, it's often the case that installing new PIM & DAM solutions can take a huge amount of time and resources. Several months and a team of multiple people have previously been needed, to install assets such as new servers and racks required, to enable the many TBs of storage and power that fuels the software. Technical architects have to be involved – infrastructure architects to design the whole installation and security architects to set up safe and secure access to the VPN. The whole solution must be sized up by analysts, while experts in the fields of Linux, STEP, Oracle and more are required. Overall, these huge installation projects can cost up to anything in the region of half a million pounds.
The alternative? A cloud based SaaS PIM such as Pimberly, which completely eliminates every single issue mentioned:
No infrastructure required,

which results in huge cost and time savings.

An even bigger reduction in cost over time as you're only dealing with operating expense over time, as opposed to initial capital expenditure which can then lead to more capital outlays as you encounter costly updates throughout the software's lifecycle in order to maintain support and keep up to date with the latest features.

An incredibly fast set up which means you can get started straight away.

Security issues are outsourced to Amazon Web Services – something you don't have to deal with personally.

No strain placed on your network by suppliers and customers accessing the system, due to everything being hosted by AWS. The cloud bears the burden, rather than your network.
The Cloud v Installation Software
| | |
| --- | --- |
| Installation software | The Cloud |
| Long installation and setup times | Instantly available through your existing browser |
| Storage space and processing speeds rely on your server/PC | Infinite power and unlimited storage on the cloud |
| Slow servers or infrastructure means data processing will be slow, meaning a poor workflow | The cloud's power means a speedy processing time, with no bottlenecks and a strong, efficient workflow |
| Installed locally, on a company's own computers and servers. Difficult to access on the move. | Available anywhere in the world, on any device with a modern browser and internet connection |
Pimberly – The World's Most Powerful Cloud Based PIM Solution?
Thanks to benefits listed above, we strongly believe that Pimberly is the most powerful piece of product information management software in the world. Thanks to the multi billion dollar cloud, Pimberly runs with infinite power, and virtually unlimited storage, meaning you can process your product data at a high speed with full efficiency and no bottlenecks or delays.
Of course, the highly powerful software can't be attributed 100% to Amazon's Cloud. The design of Pimberly is absolutely key when it comes to ease of use and efficiency. Pimberly processes data  using a cluster of NoSQL document databases, with the information stored in dynamic schemas. You can find out more about the technology behind Pimberly here: https://pimberly.com/technology/
Like the sound of Pimberly's cloud based, NoSQL, SaaS based product information management and data asset management software solution? Want to discuss signing up, find out more, or try out a demo to see if it's right for you? Give Pimberly a call on 0161 804 1850, or email sales@pimberly.com. Alternatively, you can contact Pimberly here: https://pimberly.com/contact/
https://pimberly.com/wp-content/uploads/2017/06/Amazon-Cloud-1.jpg
355
1206
pixelkicks
https://pimberly.com/wp-content/uploads/2017/03/pimberly_text_2017_unofficial-1030x366.png
pixelkicks
2017-07-07 15:01:59
2019-07-10 10:58:28
Cloud based PIM software: The advantages