We've taken a look at some of the eCommerce trends that will guarantee success in 2022 and beyond. There were over 2 billion digital shoppers in 2021, with sales reaching $876 billion in Q1 alone. This upward wave will continue in 2022, with online sales expected to top $1 trillion globally.
Increasingly, the eCommerce landscape must adapt to shifts in demand, demographics, and customer expectations. Loads of people have shopped online for the very first time over the past few years, and they're looking for an experience that is on par with in-store shopping. As a result, eCommerce businesses must stay ahead of the curve and make the most of new and emerging trends.
If you're looking to dazzle and delight your customers in 2022 and beyond, here are some of the key things you should consider.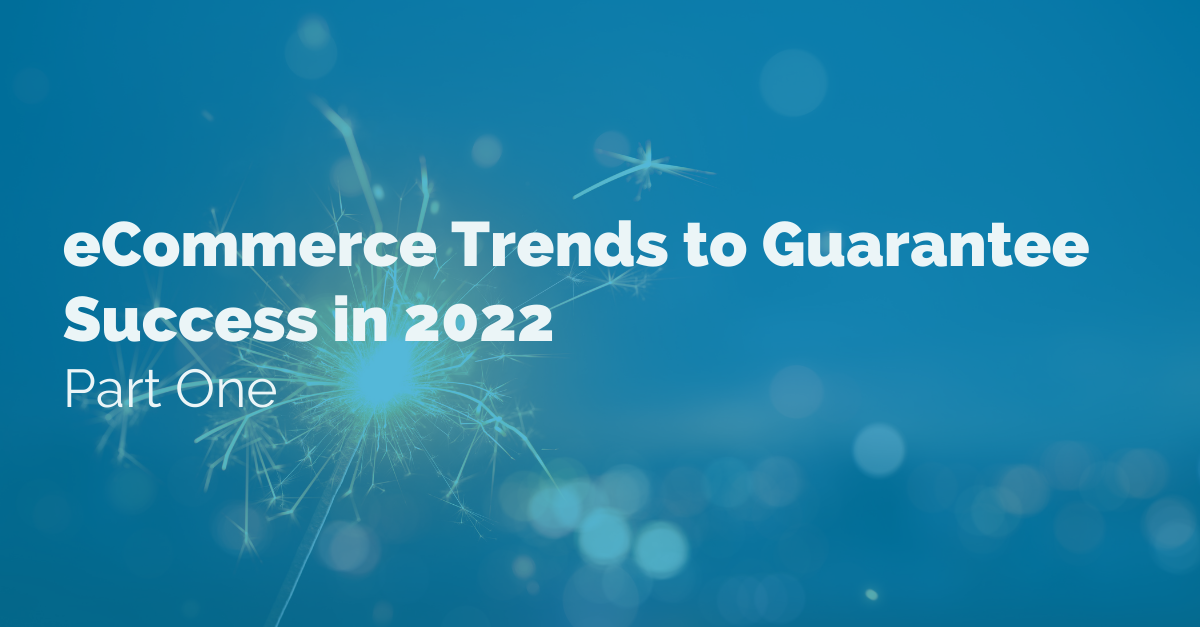 D2C: Selling Direct to Consumer
As a result of COVID-19, many brands and manufacturers chose to sell directly to customers. This helped mitigate supply chain issues and meant they could still get products to market. Bypassing traditional retail distribution methods is likely to continue flourishing in 2022.
For D2C success, you need to present product data and digital assets in a totally different format to capture your audience's attention. Engaging product content and accurate product data will guarantee success. Having an integrated tech stack that connects to internal and external systems is key. Overall, it'll enable you to ensure you're delivering the most accurate and high-quality product data. So, if you're considering launching a D2C online store this year, you may want to integrate new platforms into your tech stack.
Learn more about how Manufacturers can harness their product data for growth…
Going green: Sustainability is front-of-mind
Increasingly, environmentally-savvy customers are basing their buying decisions on green credentials – and the thing is, In 2021, ethical spending was at an all-time high and surpassed $1 billion in the UK alone. With the climate crisis becoming more and more front of mind, it's likely we'll continue to see a convergence to a more sustainable way of shopping.
Enable your customers to make more ethical buying decisions by giving an extra layer of product detail. Customers want to know where it's been sourced, what it's made from, whether it's recyclable, and packaging details.
You can also consider offering options that are more in line with sustainable practices, like greener delivery or packaging options. Rental services are also gaining popularity with customers looking for more choices without having to resort to fast fashion. This means they can experiment without the worry of the products ending up in landfills. Overall, going green can help you build a loyal customer base that feels
Getting up close and personal
80% of consumers are more likely to purchase from a company that offers personalized content and promotions, so it's no wonder this makes the list. Offering personalization will set you apart from the competition and make your customers feel understood and valued. There are plenty of tools and technologies you can leverage to create personalized and tailored experiences for each of your customers.
With the right solutions, you can take this a step further and hyper-personalise the customer experience. Use real-time behavioural data to provide the most relevant products or services for each consumer. For instance, make them feel special by offering a discount on their birthday on products you knew they'd been looking at.
By tapping into hyper-personalization, you can build a more loyal customer base. In turn, this will lead to higher online conversion rates, increased AOV, and higher recurring revenues.
Consistency is key with omnichannel
Consistency is definitely key in any omnichannel strategy. It's essential to give customers consistent messaging across all touchpoints. Whether they're scrolling on social or inspecting product details in-store, your imagery, descriptions, and messaging all need to be aligned.
There's more of a focus on creating an experiential touchpoint when visiting an online store. You can use online channels to promote in-store promotions or campaigns to deliver a stand-out experience. QR codes are a great way of blending the online and offline experiences, so something to consider!
You can harness your product data to help create this consistency with Product Information Management (PIM). It gives you the power to create rich product descriptions and attention-grabbing digital assets across all channels. Your PIM is your single source of truth for all product data, so making sure everything is on-brand is super straightforward.
Selling on social
3.7 billion people use social media worldwide, so it's no wonder it's going to be one of the key eCommerce trends in 2022. Build a deeper and more meaningful relationship with a very targeted audience by showcasing your brand values and stories. Overall, social sellers created more sales opportunities than those not using social media. One in four people made purchases after seeing a story on platforms like Instagram and TikTok, and social selling is set to reach $1.2 trillion globally by 2025 so social selling represents a massive opportunity.
Messaging apps like WhatsApp and Facebook Messenger are also starting to pave the way for eCommerce success. This gives customers starting their buying journeys with you the chance to get in touch before they buy. If you're not already on social, PIM is a great way of getting these channels set up quickly and easily. Start bossing your social selling strategy and reach your customers when they're scrolling away!
Check out part two for more eCommerce trends set to rock our worlds in 2022!