Further lockdowns or restrictions mean one thing for eCommerce, it's set to be another very busy year. Like you, we're passionate about creating amazing online experiences which is why we've pulled together this eCommerce success checklist.
In part one, we outlined some of the things you can do to supercharge your performance this year, we talked about:
Augmented Reality & Artificial Intelligence
Voice Search
Mobile Optimisation
Social Selling
Dedicated Landing Pages
To make sure you're at the absolute top of your game, here are five additional areas to consider: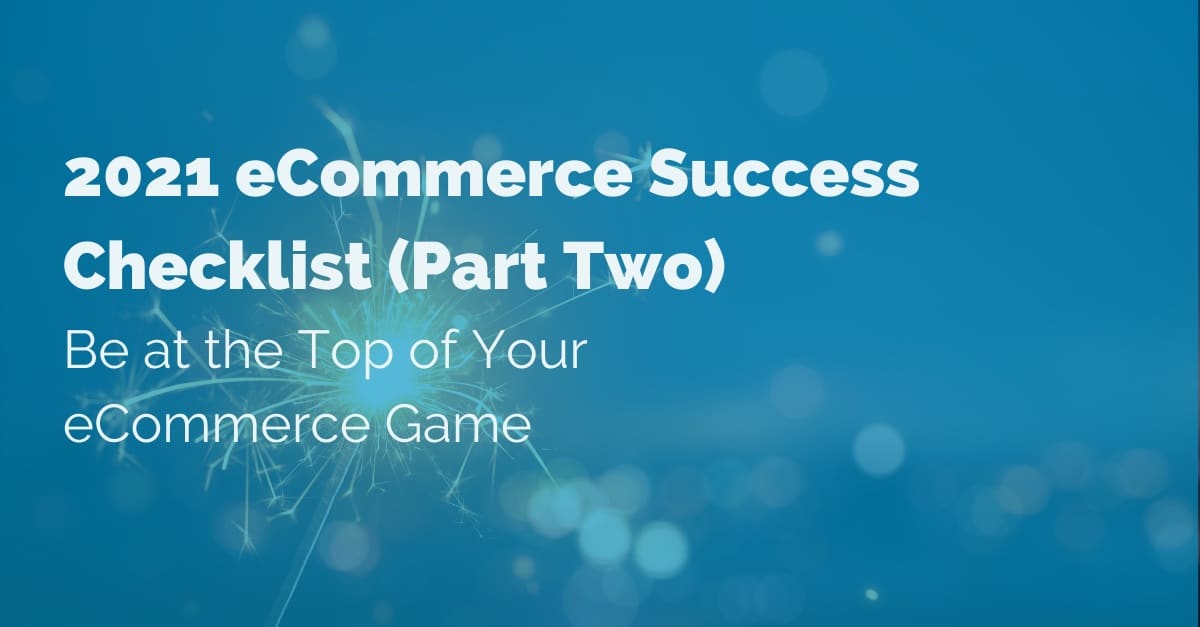 Content is King
An overused term but, when it comes to eCommerce, content is going to play a really important part in the buyer journey. Consumers want to connect with brands on a more personal level and what better way to develop this kind of relationship than telling your brand story.
Content won't just be limited to storytelling, though. With less in-store visits, the need for product demonstrations, how-to guides and product reviews is even greater. Use content to give a full picture of your brand and products to help move your online visitors through the buying process with relevant pieces of content relating to each stage in the journey. Get this right and you'll create an amazing online experience for your customers, which will increase your chances of getting more conversions and higher average order values. 
Omnichannel Selling 
Since content is king, we should also say consistency is key! When omnichannel strategies are used, it's absolutely essential to make sure your customers are seeing consistent messaging and product information at all touchpoints. Harness your product data to help create this consistency, giving you the power to have rich product descriptions and attention-grabbing digital assets across all your channels.
Even though there has been a decline in the number of high-street visits, the experiential element of an in-store visit is becoming more and more attractive to consumers. Using your online channels as a way of promoting these experiential offers helps strengthen the relationship you have with your customers and will enhance the overall experience they have.
Dynamic Pricing & Payment Methods  
Dynamic pricing is an ideal way to optimise your eCommerce strategy. Being able to make small adjustments to prices depending on different factors is sure to give you a competitive advantage. You could, for example, increase the prices of umbrellas when it's raining or overcoats when a cold snap is forecasted.
Alternatively, you can monitor other market trends to ensure you're selling your products at the right price at the right time to get the most from your online performance.
When it comes to payment methods, consumers will often shop with brands that offer their preferred payment method. Be flexible and consider different options to make sure you aren't losing customers at checkout. Some examples are:
Online wallets such as Google Pay, Apple Pay and PayPal
'Buy now, pay later' options such as Klarna or Afterpay
Bank transfers
Direct Debit, SEPA or ACH
Sustainability 
Sustainability is becoming a key consideration for a lot of consumers in their buying journey and it's falling on brands to make sure they're putting this at the forefront of their operations. Making sure you have accurate and comprehensive information surrounding your products' sustainability i.e., where it's been sourced, what it's made from, whether it's recyclable or not, the type of packaging used, etc. are all pieces of information that should be included in your product descriptions.
An effective Product Information Management platform will enable you to not only include all this information in your product descriptions but will also give you the ability to set searchable attributes within your product groups so your customers will always have a full understanding of what they're buying and, most importantly, how sustainable it is.
Rentals
It's no secret that some people buy products knowing full well they're going to return them as soon as they've served their purpose (most often for the Gram!)
Dealing with product returns is a costly and time-consuming process and these resources are better used elsewhere. Offering a rental service could be a game-changer in terms of use of resources, recurring revenue and sustainability.
Offering a rental service is a more affordable option meaning you can offer your customers more options and extend your audience reach. It also gives customers the opportunity to experiment more with different products so rentals will likely increase your recurring revenues. If you do take this avenue, consider using a PIM platform to make sure your product descriptions are on-point, as well as information surrounding your returns policy.
Key Takeaways
It's clear that there are lots of exciting opportunities to be had this year and, as we saw in 2020, making good use of technology will go a long way in helping you achieve optimal eCommerce success.
A PIM platform complements any existing eCommerce tech stack and will help you be at the top of your game in 2021. Streamline and automate processes, ensure consistency across channels and give customers amazing online experiences with all the product information they need to make informed buying decisions. Bring on 2021 is what we say!
Fancy sharing this 2021 eCommerce checklist with your colleagues? Download your PDF version today!