What does eCommerce success look like in 2021? Look no further, we've put together the 2021 eCommerce success checklist to guide you through some of the things you can consider to supercharge your performance this year.
Over the last 12 months, we saw a huge increase in online spending, and that looks set to continue, with the value of eCommerce sales expected to hit $4.8 trillion (£3.6 trillion) in 2021. Therefore, getting your products in front of the right people, at the right time, is a MUST and this blog will offer some tips on how to do just that.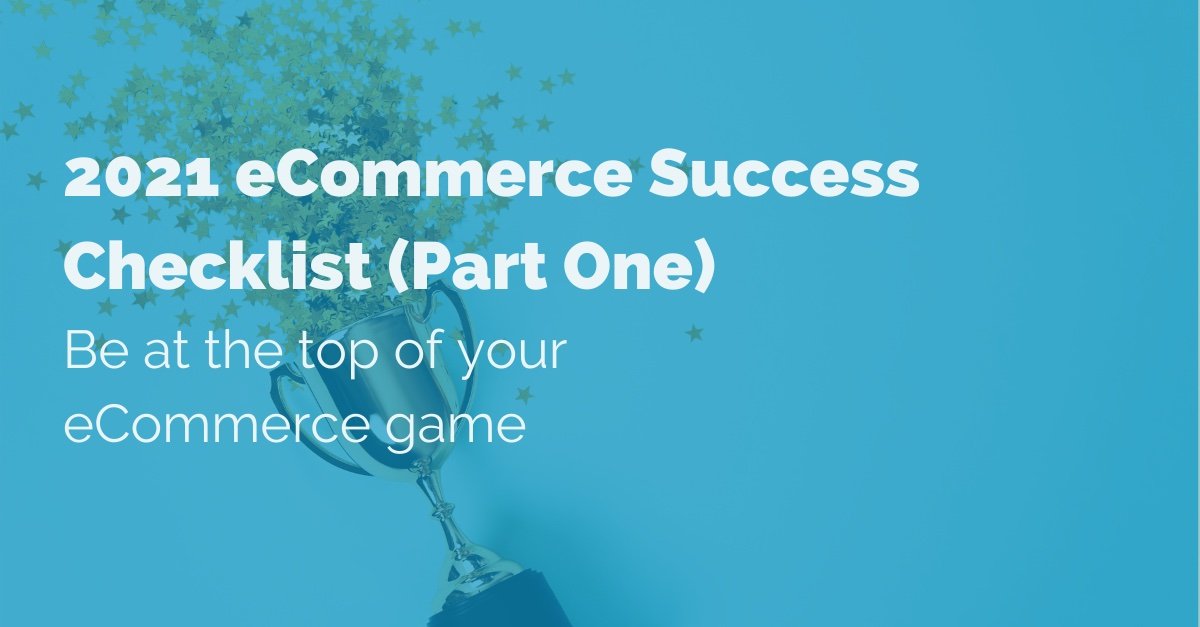 Augmented Reality & Artificial Intelligence
Augmented reality and artificial intelligence are continuing to come on in leaps and bounds and they can help create amazing online experiences.
Despite more people preferring to shop from the comfort of their own homes due to the pandemic, try before you buy is still something consumers want. Augmented reality presents a brilliant opportunity for brands to still offer this to their customers, whether it be shades of lipstick or furniture in front rooms.
Making your customers feel special is key for conversions and using artificial intelligence is the perfect way to personalise their experience. By looking at previous purchases along with their browsing history, recommendations can be made based on what they like and what they're likely to buy. It's a win-win: your customer feels special and you get more conversions!
Voice Search 
'Hey Alexa/Siri/Google!' a commonplace phrase these days, especially as it's reported that nearly half of the world's population is using voice-activated search. So, making sure your eCommerce website and channels are optimised for voice search is a no-brainer.
It's important to understand at which stages voice search is used during the online journey: Reports suggest it's used more in the research and pre-checkout phase and also post-checkout for updates to the delivery status.
Voice search is a trend that will likely gain huge momentum over the next few years, so here are some of the best ways to make sure you're getting picked up in voice search results:
Think of the types of questions people will be asking with voice search and make sure your content provides valuable answers
Optimise your eCommerce channels for voice search
Ensure your product descriptions are as rich as possible
Make sure product attributes are set correctly
Mobile Optimisation 
A large proportion of people own a mobile device, and over the last seven years, there's been a 222% (wow) increase in mobile traffic. These stats just go to show the importance of making sure your eCommerce website is optimised for mobile so you can give customers the special experience they're looking for, even when they're on the go.
Making sure your products look just as good on mobile as on desktop is vital: Do they display correctly? Is there the option to zoom in? When it comes to your product information, make sure this is as rich as possible and consistent throughout the buyer journey, especially making sure your refund and returns policy are clearly stated before checkout, too.
Simplify the experience as much as possible, both in terms of the navigation and the checkout. You can always check your eCommerce website's mobile-friendliness using Google's Mobile-Friendly Test.
Social Selling
With 3.6 billion people using social media worldwide, it makes sense to use these platforms as a means to boost your eCommerce performance.
Social media is a great way of building a deeper and more meaningful rapport with a very targeted audience, as well as presenting a great opportunity to really showcase your brand story. Overall, social sellers are said to create 45% more opportunities than those not using social media in their eCommerce strategies, and to help illustrate this example, it's been shown that one in four people made a purchase after seeing a story on Instagram.
Messaging apps like WhatsApp and Facebook Messenger are also starting to pave the way for eCommerce success, so this is also something to consider. If you don't already have a presence on social media, a PIM is a great way of getting these channels set up quickly and easily so you can start bossing your social selling strategy.
Dedicated Landing Pages 
A landing page is a great way of creating a more structured visit for your customers, letting them know exactly where they can find all your juicy deals and, from what the stats are telling us, it's well worthwhile! When looking back at the 2020 Black Friday performance, eCommerce websites with landing pages saw a whopping 330% increase in revenue on a monthly average, and online conversion rates as high as 50%.
Making sure you've got as much information as possible is also a key factor; make your product descriptions consistent and fully enriched, as well as your returns policy too, because this can be a turn-off if only highlighted at checkout. It might also be worth thinking about product bundles to maximise your sales, too!
Overall, there is a huge amount of scope for online success this year, and technology will play a key part. Being able to streamline and automate processes where possible will be vital and a PIM can do just that ' the perfect addition to any eCommerce tech stack. In part two of the eCommerce success checklist, we'll be looking at some other key trends likely to gain prevalence this year which could also help supercharge your performance.
Head to part two of the checklist – live on the blog now.